E-book
Personal Branding For Dummies
ISBN: 978-1-118-23818-9
360 pages
May 2012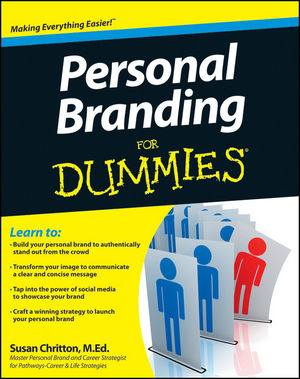 The fun way to create and maintain personal branding
Distinguishing yourself from the competition is important in any facet of business. Creating a clear and concise image, reputation, and status in the professional world provides an edge, whether searching for a first job, exploring a change in career, or looking to be more viable and successful in your current career. Personal Branding For Dummies is a guide through the steps of creating and maintaining a personal trademark by equating self-impression with other people's perception.
Personal Branding For Dummies covers everything you need to create your personal branding, including: using different organizations and associations to increase visibility and exposure to both clients and competitors; making the most of networking; tapping into Social Media outlets like Facebook, Twitter, and LinkedIn to showcase a personal brand; building a persona through websites and blogging; evaluating personal style and appearance; using conversation, negotiation, and sales techniques best suited to a personal brand; monitoring your brand reputation and successfully implementing feedback as it grows and develops, and more.
Tips on utilizing Social Media to showcase your personal brand
How personal branding can help advance your career
Guidance on creating a clear and concise image
With the hands-on, friendly help of Personal Branding For Dummies, you'll establish a professional presence and personal "brand" identity to keep yourself distinguished in the business world.>
See More
Introduction 1
Part I: Why Is Personal Branding Important? 7
Chapter 1: Showing the World Who You Are 9
Chapter 2: Appreciating the Power of Branding 27
Chapter 3: Case Studies in Personal Branding Success 41
Part II: Knowing Your Brand 55
Chapter 4: Defining Who You Are 57
Chapter 5: Spotting Your Target Audience 89
Chapter 6: Knowing Your Niche — and Your Competitors 103
Chapter 7: Crafting Your Personal Brand Profile 115
Chapter 8: Writing Your Story 127
Part III: Communicating Your Brand with the World 141
Chapter 9: Branding Your Traditional Communication Tools 143
Chapter 10: Communicating Your Brand Online 163
Chapter 11: Planning Your Personal Brand Communications 197
Part IV: Controlling Your Brand Ecosystem 211
Chapter 12: Fashioning Your Image to Match Your Personal Brand 213
Chapter 13: Your Visual Identity: Making Your Mark on Your Brand Environment 233
Chapter 14: Focusing on Special Populations 251
Chapter 15: Building and Nurturing Your Network 271
Chapter 16: Personal Branding in the Workplace 287
Part V: The Part of Tens 305
Chapter 17: Ten Key Benefits of Personal Branding 307
Chapter 18: Ten Ways You Can Sink Your Brand 311
Chapter 19: Ten Ways to Demonstrate Your Brand 315
Chapter 20: Ten Things You Can Do to Continue to Build Your Brand 321
Index 325
See More
Susan Chritton, M.Ed., PCC, NCCC, is a Master Personal Brand Strategist and Executive Coach. Susan combines her skills as a Master Career Counselor and Professional Certified Coach to guide professionals toward a more authentic and meaningful career. Respected for her expertise and personal style, her clients appreciate her grounded approach and trust her direction through the personal branding process.
See More