E-book
The Power of Practice Management: Best Practices for Building a Better Advisory Business
ISBN: 978-1-118-23820-2
320 pages
January 2013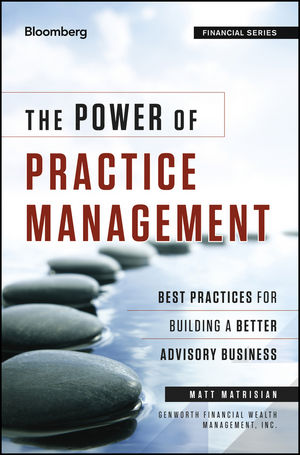 How do you build a financial advisory business in today's competitive and often-saturated markets? How can you break through the clutter, and develop strong and lasting client relationships? We believe it can be done by harnessing the power of practice management!
The Power of Practice Management shows you the "how," "why" and "what" of taking your business to the next level, introducing you to best practices and the thinking behind actions of some of the industry's top-quartile firms. Author Matt Matrisian leads you on a journey filled with intriguing ideas and bottom-line lessons that teach you how to work on your business, not just in it. Whether you're the head of a large advisory firm, part of a small practice or just starting out, you will discover a roadmap for turning your good business into a better one.
The author also addresses:
Making business strategy and planning part of your defined game plan;
Transforming your firm's vision and goals to build your business
Capitalizing on referral sources and centers of influence
Your personal brand as a product of intuitive thinking
And much more.
The Power of Practice Management
teaches you how to channel the strength of your business and connect it to your clients' experiences. The results unlock the secrets to driving customer loyalty, referral revenue, and business prosperity. In the process, you'll also enhance your personal brand – allowing you the opportunity for business prosperity.
See More
Foreword ix
Introduction xi
PART I: BUSINESS STRATEGY AND PLANNING
CHAPTER 1 A Look at the Landscape 3
CHAPTER 2 A View into Top-Performing Firms 13
CHAPTER 3 New Thinking for New Results 23
CHAPTER 4 The Four Essential Disciplines 25
CHAPTER 5 Business Strategy and Planning 37
CHAPTER 6 Living the Vision 45
CHAPTER 7 Building a Business Blueprint 53
CHAPTER 8 Managing Business Performance 67
CHAPTER 9 Benchmarking: Are You Making Progress? 77
PART II: BUSINESS DEVELOPMENT
CHAPTER 10 The Business Development Landscape 87
CHAPTER 11 Target Clients and Niche Markets 97
CHAPTER 12 Landing Your Brand 105
CHAPTER 13 The Elevator Speech 111
CHAPTER 14 A Marketing Plan 115
CHAPTER 15 Referrals: An Untapped Opportunity 127
CHAPTER 16 The Referral Management Process 139
CHAPTER 17 Unlocking Client Feedback 149

PART III: HARNESSING HUMAN CAPITAL

CHAPTER 18 The Value of Human Capital 157

CHAPTER 19 Making the Successful Hire 161

CHAPTER 20 Tapping into Training 171

CHAPTER 21 Job Descriptions and Performance Reviews 177

CHAPTER 22 Climbing the Ladder 187

CHAPTER 23 The Role and Value of Compensation Planning 193

CHAPTER 24 Components of Compensation 201

CHAPTER 25 Creating a Compensation Plan, Step by Step 215

CHAPTER 26 Owner Compensation 223
PART IV: OPTIMIZING OPERATIONS
CHAPTER 27 Operations Optimization 233
CHAPTER 28 Client-Facing Processes 245
CHAPTER 29 The Client Model 263
PART V: BUILDING AND REALIZING VALUE
CHAPTER 30 Preparing for the Future 279
CHAPTER 31 The State of the Industry 281
CHAPTER 32 External Sales 283
CHAPTER 33 Internal Succession 289
Notes 295
About the Author 297
About Genworth Financial Wealth Management, Inc. 299
Index 301
See More
Matt Matrisian brings nearly twenty years of financial services industry experience and knowledge to this book. Joining Genworth Financial Wealth Management, Inc., in 2010 as the Director of Practice Management, he has worked to enhance the practice management programs offered, including development of a successful business transition services program and a robust advisor coaching program. Matt holds a BA in finance from the University of South Florida and an MBA from the University of Florida.
This publication represents a compendium of experience and a history of practice management expertise by Genworth Financial Wealth Management, Inc., AssetMark, and Quantuvis. It symbolizes our long-standing commitment to independent advisors, helping hundreds of practitioners build great businesses for nearly twenty years.
See More
More in this series