E-book
The Gender Communication Handbook: Conquering Conversational Collisions between Men and Women
ISBN: 978-1-118-23867-7
320 pages
May 2012, Pfeiffer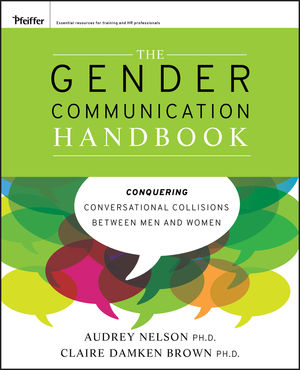 The Gender Communication Handbook
This is the go-to comprehensive reference for understanding why and how women and men communicate the way they do. This guide is filled with expert advice, real-life case studies, self-assessments, experiential exercises, and action steps that help men and women transcend barriers and enhance their communication with the opposite sex. The Gender Communication Handbook provides trainers and human resource professionals with an accessible program enabling men and women to open the lines of communication so work gets done and productivity and profits soar.
"This is great work—practical, research-based, and fun. If ever there was a strong ROI in time and money, working on gender communication is it."—Julie O'Mara, past national president, American Society for Training and Development, and coauthor of the best-selling book, Managing Workforce 2000
"An invaluable resource to help understand underlying differences in communication styles so that work gets done, conflicts get resolved, and reciprocal respect prevails in the workplace. Highly readable and engaging."—Rebecca Ritter, senior human resource business partner, Oracle Corporation
"Just what every man and woman needs to learn for the rules of engagement with the opposite sex. Very appropriate and timely for today's workplace."—Michelle Haines, technical customer management/web analyst, Seagate Technologies
"This guide is a nuts-and-bolts approach to enhancing workplace communication between the sexes. It addresses the chronic problems men and women encounter every day."—Geoff Simpson, vice president and manager, Standard Steam Trust LLC
See More
Exercises and Tables xi
Preface xv
Acknowledgments xix
The Authors xxi
Introduction 1
CHAPTER 1 Getting Started: Are Men and Women Just Born Different or Do They Learn to Be Different? 7
Learning Objectives 7
Introduction 8
Section 1: Introduction to Gender: It's Complicated 10
Section 2: What Do Women and Men Really Think of Each Other? 19
Section 3: Transcending Gender: The Androgynous Answer 23
CHAPTER 2 He Speaks, She Speaks: What Different Things They Say 35
Learning Objectives 35
Introduction 36
Section 1: Talk the Talk: Facts and Fiction About Sex Differences in Speech Communication 37
Section 2: Different Speech Styles, Outcomes, and Missed Connections 48
Action Steps for Men 62
Action Steps for Women 63
CHAPTER 3 Gender Conversation Technicalities: Interruptions, Overlapping, and Other Turn-Taking Dilemmas 65
Learning Objectives 65
Introduction 66
Section 1: How He and She Interrupt and Overlap Their Talk 67
Section 2: Women's and Men's Perspectives: Other and Self 77
Action Steps for Men 85
Action Steps for Women 86
CHAPTER 4 Women, Men, and Unspoken Messages 87
Learning Objectives 87
Introduction 88
Section 1: Unspoken Gender Messages 88
Section 2: Gender Touch and Power at Work 101
Section 3: Space: The Final Gender Frontier 115
Section 4: Something in the Way She and He Move: Women's and Men's Gestures and Movements 123
The Voice's Message 130
Action Steps for Men 132
Action Steps for Women 133
CHAPTER 5 How She and He Listen 135
Learning Objectives 135
Introduction 136
Section 1: Listening Between Him and Her 137
Section 2: Women and Men Do Listen Differently 149
Section 3: Improved Listening Skills for Women and Men 160
Action Steps for Men 169
Action Steps for Women 170
CHAPTER 6 Men, Women, and Conflict: Take It Like a Man Versus Nice Girls Don't Do Conflict 171
Learning Objectives 171
Introduction 172
Section 1: The Playground as Battleground 173
Section 2: Nice Girls Don't Do Confl ict 188
Section 3: Play Fighting 190
Section 4: The Anger Advantage 194
Rule Makers and Rule Breakers: Is There a Double Standard in Expressing Anger? 202
Section 5: Crying as a Female Trademark 205
Action Steps for Men 215
Action Steps for Women 216
CHAPTER 7 He and She Wired 217
Learning Objectives 217
Introduction 218
Section 1: He and She: The Smiley Face Dilemma 219
How and Why He and She Use Emoticons 223
Section 2: E-Mail Showdown: One Sentence Versus One Paragraph 228
Section 3: Why Can't He Be Nice? 232
Section 4: Can E-Mail Level the Playing Field for Women? 236
Action Steps for Men 239
Action Steps for Women 240
CHAPTER 8 Final Thoughts on Reaching
Across the Gender Divide 241
Learning Objectives 241
Introduction 242
Options for Closing the Training Program 242
Action Plan and Next Steps 256
CHAPTER 9 Example One-Hour Program 263
Learning Objectives 263
Introduction 264
Example 1: Conquering Conversational Collisions Between Men and Women 264
Example 2: Talk Remedies for Communication Between Men and Women 267
CHAPTER 10 A Half-Day Program 271
Learning Objectives 271
Introduction 272
Example 1: Conquering Conversational Collisions Between Men and Women 272
Example 2: Talk Remedies for Communication Between Men and Women 276
CHAPTER 11 A Full-Day Program 281
Learning Objectives 281
Introduction 282
Example 1: Conquering Conversational Collisions Between Men and Women 283
Example 2: Talk Remedies for Communication
Between Men and Women 289
Additional Instruments and Training Tools 297
Recommended Resources 305
References 307
Index 313
See More
Audrey Nelson, Ph.D., is an internationally recognized trainer, keynote speaker, author, and consultant who helps organizations increase their productivity and profitability through winning communication strategies. She specializes in gender communication, conflict management, generational, and interpersonal communication skills. www.AudreyNelson.com
Claire Damken Brown, Ph.D., is a savvy speaker, consultant, and seminar leader specializing in diversity and equal employment opportunity strategies, gender communication, sexual harassment prevention, cultural competency, and conflict resolution. She partners with businesses to build inclusive leadership skills and harassment-free workplaces where people stay and thrive.
www.DamkenBrown.com
See More