E-book
CompTIA Network+ Study Guide Authorized Courseware: Exam N10-005
ISBN: 978-1-118-23886-8
816 pages
January 2012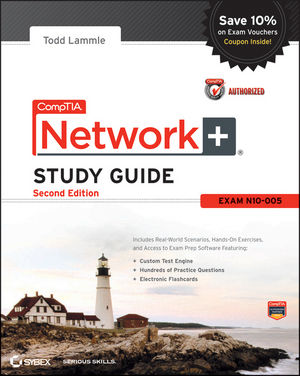 Todd Lammle's CompTIA Network+ Authorized Study Guide for the N10-005 exam!
CompTIA's Network+ certification tells the world you have the skills to install, configure, and troubleshoot today's basic networking hardware peripherals and protocols. But first, you have to pass the exam! This detailed CompTIA Authorized study guide by networking guru Todd Lammle has everything you need to prepare for the CompTIA's new Network+Exam N10-005. All exam objectives are covered. He thoroughly explains key topics, offers plenty of practical examples, and draws upon his own invaluable 25+ years of networking experience to help you learn.
Prepares you for Exam N10-005, the new CompTIA Network+ Exam.
Covers all exam objectives including network technologies, network installation and configuration, network media and topologies, security, and much more.
Includes practical examples review questions, as well as access to practice exams and flashcards to reinforce learning. Go to www.sybex.com/go/netplus2e to register and download these tools.
Networking guru and expert author Todd Lammle offers invaluable insights and tips drawn from real-world experience.
Prepare for the exam and enhance your career with the CompTIA Authorized CompTIA Network+ Study Guide, Second Edition.
See More
Foreword xxv
Introduction xxix
Assessment Test li
Chapter 1 Introduction to Networks 1
Chapter 2 The Open Systems Interconnection Specifications 27
Chapter 3 Networking Topologies, Connectors, and Wiring Standards 53
Chapter 4 The Current Ethernet Specifications 87
Chapter 5 Networking Devices 115
Chapter 6 Introduction to the Internet Protocol 155
Chapter 7 IP Addressing 189
Chapter 8 IP Subnetting, Troubleshooting IP, and Introduction to NAT 211
Chapter 9 Introduction to IP Routing 253
Chapter 10 Routing Protocols 273
Chapter 11 Switching and Virtual LANs 297
Chapter 12 Wireless Networking 335
Chapter 13 Authentication and Access Control 375
Chapter 14 Network Threats and Mitigation 413
Chapter 15 Physical and Hardware Security 449
Chapter 16 Wide Area Networks 485
Chapter 17 Troubleshooting Tools 515
Chapter 18 Software and Hardware Tools 569
Chapter 19 Network Troubleshooting 595
Chapter 20 Management, Monitoring, and Optimization 635
Appendix A Answers to Review Questions 669
Appendix B Answers to Written Labs 703
Appendix C Subnetting Class A 717
Appendix D About the Additional Study Tools 725
Index 729
See More
Todd Lammle, Network+, CCSI, CCNA, is the authority on networking. He has been involved in computers and networking with Fortune 500 companies for almost 30 years. Todd is President of GlobalNet Training, Inc., a networking integration and training firm based in Dallas. He is also the bestselling author of numerous networking and certification books, including the previous edition of the CompTIA Network+ Study Guide and the popular CCNA: Cisco Certified Network Associate Study Guide, with over 600,000 copies in print. You can reach him through his website at www.lammle.com.
See More