E-book
Executive's Guide to IT Governance: Improving Systems Processes with Service Management, COBIT, and ITIL
ISBN: 978-1-118-23893-6
416 pages
January 2013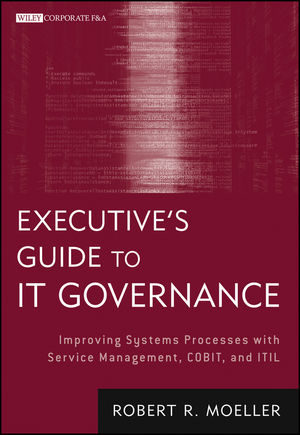 Create strong IT governance processes
In the current business climate where a tremendous amount of importance is being given to governance, risk, and compliance (GRC), the concept of IT governance is becoming an increasingly strong component. Executive's Guide to IT Governance explains IT governance, why it is important to general, financial, and IT managers, along with tips for creating a strong governance, risk, and compliance IT systems process.
Written by Robert Moeller, an authority in auditing and IT governance
Practical, no-nonsense framework for identifying, planning, delivering, and supporting IT services to your business
Helps you identify current strengths and weaknesses of your enterprise IT governance processes
Explores how to introduce effective IT governance principles with other enterprise GRC initiatives
Other titles by Robert Moeller: IT Audit, Control, and Security and Brink's Modern Internal Auditing: A Common Body of Knowledge
There is strong pressure on corporations to have a good understanding of their IT systems and the controls that need to be in place to avoid such things as fraud and security violations. Executive's Guide to IT Governance gives you the tools you need to improve systems processes through IT service management, COBIT, and ITIL.
See More
Preface xiii
PART I: IT GOVERNANCE CONCEPTS
Chapter 1: Importance of IT Governance for All Enterprises 3
Chapter 2: Fundamental Governance Concepts and Sarbanes-Oxley Rules 9
Sarbanes-Oxley Act 10
Other SOx Rules—Title II: Auditor Independence 18
SOx Title III: Corporate Responsibility 22
Title IV: Enhanced Financial Disclosures 24
What Is IT Governance? 28
Notes 35
Chapter 3: Enterprise Governance and GRC Tools 37
The Road to Effective GRC Principles 38
Importance of GRC Governance 39
Risk Management Component of GRC 40
GRC and Enterprise Compliance 42
Importance of Effective GRC Practices and Principles 45
PART II: FRAMEWORKS TO SUPPORT EFFECTIVE IT GOVERNANCE
Chapter 4: IT Governance and COSO Internal Controls 49
Importance of Effective Internal Controls and COSO 50
COSO Internal Control Systems Monitoring Guidance 65
Wrapping It Up: Importance of COSO Internal Controls 66
Notes 66
Chapter 5: COBIT and the IT Governance Institute 67
An Executive's Introduction to COBIT 68
The COBIT Framework and Its Drivers 70
COBIT Principle 1: Establish an Integrated IT Architecture Framework 72
COBIT Principle 2: Stakeholder Value Drivers 74
COBIT Principle 3: Focus on Business Context 75
COBIT Principle 4: Governance and Risk Management Enablers 78
COBIT Principle 5: Governance and Management Performance
Measurement Structures 80
Putting It Together: Matching COBIT Processes and IT Goals 81
Using COBIT in a SOx Environment 84
COBIT in Perspective 85
Notes 86
Chapter 6: ITIL and IT Service Management Guidance 87
ITIL Fundamentals 88
ITIL Service Strategy Components 91
ITIL Service Design 94
ITIL Service Transition Management Processes 99
ITIL Service Operation Processes 102
IT Governance and ITIL Service Delivery Best Practices 106
Note 107
Chapter 7: IT Governance Standards: ISO 9001, 27002, and 38500 109
ISO Standards Background 110
ISO 9000 Quality Management Standards 112
ISO IT Security Standards: ISO 27002 and 27001 115
ISO 38500 IT Governance Standard 118
Notes 123
Chapter 8: IT Governance Issues: Risk Management, COSO ERM, and OCEG Guidance 125
Risk Management Fundamentals 126
COSO ERM Definitions and Objectives: A Portfolio View of Risk 134
COSO ERM Framework 136
Other Dimensions of the COSO ERM Framework 152
The OCEG GRC "Red Book," Risk Management, and IT Governance 153
Notes 157
PART III: TOOLS AND TECHNOLOGIES TO MANAGE THE IT GOVERNANCE INFRASTRUCTURE
Chapter 9: Cloud Computing, Virtualization, and Portable, Mobility Computing 161
Understanding Cloud Computing 162
IT Systems and Storage Management Virtualization 168
Smartphone and Handheld IT Device Governance Issues 175
Note 176
Chapter 10: Governance, IT Security, and Continuity Management 177
Importance of an Effective IT Security Environment 177
Enterprise IT Security Principles: Generally Accepted Security Standards 178
Importance of an Effective, Enterprise-Wide Security Strategy 185
IT Continuity Planning 186
The Business Continuity Plan and IT Governance 188
Notes 193
Chapter 11: PCI DSS Standards and Other IT Governance Rules 195
PCI DSS Background and Standards 196
Gramm-Leach-Bliley Act IT Governance Rules 203
HIPAA: Health Care and Much More 208
Notes 216
Chapter 12: IT Service Catalogs: Realizing Greater Value from IT Operations 217
Importance of IT Service Catalogs 219
Role of a Service Catalog in the IT Service Provider Organization 221
An IT Service Catalog's Content and Features 223
IT Service Catalog Management 224
PART IV: BUILDING AND MONITORING EFFECTIVE IT GOVERNANCE SYSTEMS
Chapter 13: Importance of IT Service-Oriented Architecture for IT Governance Systems 231
SOA Applications and Service-Driven IT Applications 232
SOA Governance, Internal Control Issues, and Risks 235
Planning and Building an SOA Implementation Blueprint 236
SOA and IT Governance 242
Chapter 14: IT Configuration and IT Portfolio Management 247
IT Configuration Management Concepts 248
ITIL Best Practices for IT Configuration Management 250
The Configuration Management Database: An Often Difficult Concept 254
Establishing an Enterprise CMDB 255
IT Portfolio Management 259
Chapter 15: Application Systems Implementations and IT Governance 263
The Systems Development Life Cycle: A Basic Application Development Technique 264
IT Rapid Development Processes: Prototyping 266
Enterprise Resource Planning and IT Governance Processes 268
Chapter 16: IT Governance Issues: Project and Program Management 275
The Project Management Process 275
PMBOK Standards 277
Another Project Management Standard: PRINCE2 280
IT Systems Portfolio and Program Management 280
The Program Management Office (PMO), a Strong Governance Resource 284
Project Management, the PMO, and IT Governance 286
Note 286
Chapter 17: Service Level Agreements, itSMF, Val IT, and Maximizing IT Investments 287
ITIL Service Management Best Practices and the itSMF 288
Open Compliance and Ethics Group (OCEG) Standards 292
Val IT: Enhancing the Value of IT Investments 298
Notes 305
PART V: MONITORING AND MEASURING ENTERPRISE MANAGEMENT AND BOARD GOVERNANCE
Chapter 18: Enterprise Content Management 309
ECM Characteristics and Key Components in the Enterprise Today 310
ECM Processes and IT Governance 310
Creating an Effective ECM Environment in the Enterprise 314
Chapter 19: Internal Audit's Governance Role 319
Internal Auditing History and Background 320
Internal Auditing and the IT Auditor 323
Internal Audit's IT Governance Activities and Responsibilities 323
Internal Audit IT Governance Standards 329
Internal Audit IT Governance Procedures 329
Note 334
PART VI: IT GOVERNANCE AND ENTERPRISE OBJECTIVES
Chapter 20: Creating and Sustaining an Ethical Workplace Culture 337
Importance of Mission Statements 337
Enterprise Codes of Conduct 340
Whistleblower and Hotline Functions 347
Launching an Ethics Program and Improving
Enterprise Governance Practices 352
Note 353
Chapter 21: Impact of Social Media Computing 355
What Is Social Media Computing? 356
Social Media Examples 358
Enterprise Social Media Computing Risks and Vulnerabilities 365
Social Media Policies 367
Notes 370
Chapter 22: IT Governance and the Audit Committee's IT Role 371
The Enterprise Audit Committee and IT Governance 371
Audit Committee IT Governance Responsibilities 374
Audit Committee Briefings and IT Governance Issues 375
About the Author 377
Index 379
See More
ROBERT R. MOELLER, CPA, CISA, ITIL-F, CISSP, is an internal audit specialist and project manager with a strong understanding of information systems, corporate governance, and security. He has over thirty years of experience in corporate gorvernance activities, ranging from launching new internal audit functions in several companies to serving as audit director of a Fortune 50 corporation. He has held positions with Grant Thornton (National Director of Computer Auditing) and Sears Roebuck (Audit Director). Moeller also launched an ethics function for Sears Roebuck, rewrote their corporate code of conduct, and re-engineered their internal control processes. He is the author of six books, also published by Wiley. Moeller is the former president of the Institute of Internal Auditors' Chicago chapter and has served on the IIA's International Advanced Technology Committee. He is also the former chair of the AICPA's Computer Audit Subcommittee.
See More