E-book
Improving Performance: How to Manage the White Space on the Organization Chart, 3rd Edition
ISBN: 978-1-118-23902-5
288 pages
November 2012, Jossey-Bass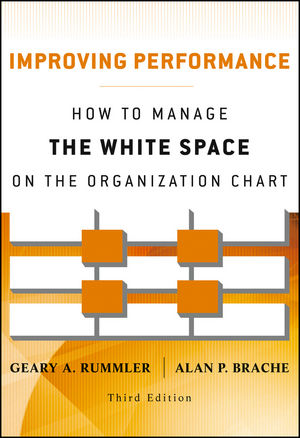 Improving Performance is recognized as the book that launched the Process Improvement revolution. It was the first such approach to bridge the gap between organization strategy and the individual. Now, in this revised and expanded new edition, Gary Rummler reflects on the key needs of organizations faced with today's challenge of managing change in today's complex world. The book shows how to apply the three levels of performance and link performance to strategy, move from annual programs to sustained performance improvement, redesign processes, overcome the seven deadly sins of performance improvement and much more.
See More
List of Figures and Tables v
Foreword ix
Preface xi
The Authors xvii
PART ONE: A FRAMEWORK FOR IMPROVING PERFORMANCE 1
1 Viewing Organizations as Systems 3
2 Three Levels of Performance: Organization, Process, and Job/Performer 12
PART TWO: EXPLORING THE THREE LEVELS OF PERFORMANCE 27
3 The Organization Level of Performance 29
4 The Process Level of Performance 42
5 The Job/Performer Level of Performance 62
PART THREE: APPLYING THE THREE LEVELS OF PERFORMANCE 75
6 Linking Performance to Strategy 77
7 Moving from Annual Programs to Sustained Performance Improvement 86
8 Diagnosing and Improving Performance: A Case Study 97
9 Project Definition: The Ten Essential Steps 110
10 Process Analysis and Design: The Ten Essential Steps 140
11 Overcoming the Seven Deadly Sins of Process Improvement 174
12 Measuring Performance and Designing a Performance Management System 182
13 Managing Processes and Organizations as Systems 211
14 Designing an Organization Structure That Works 226
15 Creating a Performance-Based Human Resource Development Function 244
16 Developing an Action Plan for Performance Improvement 259
Index 264
Instructor's Guide 270
See More
Geary Rummler, a pioneer in the application of instructional and performance technologies to organizations, cofounded the Rummler-Brache Group, a global leader in process management consulting and training.
Alan Brache, cofounder of the Rummler-Brache Group, focuses his consulting and writing on a methodology for resolving critical issues through the identification, documentation, analysis, design, measurement, and continuous improvement of business processes.
The Rummler-Brache Group, exclusive owner of the trademarked Rummler-Brache methodology, is a consulting and training firm specializing in process improvement and management. Rummler-Brache employs a wide range of interventions that span the delivery spectrum—from "do it for you" hands-on consulting, all the way to "do it with you" coaching and facilitation. A key differentiator is our core competency: we transfer the knowledge and technology you need to become self-sufficient at delivering business results through performance improvement projects. For more information, please visit www.RummlerBrache.com or call 800-992-8849.
See More