E-book
Fix and Flip: The Canadian How-To Guide for Buying, Renovating and Selling Property for Fast Profit
ISBN: 978-1-118-23980-3
272 pages
November 2012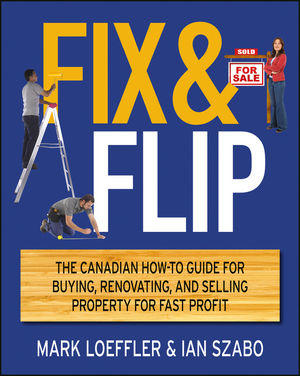 The ultimate how-to guide to fixing-and-flipping properties
Judging from the number of reality TV shows devoted to home renovation, it's easy to think that fixing-and-flipping is a sure-fire, straightforward way to make money, fast. But there's a lot more to the real estate business than a little hard work and some basic DIY skills. Just like every other business venture, to be successful you need to understand the potential pitfalls as well as the possible profits before diving in, and Fix and Flip: The Canadian How-To Guide for Buying, Renovating and Selling Property for Fast Profit is designed to help you do just that.
Putting everything you need to know about how the business of fix-and-flips work right at your fingertips, authors Mark Loeffler and Ian Szabo are the perfect pair for the job, bringing you both the financing and contracting expertise that has made their own renovation business a huge success. Offering step-by-step guidance on exactly how to effectively renovate and sell, Loeffler and Szabo walk you through the skills you need to get started, how to identify properties with potential, saving money on materials, preparing to sell, and much, much more.
Packed with expert advice on both the financing and contracting aspects of fixing-and-flipping properties
Filled with checklists and practical techniques to help you get to work right away
Explains the pitfalls to avoid and the profits to be made in the fix-and-flip business
Packed with invaluable tips, handy checklists, and time- and cost-saving techniques to help you make the most money you can from distressed properties, this is the only book you need to start fixing-and-flipping like a pro.
See More
Acknowledgements ix
Introduction 1
PART 1: THE BASICS 7
Chapter 1: What Is a Fix and Flip? 9
Chapter 2: What Are the Differences between Flipping and Speculating? 15
Chapter 3: How Much Profi t Can I Expect? 25
Chapter 4: How Much Money Do I Need to Get Started? 31
Chapter 5: How Long Does It Take to Put a Property on the Market? 45
Chapter 6: What Skills Do I Need to Bring on Board for Fixing and Flipping? 63
PART 2: THE ESSENTIALS 93
Chapter 7: Set Up Your Team 95
Chapter 8: How to Find the Right Contractor 107
Chapter 9: How to Break Down a Contractor's Costs versus Materials Costs 133
Chapter 10: How to Set Up a Joint Venture 153
PART 3: SEARCHING FOR PROPERTIES: THE FUNDAMENTALS 163
Chapter 11: Identifying Areas and Homes that Make Good Potential Flips 165
Chapter 12: Types of Homes: The Pros and Cons of Townhouses, Semis, Detached Homes, and Condos 169
Chapter 13: Where to Add Value – And Avoid the Money Pit 177
Chapter 14: Financing Your Fix and Flip 181
Chapter 15: Getting Started in Real Estate, Making Money, and Joint Ventures 205
Chapter 16: Preparing a Property for Sale 225
Appendix: Flip Horror Story 239
About the Authors 245
Index 249
See More
Called "The Versatile Investor" by Canadian Real Estate Magazine, Mark Loeffler is a successful real estate investor and creator of his proprietary and proven rent-to-own system. He is also a partner with Ian Szabo in buying properties that are undervalued and renovating them for re-sale. Mark is the author of Investing in Rent-to-Own Property, a member of the Real Estate Investment Network, and holds workshops to teach investors his rent-to-own system.
Ian Szabo has been a project manager and general contractor, and is a renovator and investor in residential real estate. He is also the author of From Renos to Riches. His work has been showcased on programs on HGTV and the W Network, including Take This House & Sell It; Designer Superstar Challenge; Rooms that Rock; My Parents' House; Real Reno's; and Home to Stay. His work has also been showcased in House & Home magazine. Ian speaks on renovation at industry trade shows. For more information, visit www.flipschool.ca.
See More