E-book
Where In the World Should I Invest: An Insider's Guide to Making Money Around the Globe
ISBN: 978-1-118-23990-2
E-book
272 pages
February 2012
US $22.99

Purchase This E-book
This price is valid for United States. Change location to view local pricing and availability.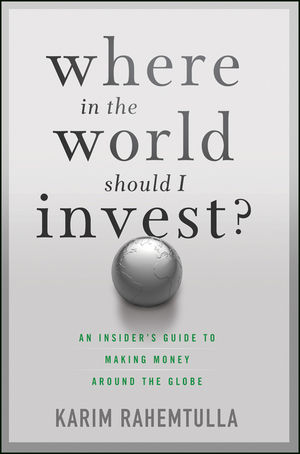 Adobe e-books are read using Adobe Digital Editions. Install Adobe Digital Editions on your PC in order to read or transfer your e-book.
"Investing globally requires both a guide and a plan of action. In Where in the World Should I Invest, Karim Rahemtulla shares not only opportunities to profit that exist now, but also opportunities for tomorrow that are still beyond the reach of investors' radar. His international background and extensive travels combine to provide a frank and practical review of the most dynamic growth stories of today and tomorrow."
—Bill Bonner, New York Times bestselling author
"Karim Rahemtulla is the new International Man. To profit and invest in the dynamic global economy of the 21st century, you need a well-documented passport—but if you don't have 10 years to travel, better to buy Karim's book, an indispensable short-cut. This is the best hands-on guidebook to global investing I've ever read. His personal travels are brimming with insights and wisdom."
—Mark Skousen, Editor, Forecasts & Strategies, Bestselling Author
"Investors should seek out the best investment opportunities wherever they reside. And I know no one is more capable of uncovering them than Karim Rahemtulla. He has been there on the ground many times - in Europe, Asia, Latin America and the Pacific Rim—researching and analyzing hundreds of stocks and bonds, and recommending to his readers with extraordinary success. Now—with Where in the World Should I Invest—he shares the best of what he's learned with you. This is essential reading for every serious investor."
—Alex Green, Investment Director, The Oxford Club; New York Times bestselling author
"Karim has written a handy and practical investment guide to some of the world's most attractive emerging markets. But it's unlike most such guides in that Karim has done what others haven't: He got out of his office and had a look himself. This is the best kind of research, by a well-traveled hand who has been there and asked the tough questions. A must-have for anyone thinking of investing abroad."
—Chris Mayer, author, World Right Side Up: Investing Across Six Continents and Editor, Capital & Crisis
"Karim Rahemtulla is one of the smartest investing minds working in the trenches today. It's important to listen to what he has to say here - in fact your entire financial life may depend on it. He shows in great detail and with fearlessness where the next generation of mega wealthy individual will make their millions. Follow his advice, and you could be one of them."
—Mike Ward, Publisher, Money Map Press
"Karim does it again, taking us through a wide range of global markets in what seems to be an effortless and enjoying read. From Tallinn to Toledo, he shows us opportunities that exist in markets all over the world and are accessible to anyone, not just the Wall Street elite. A top notch read for every serious investor."
—Kevin Kerr, President, Kerr Trading International
"Karim Rahemtulla is at the top of my list whenever I want on-the-ground feedback on any emerging market. For over two decades now I've delighted in hearing Karim's first-rate travel experiences to exotic lands. But what I appreciate most is his brutal candor when it comes to what's really going on in a country, from the politics to the local small business owners. Karim's teachings of the pitfalls of global investing are a rarity on Wall Street. Combined with his successful, under-the-radar global profit opportunities —they are invaluable."
—Julia C. Guth, Publisher, The Oxford Club Group
"Well versed, well travelled and well informed, Karim is the ideal guide for international investing."
—Keith Fitz-Gerald, Chairman, The Fitz-Gerald Group, Chief Investment Strategist, Money Map Press Author, Fiscal Hangover: How to Invest in the New Global Economy (Wiley 2009)
"If there's one person I would trust on what investments to make outside of the U.S., Karim would be my go-to guy. The true genius of his travels is the deep investigative results he comes away with after meeting business insiders, corporate executives, members of various foreign stock exchanges, and people in the trenches on the street. Karim gives multiple investing ideas including mutual funds and ETFs and individual stocks for places all around the world, including: Southeast Asia, Africa, the Middle East, South America, Central America, and Eastern Europe. It is fast-paced, well-written, funny, and truly worthy of your time, and it contains a wealth of information about where to shop, eat and stay too! Karim has been in the investing business for 20+ years and his knowledge of global investing is superior to most in the field."
—Lee Lowell, editor of The Instant Money Trader newsletter for The White Cap Research Group and a former NYMEX options market-maker
"Karim is truly a modern day Magellan. Where in the World Should I Invest is proof positive that his insights into today's most fertile capital markets literally have no borders. Thank you, Karim, for sharing such a lucrative journey with us!"
—Robert Williams, Publisher and Founder, Wall Street Daily
"Take some of the world's most seasoned investment advice, mix with decades of globe-trotting, on-the-ground travel, dining, and research, and you'll be glued to your chair for hours reading this book. Every traveler who invests, or every investor who travels, should have this book tucked under his or her arm when they board their flight."
—David Fessler, Energy & Infrastructure Specialist, The Oxford Club
"You'd be crazy to invest in emerging markets without first reading Where in the World Should I Invest. Not only is it a fun and interesting read, Karim has had his boots on the ground in the countries he's written about, met with officials, and has a unique perspective you won't find anywhere else. It's a must have for any emerging markets investor."
—Marc Lichtenfeld, Associate Investment Director, The Oxford Club