E-book
The new iPad Portable Genius
ISBN: 978-1-118-23992-6
336 pages
April 2012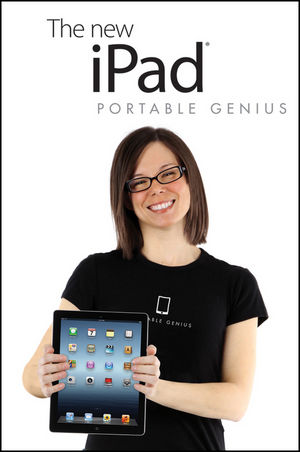 Essential coverage of everything you need to know about The new iPad
The popularity of the iPad is seemingly unstoppable and if you've decided to get in the iPad game, this handy guide is must-have reading. This easy-to-understand resource shares tips, tricks, and advice, to help you get the most out of your ultraportable tablet device. You'll learn how to maximize features of The new iPad such as the beautiful Retina display, multitouch screen, 5MP camera, Bluetooth and Wi-Fi +4G capability, eReader functionality, and much more.
Shows you how to surf the web, watch movies and TV, listen to music, read books, play games, create presentations, edit documents, manage contacts, organize photos, update spreadsheets, and more Covers how to use and troubleshoot the latest iOS
Features Genius icons to show you the smartest way to do things
Helps save you time and avoid hassles as you get up to speed
The new iPad Portable Genius presents you with accessible, useful information so that you can start confidently using your new iPad today!
See More
Acknowledgments ix
Introduction xviii
Chapter 1 How Do I Connect My iPad to a Network? 2
Chapter 2 How Do I Keep My iPad in Sync? 14
Chapter 3 How Can I Protect My iPad? 36
Chapter 4 How Do I Configure My iPad? 52
Chapter 5 How Can I Get More Out of iPad Web Surfing? 78
Chapter 6 How Do I Make the Most of E-mail on My iPad? 106
Chapter 7 How Can I Have Fun with iPad Photos? 134
Chapter 8 How Do I Manage My eBook Library on My iPad? 164
Chapter 9 How Can I Get More Out of the iPad Audio Features? 186
Chapter 10 How Can I Get More Out of Video on My iPad? 210
Chapter 11 How Can I Use My iPad to Manage Contacts? 228
Chapter 12 How Can I Use iPad to Track My Appointments? 246
Chapter 13 How Do I Use iPad to Navigate My World? 266
Chapter 14 How Do I Fix My iPad? 282
Glossary 298
Index 302
See More
Paul McFedries has written more than 70 books that have sold more than four million copies worldwide. Paul is also the proprietor of Word Spy (www.wordspy.com), a website that tracks new words and phrases. He encourages everyone to drop by his personal website at www.mcfedries.com, or to follow him on Twitter at www.twitter.com/paulmcf.
See More