E-book
Multiple Sclerosis For Dummies, 2nd Edition
ISBN: 978-1-118-24008-3
384 pages
April 2012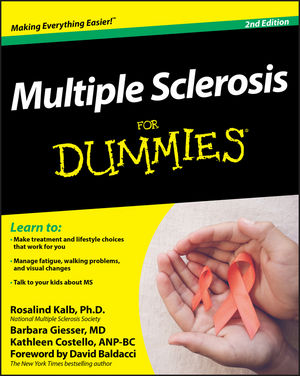 Your trusted, compassionate guide to living with MS
Being diagnosed with multiple sclerosis (MS) doesn't mean your life is over. Everyone's MS is different and no one can predict exactly what yours will be like. The fact is, lots of people live their lives with MS without making a full-time job of it.
Multiple Sclerosis For Dummies gives you accessible, easy-to-understand information about what happens with MS—what kinds of symptoms it can cause, how it can affect your life at home and at work, what you can do to feel and function better, and how you can protect yourself and your family against the long-term unpredictability of the disease. You'll learn how to make treatment and lifestyle choices that work for you, what qualities to look for in a neurologist and the rest of your healthcare team, how to manage fatigue, the pros and cons of alternative medicine, why and how to talk to your kids about MS, stress management strategies, your rights under the Americans with Disabilities act, and so much more.
Covers major medical breakthroughs that slow the progression of the disease and improve quality of life for those living with MS
Helps those affected by MS and their family members understand the disease and the latest treatment options
Helpful and trusted advice on coping with physical, mental, emotional, and financial aspects of MS
Complete with listings of valuable resources such as other books, websites, and community agencies and organizations that you can tap for information or assistance, Multiple Sclerosis For Dummies gives you everything you need to make educated choices and comfortable decisions about living with MS.
See More
Foreword xxi
Introduction 1
Part I: When MS Becomes Part of Your Life 7
Chapter 1: Meeting MS Face to Face 9
Chapter 2: So, Doc, What Do I Have? Getting a Diagnosis 25
Chapter 3: You Have MS — So Now What? 37
Chapter 4: Getting the Right Players on Your Healthcare Team 53
Part II: Taking Charge of Your MS 67
Chapter 5: Developing a Plan to Take Charge of Your MS69
Chapter 6: Managing the Disease Course and Treating Relapses 77
Chapter 7: Managing Fatigue, Walking Problems, Visual Changes, and Tremor 99
Chapter 8: Handling Problems with Bladder and Bowel Function, Pain, Speech and Swallowing, and Sex 119
Chapter 9: Getting Your Head around Problems with Mood and Thinking 141
Chapter 10: Considering Complementary and Alternative Medicine157
Part III: Staying Healthy and Feeling Well 171
Chapter 11: Paying Attention to Your Health — It's Not All about MS 173
Chapter 12: Handling Stress without Giving Up Your Life 185
Chapter 13: Coping with Progressive Forms of MS 197
Part IV: Managing Lifestyle Issues 213
Chapter 14: Presenting Your MS Face to the World 215
Chapter 15: Making MS a Part of the Family 227
Chapter 16: And Baby Makes Three, Four, or More: Planning a Family around Your MS 247
Chapter 17: Parenting: It Wasn't Easy Before You Had MS! 257
Part V: Creating Your Safety Nets 273
Chapter 18: Keeping Your Place in the Workforce 275
Chapter 19: Getting a Grip on Insurance 289
Chapter 20: Planning for a Future with MS 303
Part VI: The Part of Tens 315
Chapter 21: Ten MS Myths Debunked 317
Chapter 22: Ten Questions about Exciting Leads in MS Research 321
Chapter 23: Ten Tips for Trouble-Free Travel 325
Glossary 329
Index 343
See More
Rosalind Kalb, Ph.D., Barbara Giesser, MD, and Kathleen Costello, ANP-BC, have over 80 years' combined professional experience in working with people living with multiple sclerosis. For each of them, MS was, is, and will be their chosen career.
See More