E-book
The Social Media Handbook for Financial Advisors: How to Use LinkedIn, Facebook, and Twitter to Build and Grow Your Business
ISBN: 978-1-118-24086-1
304 pages
June 2012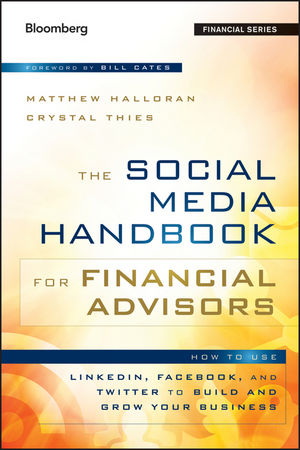 Expert advice for financial advisors looking to make the most of social media platforms
Social media is everywhere. 3.5 billion pieces of content are shared on Facebook each week, 22 million professionals are networking on LinkedIn, and 140 million tweets are posted every day. The opportunities these platforms present for financial advisors are huge, but most advisors have no idea how to use them to build bigger, stronger client bases. The Social Media Handbook for Financial Advisors: How to Use Facebook, Twitter, and LinkedIn to Build and Grow Your Business shows how to make the most of these new tools, offering invaluable advice about how to connect with potential clients in the twenty first century.
For most advisors, converting prospects into clients is their top priority, and social media presents incredible opportunities for sealing the deal. Sales don't happen because clients are impressed by complicated charts, they happen because they're impressed by your social media presence, and by properly understanding how to make these new platforms work for you, you'll be positioned to see your business boom.
Designed to teach financial advisors how to use social media to better market their services to attract new clients and referrals
Presents expert communication advice from top financial advisor coach Matthew Halloran
Categorizes communicators in a unique new way
Teaches financial advisors how to use social media in new, highly effective ways that they've never even considered
An essential resource for wealth managers and financial advisors looking to amplify their marketing message and raise their visibility in a crowded marketplace, The Social Media Handbook for Financial Advisors is the only book you need to make yourself heard.
See More
Foreword xiii
A Perspective on Social Media xvii
Introduction xxiii
PART I: INTRODUCTION TO SOCIAL MEDIA
CHAPTER 1 Compliance 3
Crystal Thies
Compliance and FINRA Licensed Advisors 4
Compliance and SEC Licensed Advisors 6
What Should I Do if I'm Not Allowed to Use Social Media? 8
How Does This Work? 9
Final Thoughts 11
CHAPTER 2 Creating Rapport Online 13
Matt Halloran and Crystal Thies
The Three Cs 13
Final Thoughts 23
CHAPTER 3 Lessons Learned from Social Media 25
Matt Halloran and Crystal Thies
Lesson #1: People Can Only See Words 26
Lesson #2: Social Media is More About Listening 27
Lesson #3: To Be Successful, You Must Be A Social Media Giver 28
Lesson #4: Keep Sales Messaging to a Minimum 29
Final Thoughts 30
CHAPTER 4 Give Something for Nothing 31
Matt Halloran
Internet Resources 31
Final Thoughts 35
CHAPTER 5 The Disciplined Approach 37
Matthew Halloran and Crystal Thies
Streamlining Use of Social Media 37
Managing Time 39
Social Media Dashboards 43
Final Thoughts 46
PART II: TWITTER
CHAPTER 6 Why Twitter? 49
Matthew Halloran
Texting and Tweeting 50
Setting Up Your Account 51
Final Thoughts 63
CHAPTER 7 Marketing on Twitter 65
Matthew Halloran
Regulations and Restrictions 65
Twellow 66
Two Recommended Tools 70
Unfollowing and Blocking 75
Tweet Scheduler and TweetDeck 77
Self-Marketing Tweets 78
Final Thoughts 79
CHAPTER 8 Getting Leads from Twitter 81
Matthew Halloran
Twitter: A Driving Force 81
Final Thoughts 86
CHAPTER 9 Public Relations on Twitter 87
Matthew Halloran
Tweet Grader 88
Muck Rack 88
Making News through Twitter 89
Final Thoughts 90
PART III: FACEBOOK
CHAPTER 10 Why Facebook? 93
Matthew Halloran
Statistics 93
Building Your Page 95
Working with Your Home Page 101
How Control Settings Help Your Marketing Plan 104
The Power of Advertisements! 107
The Facebook Fan Page 108
The Company Page 111
Timeline 116
Final Thoughts 118
CHAPTER 11 How to Advertise on Facebook 119
Matthew Halloran
Facebook Insights 119
Advertising on Facebook 120
Final Thoughts 132
CHAPTER 12 Facebook Applications and Tools 133
Matthew Halloran
Advanced Facebook Applications 133
Video Apps 135
Creating Events 139
More Facebook Apps 143
Final Thoughts 144
CHAPTER 13 Public Relations on Facebook 145
Matthew Halloran
Making Use of the Groups Platform 145
Be Proactive 148
Final Thoughts 150
PART IV: LINKEDIN
CHAPTER 14 Why LinkedIn? 153
Crystal Thies
You Can Control Referrals 153
LinkedIn Members Are More Affluent 154
Financial Advisors Are Having Success With LinkedIn 156
Final Thoughts 157
CHAPTER 15 Setting Up Your LinkedIn Account 159
Crystal Thies
Joining LinkedIn 159
Final Thoughts 164
CHAPTER 16 Building an Effective LinkedIn Profile 167
Crystal Thies
Search Engine Optimization (SEO) 169
Experience 172
Education 176
Adding Certifications, Designations, and Licenses 178
Name 180
Industry and Location 184
Headline 186
Photo 187
Websites 190
Twitter 192
Summary 193
Recommendations 196
Additional Information 200
Personal Information 200
Skills & Expertise 201
Special Sections 203
Applications 209
Final Thoughts 216
CHAPTER 17 Building Your LinkedIn Network to Create a Self-Referral Machine 219
Crystal Thies
Networking Philosophy 219
Who Should Be in Your Network? 220
Adding Connections 220
Sending Individual Invitations to Connect 225
Final Thoughts 227
CHAPTER 18 Finding Prospects Using LinkedIn: Creating Your Self-Referral Machine 229
Crystal Thies
The LinkedIn Advanced Search: Free versus Premium 229
Developing Good Searches 231
Finding 401(k) Rollover Opportunities 232
Small Business Owner Search 235
Connecting with the Prospects 239
Final Thoughts 240
CHAPTER 19 Using LinkedIn Groups for Visibility and Prospecting 241
Crystal Thies
The Opportunity in LinkedIn Groups 241
Two Types of Groups—Open and Closed 242
Choosing the Right Groups 242
Salesperson Groups 244
Searching for Groups 244
Posting in Groups 247
Joining Others' Conversations 248
Connecting with Group Members 250
Final Thoughts 251
CHAPTER 20 Gaining Visibility on LinkedIn 253
Crystal Thies
Working the News Feed 253
Company Status Updates 255
LinkedIn Polls 257
LinkedIn Events 261
Final Thoughts 264
PART V: NEXT STEPS
CHAPTER 21 The Future of Social Media 267
Crystal Thies
There's Much More than the Big Three 267
Staying Up To Date 268
About the Authors 269
Index 271
See More
Matthew Halloran first became interested in social media when Myspace was the place to be. With over 80,000 Twitter followers with a 99 percent effectiveness rating, 1,000 LinkedIn connections, and 700 Facebook fans, he knows how to gain followers to help build business. Having coached and consulted hundreds and spoken to thousands of financial advisors, Halloran knows how financial advising practices work, and believes that social media is the new marketing frontier for transforming the prospecting aspect of any financial services practice. He is the Director of National Development for GIVE Strategy, a mission-driven company that focuses on helping connect financial advisors, CPAs, estate planning attorneys, clients, and planned giving directors to redirect $1 billion to charity, and the founder and President of Top Advisor Coaching.
CRYSTAL THIES first learned of LinkedIn while deciding to return to financial planning, an industry she left for almost a decade to focus on charitable giving in the nonprofit sector. Thies saw LinkedIn and social media as the way to quickly reignite her financial planning practice while combining her two key knowledge bases of financial planning and charitable giving. The call of social media won out, and Thies started Crystal Clear Buzz, LLC. For more than three years, she has helped small and large businesses, sales teams, and sales professionals use social media for sales and business development. Because of her experience and expertise as a licensed financial planner, Thies's clients include many RIAs and financial advisors, in addition to major broker-dealers, wirehouses, and banks. Thies is known as the "LinkedIn Ninja"—a title given to her by her clients and followers.
See More
More in this series