E-book
Social Security For Dummies
ISBN: 978-1-118-24088-5
336 pages
March 2012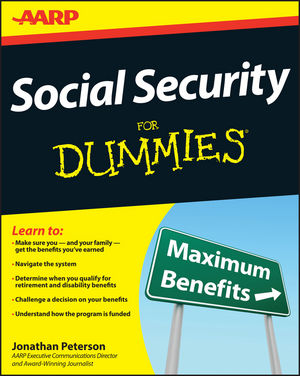 The easy way to get a handle on Social Security
Are you or a loved one looking to understand how Social Security benefits work? Social Security For Dummies helps you better understand and navigate the U.S. Social Security Administration, covering important topics such as how benefits are funded and distributed, the various Social Security options and how to qualify, and deciding when to start accepting Social Security benefits.
Additionally, it explains the history, regulations, and significant changes to U.S. Social Security, as well as considerations for the future of the program.
Advice for ensuring you're receiving your maximum benefits
Gives you a thorough breakdown of how benefits are determined and what programs are sponsored by the Social Security Administration
Covers challenges and considerations for those with special circumstances
Whether you're receiving Social Security benefits, helping someone who is, or thinking about beginning to accept benefits yourself, Social Security For Dummies is a must-have resource for navigating this complicated (and sometimes confusing) landscape.
See More
Introduction 1
Part I: The Nuts and Bolts of Social Security 9
Chapter 1: What Social Security Is and Why You Need It 11
Chapter 2: A Breakdown of Benefits 23
Chapter 3: Deciding When to Start Collecting Retirement Benefits 41
Chapter 4: Protecting Your Number and Securing Your Card 59
Part II: Taking the Plunge: Filing for Social Security 73
Chapter 5: Signing Up for Benefits 75
Chapter 6: Determining How Much You've Earned 87
Chapter 7: Navigating the System 95
Chapter 8: When You and Social Security Disagree: The Appeals Process 117
Part III: Who Benefits and When 135
Chapter 9: Spousal Benefits: Watching Out for Each Other 137
Chapter 10: Family Benefits: Who Gets What 153
Chapter 11: When You Can't Work: Social Security Disability Benefits 169
Part IV: Social Security and Your Future 195
Chapter 12: Enrolling in Medicare 197
Chapter 13: Working in "Retirement" 217
Chapter 14: Shaping a Financial Future You Can Live With 237
Part V: The Part of Tens 249
Chapter 15: Ten Myths about Social Security 251
Chapter 16: Ten Reasons Young People Should Care about Social Security 261
Chapter 17: Ten Choices Facing the Country about the Future of Social Security 269
Part VI: Appendixes 277
Appendix A: Glossary 279
Appendix B: Resources 289
Appendix C: Play the Game: You Make the Choices to Strengthen Social Security 295
Index 299
See More
Jonathan Peterson is Executive Communications Director at AARP and an award-winning journalist. He is a former Washington correspondent for the Los Angeles Times. During his news career, he covered the White House, state and national political campaigns, and various facets of U.S. domestic and economic policy. He was a 2007 National Press Foundation fellow in the Retirement Issues in the 21st Century program.
See More