E-book
Advanced Building Technologies for Sustainability
ISBN: 978-1-118-24127-1
256 pages
March 2013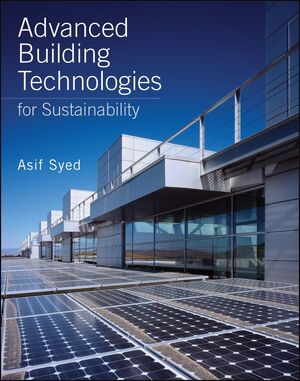 Practical solutions for sustainability
In this timely guide, one of the world's leaders in advanced building technology implementation shows architects and engineers proven and practical methods for implementing these technologies in sustainably-designed buildings. Because of the very limited time architects are given from being awarded a project to concept design, this book offers clear and workable solutions for implementing solar energy, radiant heating and cooling floors, displacement ventilation, net zero, and more. It provides helpful tips and suggestions for architects and engineers to work together on implementing these technologies, along with many innovative possibilities for developing a truly integrated design. This book also explores and explains the many benefits of advanced technologies, including reduced greenhouse gas emissions, lower operating costs, noise reduction, improved indoor air quality, and more. In addition, Advanced Building Technologies for Sustainability:
Offers detailed coverage of solar energy systems, thermal energy storage, geothermal systems, high-performance envelopes, chilled beams, under-floor air distribution, displacement induction units, and much more
Provides case studies of projects using advanced technologies and demonstrates their implementation in a variety of contexts and building types
Covers the implementation of advanced technologies in office towers, large residential buildings, hospitals, schools, dormitories, theaters, colleges, and more
Complete with a clear and insightful explanation of the requirements for and benefits of acquiring the U.S. Green Building Council's LEED certification, Advanced Building Technologies for Sustainability is an important resource for architects, engineers, developers, and contractors involved in sustainable projects using advanced technologies.
See More
INTRODUCTION viii
Chapter 1 SUSTAINABILITY AND ENERGY 1

Quality of Life Benefits 7

Finite Fossil Fuel Resources 8

Greenhouse Gases 10

Profits and Savings from Energy Efficiency 11

Site-to-Source Effect 12

New LEED Version 2009 13

Per Capita Energy Consumption 14

Building Energy End-Use Splits, People Use Energy 15

Carbon Footprint 17

Funding Opportunities 19
Chapter 2 RADIANT COOLING 21

History 21

Introduction 23

Why Radiant Cooling? 26

Applications 28

Radiant Cooling and Historic Preservation 39
Chapter 3 DISPLACEMENT VENTILATION 41

History 41

Introduction 42

Conventional or Mixed-Air Systems 42

Difference Between Displacement and Underfloor Air Distribution (UFAD) 47

Applications 48

Large Public Spaces (Cafeterias, Dining Halls, Exhibit Spaces) 48
Chapter 4 CHILLED BEAMS 61

Principle of Operation and Technology 62

Benefits of Chilled Beams 63

Types of Chilled Beams 67

Chilled Beam Applications 72

Chilled Beam Use with Underfloor Air Distribution (UFAD) Applications 78
Chapter 5 UNDERFLOOR AIR DISTRIBUTION (UFAD) 83

Validation of UFAD Designs with CFD Analysis 91

Impact on Buildings 95

Chapter 6 DISPLACEMENT INDUCTION UNITS (DIU) 101

Benefits of Displacement Induction Units 103

History of Induction Units 106

Applications 107
Chapter 7 HIGH-PERFORMANCE ENVELOPE 115

Engaging and Nonengaging Envelopes 116

High-Performance Envelope Definition 117

Most Common Energy Codes: ANSI and ASHRAE 90.1 118

Glazing Characteristics 123

How to Exceed the Mandatory Code Performance 128
Chapter 8 THERMAL ENERGY STORAGE 145

Renewable Energy Storage 146

Conventional Air Conditioning Systems 153

Nonrenewable Energy Storage 156
Chapter 9 SOLAR ENERGY AND NET-ZERO BUILDINGS 163

Net-Zero Step 1: Harvesting Solar Energy 166

Solar Energy in Net-Zero Buildings 177

Net-Zero Step 2: Improve Energy Efficiency of the Building and Its Mechanical and Electrical Systems 181

Net-Zero Step 3: Reduce Consumption 183
Chapter 10 GEOTHERMAL SYSTEMS 185

Introduction 185

Geothermal Heat Pumps 190

Types of Heat Pumps 198
Chapter 11 COGENERATION 205

Other Applications of Cogeneration 207

Cogeneration Technologies 211

Micro-Cogeneration or Combined Heat and Power (Micro-CHP) 221
Chapter 12 DATA CENTER SUSTAINABILITY 223

History of Data Centers 224

2011: Top Ten Trends in Data Centers 225

Power Usage Effectiveness (PUE) 226

Technologies That Can Benefit Data Center Efficiency 230

Office Building Applications 234

Air Management in the Data Center 237
INDEX 239
See More
ASIF SYED, PE, LEED-AP, is currently a partner at AKF Engineers and was a senior vice president at Flack + Kurtz until 2003. Syed is responsible for the design and analysis of mechanical systems including advanced building technologies, energy analysis, life-cycle costs, cost-effective energy-saving strategies, and sustainable design. He has worked on several LEED projects for commercial property developers, where he introduced pragmatic and cost-effective energy-saving strategies.
See More