E-book
AARP PowerPoint 2010 For Dummies, Mini Edition
ISBN: 978-1-118-24197-4
64 pages
November 2011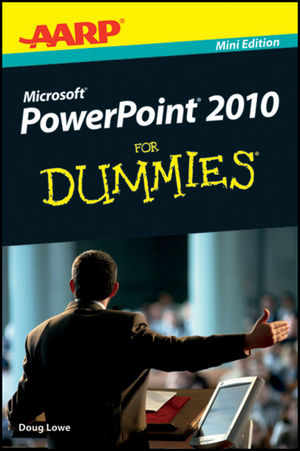 Add some pizzazz to your presentations
Slideshows are one of the best ways to captivate your audience during a presentation, and this one-of-a-kind mini guide will show you how to build great-looking slides, add sound and video, animate your slideshow graphics, and more. Whether you're showing off pictures from your summer vacation or trying to raise money for your favorite cause, PowerPoint 2010 is sure to add the power you need to all your presentations.
Open the book and find:
What's new in PowerPoint 2010
Tips on navigating the Ribbon
How to create and edit a slide presentation
Hints for working in Backstage View
How to set up a presentation
See More
Introduction 1
About This Book 2
How This Book Is Organized 2
Part I: Welcome to PowerPoint 2010 2
Part II: Editing Slides 3
Part III: Show Time! 3
Icons Used in This Book 3
Where to Go from Here 3
Part I: Welcome to PowerPoint 2010 5
What in Sam Hill Is PowerPoint? 6
Introducing PowerPoint Presentations 7
Presentation files 9
What's in a slide? 10
Starting PowerPoint 12
Navigating the PowerPoint Interface 14
Unraveling the Ribbon 18
The View from Here Is Great 19
Taking the Backstage Tour 20
Creating a New Presentation 21
Adding a new slide 24
Moving from slide to slide 25
Choosing a design 26
Displaying Your Presentation 27
Saving Your Work 28
Opening a Presentation 29
Part II: Editing Slides 31
Moving from Slide to Slide 31
Working with Objects 32
Selecting objects 33
Resizing or moving an object 35
Editing a Text Object 38
Selecting Text 39
Using Cut, Copy, and Paste 40
Duplicating an Object 42
Using the Clipboard Task Pane 43
Oops! I Didn't Mean It (The Marvelous Undo Command) 44
Deleting a Slide 45
Duplicating a Slide 46
Finding Text 46
Replacing Text 49
Rearranging Your Slides in Slide Sorter View 51
Part III: Show Time! 55
The Quick Way to Print 55
Printing from Backstage View 56
Starting a Slide Show 57
Setting Up a Slide Show 58
See More
Doug Lowe is a veteran author whose more than 40 For Dummies books have over a million copies in print. He's written about everything from Microsoft Office productivity to programming in ASP.NET.
See More