E-book
AARP Excel 2010 For Dummies, Mini Edition
ISBN: 978-1-118-24201-8
64 pages
November 2011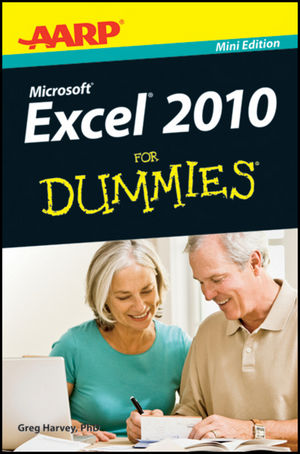 Crunch numbers the easy way with Excel 2010
This handy mini guide is packed with the information you need to become a spreadsheet superstar! You'll learn to find your way around Excel 2010, enter data on a worksheet, create simple formulas, format cells, preview and print pages, and more. Whether you're new to Excel 2010 or new to Excel altogether, the basics are all here.
Open the book and find:
Ten cool Excel 2010 features
How to navigate the Ribbon
A guide to formatting cells
Where to turn for online help
How to make your spreadsheets look the way you want
See More
Introduction 1
About This Book 1
Conventions Used in This Book 2
Icons Used in This Book 2
Part I: The Excel 2010 User Experience 3
Excel's Ribbon User Interface 4
Going Backstage via File 6
Bragging about the Ribbon 7
Having fun with the Formula bar 9
What to do in the Worksheet area 10
Launching and Quitting Excel 12
Help Is on the Way 12
Top Ten Features in Excel 2010 14
Part II: Creating and Editing Spreadsheets 19
Doing the Data-Entry Thing 20
It Takes All Types21
The telltale signs of text 22
How Excel evaluates its values 24
Fabricating those fabulous formulas! 25
Fill 'er Up with AutoFill 28
Choosing a Select Group of Cells 30
Point-and-click cell selections 31
Keyboard cell selections 32
Formatting Cells 33
Having fun with the Format as Table Gallery 33
Cell formatting from the Home tab 35
Adjusting Rows and Columns 38
Adjusting column width manually 39
Adjusting row height manually 40
Making Sure That the Data Is Safe and Sound 41
Part III: Previewing and Printing 43
Taking a Gander at the Pages in Page Layout View 43
Checking and Printing a Report from the Print Panel 45
My Page Was Set Up! 47
Using the buttons in the Page Setup group 48
Using the buttons in the Scale to Fit group 49
Using the buttons in the Sheet Options group 49
From Header to Footer 50
Adding an Auto Header or Auto Footer 51
Creating a custom header or footer 53
Solving Page Break Problems 53
See More
Greg Harvey, PhD, is President of Mind Over Media, Inc. He has written all editions of Excel For Dummies, Excel All-in-One For Dummies, and Excel Workbook For Dummies, and is an experienced educator.
See More