E-book
Race: Are We So Different?
ISBN: 978-1-118-24221-6
280 pages
August 2012, Wiley-Blackwell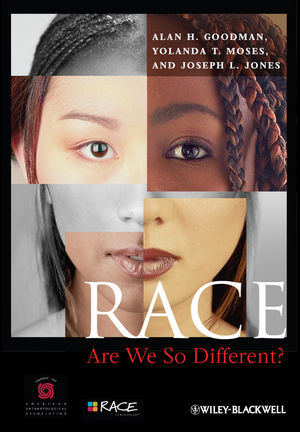 Perspectives on race today
Featuring new and engaging essays by noted anthropologists and illustrated with full color photos, RACE: Are We So Different? is an accessible and fascinating look at the idea of race, demonstrating how current scientific understanding is often inconsistent with popular notions of race. Taken from the popular national public education project and museum exhibition, it explores the contemporary experience of race and racism in the United States and the often-invisible ways race and racism have influenced laws, customs, and social institutions.
See More
List of Illustrations vii
Preface xi
Acknowledgments xiii
1 Regarding Race 1
Part 1 Histories of Race, Difference, and Racism 7
2 Introducing Race 9
3 Creating Race 15
4 Human Mismeasure 26
5 Inventing Whiteness 44
6 Separate and Unequal 67
Part 2 Why Human Variation Is Not Racial 91
7 Introduction: Race ≠ Human Biological Variation 93
8 Skin Deep? 101
9 Sickle Cell Disease: Not for Blacks Only 111
10 The Apportionment of Variation, or … Why We Are All Africans Under the Skin 123
11 The Evolution of Variation 133
Part 3 Living with Race and Racism 145
12 Introduction: Living with Race and Racism 147
13 Race and the Census 154
14 Race and Education 174
15 Linking Race and Wealth: An American Dilemma 195
16 Race and Health Disparities 214
17 Conclusion 231
Glossary 246
Index 253
See More
Alan H. Goodman is Vice President for Academic Affairs and Dean of Faculty at Hampshire College. A biological anthropologist who has written extensively on human variation and the biological consequences of inequality and poverty, he co-leads the national public education project sponsored by the AAA and funded by NSF and the Ford Foundation. Goodman is a past President of the AAA. 
Yolanda T. Moses is Professor of Anthropology, Associate Vice Chancellor for Diversity, Excellence and Equity at the University of California, Riverside. A cultural anthropologist, she has published extensively on issues of social inequality in complex societies and cultural diversity in higher education in the United States, India, and South Africa. She chaired the National Advisory Committee composed of distinguished scholars and curators that designed the original exhibit and website.She co-leads the national public education project sponsored by the AAA and funded by NSF and the Ford Foundation. Moses is past President of the AAA.
Joseph L. Jones is former RACE project manager for the American Anthropological Association. He also has written extensively on race and the stresses of enslavement. He is finishing his dissertation from University of Massachusetts Amherst on "The Political Ecology of Early Childhood Lead Exposure for Enslaved Africans from the New York African Burial Ground."
Sponsored by the American Anthropological Association (AAA).
Founded in 1902, the American Anthropological Association (AAA) is the world's largest professional organization of scholars and practitioners in the field of anthropology. With over 11 thousand members, the Arlington, Virginia-based association includes archaeologists, cultural anthropologists, biological anthropologists, linguists, and applied anthropologists from around the world. AAA publishes 22 peer-reviewed scholarly journals and conducts the largest annual meeting of anthropologists in the world. 
See More