E-book
Effective Writing in Psychology: Papers, Posters,and Presentations, 2nd Edition
ISBN: 978-1-118-24222-3
312 pages
March 2012, Wiley-Blackwell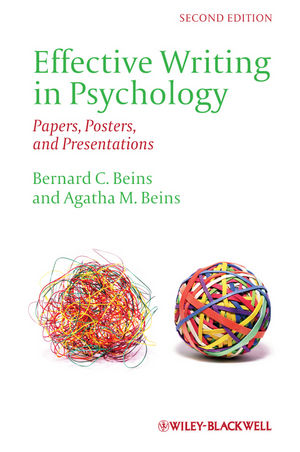 The second edition of
Effective Writing in Psychology
helps users produce crisp scientific communication, form concise unambiguous arguments, and render technical information clear and comprehensible. The new edition incorporates the latest guidelines contained within the 6
th
edition of the APA
Publication Manual
.
Clear guidelines on effective writing illustrate how to generate strong and compelling prose, even when the writing is not aimed at a research audience
Incorporates changes to the guidelines contained in the 6th edition of the APA publication manual
Includes material on how to adapt APA style for poster presentations using PowerPoint, and for oral presentations
Contains a new section on using the Internet to present research papers and a new chapter on conducting a literature search, to guide students through databases, keywords, sources, and connections between articles
Highlights methods for selecting a research topic and organizing papers
Features a sample manuscript showing common deviations from correct APA style and a version demonstrating appropriate use of APA style
See More
Preface to the Second Edition ix
Preface to the First Edition xi
1 Writing in Psychology 1
Writing in Psychology 2
How Does Psychological Writing Differ from Other Kinds of Writing? 3
Using APA Style 4
Making a Credible Argument 5
Different Types of Communication 6
Effective Communication 8
How to Begin 9
Part I Organizing and Developing Your Ideas and Writing 11
2 Formulating Your Ideas 13
Identifying Your Focal Question 13
Locating Relevant Sources 16
Recognizing Multiple Viewpoints 19
Ethical Writing 21
3 Assessing Your Sources 27
The Difference between Primary and Secondary Literature 28
The Difference between Popular and Scholarly Sources 28
Evaluating Sources 31
Evaluating Internet Sources 33
4 How to Conduct a Literature Search 41
Understanding Library Resources 43
Using Article Databases 49
Using the Internet 51
Using Sources to Find Sources 53
5 How to Read and Summarize a Journal Article 55
An Overview of the Research—the Abstract 56
Identifying the Issues—the Introduction 57
Understanding What Was Done—the Method Section 57
What Happened—the Results Section 60
What It Means—the Discussion Section 62
Where the Ideas Originated—the References Section 65
Figuring Out What It Means 65
6 Organizing a Paper 67
Organization 68
Using the Work of Others to Support Your Argument 70
Editing and Revising 75
Mechanics 77
7 Elements of Style 79
Recognizing the Importance of Grammar and Style 80
Choosing Effective Wording 81
Using Inclusive and Appropriate Language 82
Deciding on the Use of Technical Language 85
Avoiding Common Problems 85
Verb Forms 88
Spelling 89
Specific Word Use 95
8 Communicating Statistics 97
Why Do We Use Statistics? 98
What Point Are You Trying to Make? 99
Understanding Your Numbers 101
Helping Readers Understand Your Statistics 103
Differentiating Results and Interpretations 106
Part II Preparing APA Format Papers 107
9 Writing a Thesis or a Term Paper 109
Developing Your Idea 111
Organizing Your Paper Around the Central Questions 114
Finding Different Perspectives About Your Idea 116
Developing the Logic of Your Argument 119
10 The Introduction Section 123
Introducing the Topic 124
Different Approaches to Starting the Introduction 124
How to Begin 127
Reviewing the Literature 128
Reasons for Reviewing the Literature 128
Clarifying Terms in the Research 129
Introducing Your Research: Generating a Hypothesis 130
11 The Method Section 133
Participants and Subjects 134
Materials and Apparatus 141
Procedure 143
Design 144
12 The Results Section 147
Your Hypotheses 148
Deciding What to Present 149
Reporting Significant and Nonsignificant Results 150
Marginally Significant Effects 151
APA Style and Presentation of Your Results 152
Creating Tables 155
Creating Figures 160
The Connection between the Text and the Tables and Figures 164
The Difference between Results and Discussion Sections 166
Some Final Points About Presenting Results 169
13 The Discussion Section 171
Summarizing Your Results 172
Connecting Different Aspects of Your Results 173
Dealing with Nonsignificant Results 174
Comparing Your Results with Those of Others 175
Stating the Importance and Implications of Your Results 176
Acknowledging the Limitations of Your Study 177
14 References Citations in the Text and the Reference List 179
Citing References in the Text 180
Citing Sources with Three to Five Authors 182
Citing Sources with Six or More Authors 182
Citing Personal Communications 183
Citing Multiple Sources within Parentheses 183
Order of Citations in the Reference List 184
Using Your Word Processing Program to Create the Citation 184
Examples of How Different Types of References Should Be Laid Out 185
15 Final Touches: The Abstract and Formatting Details 193
The Abstract 194
Formatting Details 195
Part III Communicating Beyond the Research Paper 215
16 Creating Poster Presentations 217
Differentiating Visual and Written Communication 218
Reducing the Amount of Information 218
Visual Style 219
Your Behavior: The Ethic of a Poster Session 222
Creating Your Poster Using PowerPoint® 224
17 Giving Oral Presentations 231
The Difference between Oral and Written English 231
Adapting APA Style to Oral Presentations 236
Preparing for Your Talk 236
Creating Graphics for Your Presentation 238
Giving the Presentation 239
18 Presenting Your Work on the Internet 243
New Capabilities with Internet Publication 244
Using a Word Processor to Create Manuscripts for the Internet 245
Advantages of Internet Publishing Software 247
Publishing Your Poster on the Web 249
Uploading Your Manuscript to the Internet 249
19 Submitting Your Plan to an Ethics Committee 251
Ethical Standards in Research 251
Writing a Proposal for an Institutional Review Board for Research with Human Subjects 253
Writing a Proposal for the Institutional Animal Care and Use Committee (IACUC) for Animal Research 258
Appendix A Example of APA-Style Manuscript with Common Errors 261
Appendix B Corrected APA-Style Manuscript 269
References 277
Author Index 285
Subject Index 288
See More
"This is an excellent book, which will prove valuable to many readers in different settings, not just students or educators."  (Nursing Times, 4 December 2012)
"All first-year students would benefit from this text when writing their first paper, poster and presentation, regardless of their writing background."  (Times Higher Education Supplement, 8 November 2012)

"This is an excellent book, which will prove valuable to many readers in different settings, not just students or educators. The parameters that govern a paper or presentation related to psychology are beautifully outlined here, and the guidelines offered could not be clearer." (Nursing Times.net, December 2012)
This book is a clear, comprehensive step-by-step guide that will be wonderfully useful for student writers at all stages of the psychology major. Beins and Beins have produced a wonderful handbook for students; I imagine this is a book that many of them will hold on to and refer to throughout their academic years.
-Suzanne Baker, James Madison University
This comprehensive book will be a resource that psychology students will keep for future reference.  From organizing ideas to writing in APA style, from writing empirical reports to presenting posters, this helpful book guides students through the conventions of psychological writing.
-Beth Morling, University of Delaware
Effective Writing in Psychology strikes an effective, accessible balance between psychology students' need to learn the technical aspects of scientific writing and the recognition that scientific writing need not be dull and lifeless. Barney and Agatha Beins care about students and about good writing; that care shows in this fine student manual.
-Ken Keith, University of San Diego
See More