The Good Fail: Entrepreneurial Lessons from the Rise and Fall of Microworkz
ISBN: 978-1-118-25071-6
Hardcover
153 pages
May 2012
US $29.95

Add to Cart
This price is valid for United States. Change location to view local pricing and availability.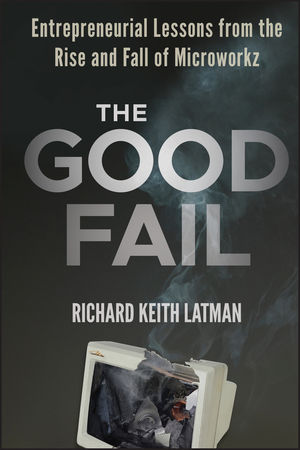 Other Available Formats:
E-book
May 01, 2012
Entrepreneurial Lessons from the Rise and Fall of Microworkz
Connect with Wiley Publicity
"I've just received notice that the Attorney General's office has commenced a formal action against you. Bye bye." Click.
This phone call would forever change Richard Keith Latman's life. It was the start of The Good Fail.
Founder and then CEO of Microworkz, a technology company that Latman dreamt would provide affordable and educational computers to those less fortunate, Latman and his business were thrown into the center of a formal investigation led by the state of Washington's Attorney General.
This legal action would ultimately result in fines from Microsoft, the dissolution of Microworkz, a personal bankruptcy, divorce, severe depression and suicidal thoughts.
The Good Fail: Entrepreneurial Lessons from the Rise and Fall of Microworkz (Wiley, May 2012) tells Latman's story and explains why failure is a necessary stepping stone to success.
A "good fail" is a failure that has a learning value greater than the offset collateral damage. It is a failure that one is unlikely to repeat, but that helps to positively shape the person's managerial style and business acumen. These types of failures are inherent to success and lead to new ideas about customers, innovations, and business plans.
The Good Fail explains how companies can master this process of risk-taking and "stumbling towards success" in order to better their business. Latman offers advice for "getting good" at failure and 19 ways to avoid a good fail, such as:
Build It, Then Sell It. Be ultraconservative in your sales approach and enter the market completely confident in your product and ability to deliver exactly what you promise.
Surround Yourself with Hunters, Not Farmers. Hunters are proactive in their search for information and opportunities and execute with precision. Farmers gather and gather and churn information and don't get much done.
You Are Your Own Worst Employee. Are you an expert at what you do? Most will say yes. But are wrong. By believing you know almost all there is to know about your business, you are setting limitations that don't exist, and are likely causing drama and diminishing focus in the business you love.
Accept "No" For an Answer. Then ask why. And learn from it.
Don't Just Worry About Failure, Worry About Success. Great publicity launched Latman's Microworkz to the big league, but they couldn't keep up with supply and demand (for various reasons). "We failed to prepare and plan for the business to do exactly what every business person prays will happen." Be prepared.
It turns out, Latman's and Microworkz's failures went on to become only minor roadblocks in his professional life and ultimately provided him with important lessons on executive leadership, business management, and distribution models.
It took some time, and more failures, to get back on his feet, but Latman finally found his way back to an industry he loved – selling cars in record numbers -- while developing software to keep better track of sales leads and customer relationship management.
Today, Latman is the CEO and Co-Founder of iMagicLab, a soft company focused on the auto-industry, and the Founder of Latman Interactive.
The Good Fail is Latman's story. "Despite all the tumult at Microworkz and the fact that it did not survive, the folks in Silicon Valley still call it a 'good fail.' It was a failure that entrepreneurs can learn from and that I, personally, could learn from and leverage to go on and start an even more successful company. What I learned was greater than the ultimate loss. That's a good fail."