Teach Yourself VISUALLY The new iPad
ISBN: 978-1-118-25293-2
320 pages
June 2012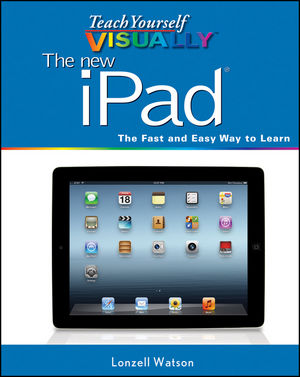 A new edition of a bestseller, fully updated on the latest features of the iPad!
The evolution of the iPad continues to deliver amazing possibilities, which is exactly why this bestselling guide evolves right along with it! Fully updated with coverage on the latest generation of the iPad, this full-color, step-by-step guide is perfectly suited for anyone who is a visual learner and learns best by visual cues and a tactile interface. You'll learn to access and download books, apps, music, and video content as well as send photos and emails, sync with other devices and services, and confidently use the multi-touch display.
Highlights how to connect to multimedia content, social networking, and the Internet
Shows you how to upload more than half a million apps, including award-winning games and helpful productivity tools
Helps you take advantage of the potential of the iPad with the featured visual tips and guidance
If you've got the latest iPad, then you certainly need the latest version of Teach Yourself Visually iPad 2 to go with it!
See More
Chapter 1 Get to Know the iPad
Set Up iCloud  28
Customize the Home Screen  30
Reset the Default Home Screen Layout  32
Protect Your iPad with a Passcode  34
Configure the iPad Sleep Setting  36
Turn Sounds On and Off  38
Set the Silent/Screen Rotation Lock Switch  39
Adjust the Brightness of the Screen  40
Switch to Airplane Mode  41
Change the iPad Wallpaper  42
Configure Parental Controls  44
Reset the iPad  46
Set Your Notification Center  48
Cut, Copy, and Paste Text  50
Copy and Paste a Photo  52
Search Your iPad by Using Spotlight  54
Chapter 2 Configure the iPad
Understand Internet Access  58
Connect to a Wi-Fi Network  60
Activate Your 4G Service  62
Change the Default Search Engine  64
Explore Browser Security and Privacy Options  66
Manage Multiple Web Pages  68
Read Clutter-Free Web Pages  70
Add an Article to Your Reading List  72
Bookmark Your Favorite Websites  74
Explore Touch-Screen Navigation Tips  76
Turn On AutoFill  78
View an RSS Feed in Safari  80
Connect a Bluetooth Device with the iPad  82
Chapter 3 Browse the Internet
Tweet with Attachments  86
Send iMessages with Messages  88
Learn about Managing Email Accounts  90
Add an Email Account for the First Time  92
Create a New Email Account  94
Specify the Default Email Account  96
Switch to Another Email Account  98
Disable an Email Account 100
Use a Different Server Port 102
Configure Authentication for Outgoing Mail 104
Automatically Check for New Emails 106
Use Dictation to Write Email Messages 108
Bold, Italicize, and Underline Text 110
Use Quote Levels in Mail 112
Mark and Flag Messages 113
Add Mailbox Folders 114
Email a Link to a Web Page 116
Set Message Font Size 118
Create a Custom iPad Signature 120
Disable Remote Message Images 122
Chapter 4 Tweet, Text Message, and Email
Connect Your iPad to a Computer 126
Sync Your iPad over a Wi-Fi Connection 128
Set Up a New iPad with iTunes 130
Sync Your Contacts List 132
Sync Your Calendar 134
Sync Your Email Account 136
Sync Your Bookmarks 138
Sync Music, Music Videos, and Movies 140
Sync Podcasts 142
Sync Books and Audiobooks 144
Sync TV Show Episodes 146
Sync Photos on Your Computer with Your iPad 148
Save Photos from Emails 150
Import Photos from Your Camera 152
Chapter 5 Sync the iPad
Discover What You Can Do with iTunes 156
Set Up an iTunes Account 157
Buy and Download in iTunes 158
Subscribe to Podcasts 160
Rate Content in the iTunes Store 162
Chapter 6 Explore iTunes, Photos, and Videos
Configure iPad Audio Settings 164
Browse and Play Content in the Music App 166
Enable Genius Playlists 168
Create a Genius Playlist 170
Configure Shuffle Settings 171
Create a Standard Playlist in the Music App 172
Play Videos, Movies, and TV Shows 174
Customize Video Settings 176
Capture Photos with Your iPad 178
Shoot Video with Your iPad 180
Get Some FaceTime 182
View Photos on Your iPad 184
Rotate Photos 186
Enhance Photos 187
Reduce Red-Eye 188
Crop Photos 189
Create Albums 190
Send a Photo or Video by Email 192
Create a Custom Slideshow 194
Chapter 7 Enjoy YouTube, iBooks, and Newsstand
Explore YouTube 198
Locate Videos on YouTube 200
Save a Video as a Favorite 202
Email a Link to a Video 204
Understand iBooks Features 206
Purchase and Download E-Books 208
Understand iBooks Navigation Controls 210
Stock Your Newsstand 212
Chapter 8 Organize Your Life with the iPad
Create a To-Do List with Reminders 216
Create a New Contact 218
Edit an Existing Contact 220
Assign an Email Address to a Contact 222
Assign a Web Address to a Contact 224
Assign a Physical Address to a Contact 226
Create a Custom Label for a Contact 228
Add Extra Fields for a Contact 230
Add Notes to a Contact 232
Add Photos to Contacts 234
Create Contact Groups 236
Add Appointments to Your Calendar 238
Edit an Existing Appointment 240
Set Up a Repeating Event 242
Convert an Event to an All-Day Event 244
Set an Alert for an Event 246
Chapter 9 Simplify Your Life with the iPad
Explore Accessibility Options for the Visually and Hearing Impaired 250
Display Your Current Location by Using Maps 252
Get Directions by Using Maps 253
Specify a Location When You Do Not Have an Address 254
Display a Contact's Location 256
Bookmark a Location 258
Explore iWork 260
Chapter 10 Enhance Your iPad
Explore the App Store 264
Download Free Apps 266
Purchase and Download Apps 268
Move Apps from Your Computer to Your iPad 270
Check for Updates to Apps 272
Accessorize Your iPad 274
Chapter 11 Maintain and Troubleshoot the iPad
Update iPad Software 278
Back Up and Restore Your iPad Using iCloud 280
Restore Your iPad's Data and Settings Using iTunes 282
Learn to Extend Battery Life 284
Troubleshoot Connected Devices 286
Troubleshoot the Inability to Charge the iPad Battery 288
Troubleshoot Problems with Wi-Fi Accessibility 290
Troubleshoot Why iTunes May Not See Your iPad 292
Troubleshoot the Inability to Sync with iTunes 294
Index  296
See More
Buy Both and Save 25%!
Teach Yourself VISUALLY The new iPad (US $29.99)
-and- Teach Yourself VISUALLY iPhone 4S (US $24.99)
Total List Price: US $54.98
Discounted Price: US $41.23 (Save: US $13.75)
Cannot be combined with any other offers. Learn more.