Autodesk Revit Architecture 2013: No Experience Required
ISBN: 978-1-118-25594-0
1056 pages
July 2012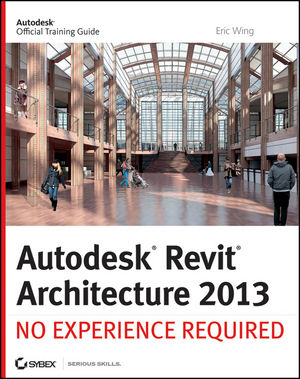 Introducing the only continuous, step-by-step tutorial for Revit Architecture
Revit is the industry-leading Building Information Modeling (BIM) software package, noted for its power and sophistication. This is the only book to teach Revit basics using a continuous, real-world tutorial that covers each phase of designing, documenting, and presenting a four-story office building. Revit newcomers will quickly learn the essentials through concise explanations, focused examples, and step-by-step instructions for an actual project, modeling each step of a real structure from placing walls and windows to creating roofs, stairs, and railings.
Presents the industry-leading BIM software in an easy-to-follow tutorial developed by a Revit expert who has trained thousands of architects and engineers
Introduces the interface and Revit conventions, then moves into modeling a four-story building, showing how to use Revit tools for views, grids, and editing
Tutorial progresses just as a real project would, including placing walls, doors, and windows to working with structural grids, beams, and foundations; building floors and joining them to walls; and creating roofs and ceilings
Shows how to add text and dimensions, use dimensions as a design tool, generate construction documentation, and create schedules and material takeoffs
Explores crucial site considerations, Revit's rendering capabilities, how to import and export to various formats, and many more advanced features
Autodesk Revit Architecture: No Experience Required takes newcomers step by step through this leading BIM software with a real-world project that enhances understanding.
See More
Introduction xxi
Chapter 1 The Autodesk Revit World 1
Chapter 2 Creating a Model 47
Chapter 3 Creating Views 109
Chapter 4 Working with the Autodesk Revit Tools 175
Chapter 5 Dimensioning and Annotating 225
Chapter 6 Floors 271
Chapter 7 Roofs 323
Chapter 8 Structural Items 377
Chapter 9 Ceilings and Interiors 433
Chapter 10 Stairs, Ramps, and Railings 497
Chapter 11 Schedules and Tags 571
Chapter 12 Detailing 645
Chapter 13 Creating Specific Views and Match Lines 717
Chapter 14 Creating Sheets and Printing 733
Chapter 15 Creating Rooms and Area Plans 765
Chapter 16 Advanced Wall Topics 791
Chapter 17 Creating Families 845
Chapter 18 Site and Topography 879
Chapter 19 Rendering and Presentation 913
Chapter 20 Importing and Coordinating Models 937
Chapter 21 Phasing and Design Options 959
Chapter 22 Project Collaboration 973
Index 993
See More
Architectural engineer Eric Wing is the BIM Manager at C&S Companies, a Syracuse, New York, engineering firm. He is also Director of the Autodesk User Group International (AUGI) Training Program, author of four books, and Revit columnist for AUGIWorld magazine, AUGI HotNews, and ConnectPress. Eric is a popular speaker at Autodesk University and the American Council of Engineering Companies, as well as at industry events and conferences sponsored by the American Institute of Architects, the Construction Specifications Institute, and AUGI user groups. He also teaches BIM for Facility Management at the Rochester Institute of Technology (RIT).
See More
Do you think you've discovered an error in this book? Please check the list of errata below to see if we've already addressed the error. If not, please submit the error via our Errata Form. We will attempt to verify your error; if you're right, we will post a correction below.
Chapter
Page
Details
Date
Print Run
Index
Corrected Index
In the Index of the first printing, some page references were incorrect. A PDF of the corrected index is posted to the Downloads page.
10/22/12
1
See More
Learn more about