The Social Media Bible: Tactics, Tools, and Strategies for Business Success, 3rd Edition
ISBN: 978-1-118-26974-9
640 pages
May 2012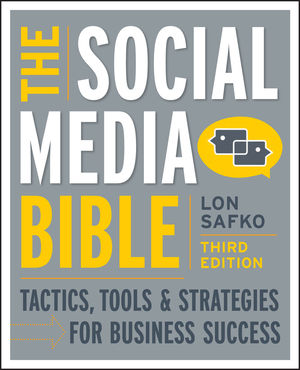 The go-to guide to social media skills, now in an updated and revised Third Edition
The Social Media Bible is comprehensive 700-plus page social media resource that will teach corporate, small business, and non-profit marketers strategies for using social media to reach their desired audiences with power messages and efficiency. This newly revised 3rd edition addresses technology updates to the iPad, apps, Foursquare, and other geotargeted networks. New case studies and company profiles provide practical examples of how businesses have successfully implemented these strategies, using the newest social media marketing tools.
Updates and changes to Google's search engine algorithms
More information on plug-ins, widgets, apps, and integration
Updates on Twitter and Yammer and new information on Google+
The latest in mobile marketing
Master the latest social media tools and deliver powerful messaging in the most effective way possible with The Social Media Bible.
See More
ACKNOWLEDGMENTS vii
INTRODUCTION xi
PART I Tactics and Tools
CHAPTER 1 What Is Social Media? 3
CHAPTER 2 Say Hello to Social Networking 25
CHAPTER 3 It's Not Your Father's E-Mail 61
CHAPTER 4 The World of Web Pages 85
CHAPTER 5 The Internet Forum 117
CHAPTER 6 The Ubiquitous Blog 141
CHAPTER 7 The Wisdom of the Wiki 167
CHAPTER 8 A Picture Is Worth a Thousand Words (Photo Sharing) 187
CHAPTER 9 Talking about the Podcast (Audio Create) 207
CHAPTER 10 Got Audio? (Audio Sharing) 233
CHAPTER 11 Watch Out for Vlogs (Video Create) 253
CHAPTER 12 Got Video? (Video Sharing) 273
CHAPTER 13 Thumbs Up for Microblogging 289
CHAPTER 14 Live from Anywhere—It's Livecasting 317
CHAPTER 15 Virtual Worlds—Real Impact 339
CHAPTER 16 Gaming the System: Virtual Gaming 371
CHAPTER 17 RSS—Really Simple Syndication Made Simple 397
CHAPTER 18 Spotlight on Search (Search Engine Optimization) 411
CHAPTER 19 Marketing Yourself (Search Engine Marketing) 441
CHAPTER 20 The Formidable Fourth Screen (Mobile) 457
CHAPTER 21 Let the Conversation Begin (Interpersonal) 487
PART II Strategy: The Five Steps to Social Media Success
CHAPTER 22 Analyze Your Existing Media 539
CHAPTER 23 The Social Media Trinity 551
CHAPTER 24 Integrate Strategies 565
CHAPTER 25 Identify Resources 577
CHAPTER 26 Implement and Measurement 589
INDEX 601
See More
Lon Safko is a marketing consultant with more than twenty-five years of experience in speaking, marketing, sales, strategic partnering, and e-commerce. He has founded fourteen successful companies, including Paper Models, Inc., holds three U.S. patents for 3D Internet advertising, has eighteen inventions in the Smithsonian Institution, and privately coaches companies on harnessing social media, marketing, and innovative thinking to create higher productivity and profits.
See More
Learn more about