Processing and Properties of Advanced Ceramics and Composites IV: Ceramic Transactions, Volume 234
ISBN: 978-1-118-27336-4
336 pages
September 2012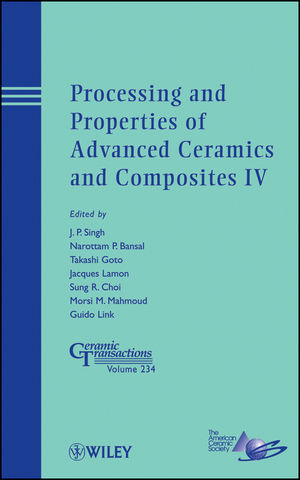 With contributed papers from the 2011 Materials Science and Technology symposia, this is a useful one-stop resource for understanding the most important issues in the processing and properties of advanced ceramics and composites. Logically organized and carefully selected, the articles cover the themes of the symposia: Innovative Processing and Synthesis of Ceramics, Glasses and Composites; Advances in Ceramic Matrix Composites; Solution-Based Processing of Materials; and Microwave Processing of Materials. A must for academics in mechanical and chemical engineering, materials and or ceramics, and chemistry.
See More
Preface ix
SYNTHESIS AND PROCESSING
Effect of Particle Size and Temperature on the Sintering Behaviour of Glass Compacts 3
Adele Dzikwi Garkida, Jiann-Yang Hwang, Xiaodi Huang, and Allison Hein
Investigation of Effective Parameters in Production of A356/ TiB2p Composite using TiB2p/CMC/PPS Mortar 11
M. Hizombor, S. M. H. Mirbagheri, A. Rezaie, and R. Abdideh
Chemical Interaction of Sr4AI6012S04 with Liquid Aluminum Alloys 21
Jose Amparo Rodriguez-Garcia, Enrique Rocha-Rangel, Jose Manuel Almanza Robles, Jesus Torres Torres, Ana Lilia Leal Cruz, and Guillermo T. Munive
Effect of Temperature on the Hydration of Activated Granulated Blast Furnace Slag 29
Enrique Rocha-Rangel, M. Juana Martinez Alvarado, and Manuela Diaz-Cruz
In Situ Formation of WC Platelets during the Synthesis of WC-Co Nano-Powder 37
Yang Zhong, Angel L. Ortiz, and Leon L. Shaw
Synthesis, Shaped and Mechanical Properties of Hydroxyapatite-Anatase Biomaterials 45
Roberto Nava-Miranda, Lucia Tellez-Jurado, and Enrique Rocha-Rangel
COMBUSTION SYNTHESIS AND SHS PROCESSING
Combustion Formation of Ti2AIC MAX Phase by Electro-Plasma Processing 57
Kaiyang Wang, Jiangdong Liang, P.G. Zhang, and S. M. Guo
Properties of Hot-Pressed Ti3AIC2 Obtained by SHS Process 65
L. Chlubny and J. Lis
SHS Die-Casting (SHS-DC) of Magnesium Metal Matrix Composites (MMCs) 71
I. Jo, J. Nuechterlein, W. Garrett, A. Munitz, M. J. Kaufman, K. Young, A. Monroe, and J. J. Moore
MICROWAVE AND MILLI-METER PROCESSING AND ITS FIELD EFFECTS
Evaluation of Microwave-Sintered Titanium and Titanium Alloy Powder Compacts 83
Arne W. Fliflet, Spencer L. Miller, and M. Ashraf Imam
Microwave-Assisted Synthesis of TiC by Carbothermal Reduction 93
Rodolfo F. K. Gunnewiek, Pollyane M. Souto, and Ruth H. G. A. Kiminami
Effect of Microwave Plasma Process Conditions on Nanocrystalline Diamond Deposition on AIGaN/GaN HEMT and Si Device Metallizations 99
N. Govindaraju and R.N. Singh
High Frequency Microwave Processing of Lithium Disilicate Glass-Ceramic 115
Morsi M. Mahmoud, Guido Link, Simone Miksch, and Manfred Thumm
Microwave Sintering of a PZT/Fe-Co Nanocomposite Obtained by In Situ Sol-Gel Synthesis 123
Claudia P. Fernandez, Ducinei Garcia, and Ruth H. G. A. Kiminami
Investigation on Microstructural Characterization of Microwave Cladding 133
Dheeraj Gupta, Apurbba Kumar Sharma, Guido Link, and Manfred Thumm
Dilatometric Study and in Situ Resistivity Measurements during Millimeter Wave Sintering of Metal Powder Compacts 145
Guido Link, Morsi M. Mahmoud, and Manfred Thumm
Roles of Electromagnetic Fields on Materials Processing and Performance—A Thermodynamic and Kinetic Perspective 151
Boon Wong
COMPOSITES
Alumina-Based Composites Reinforced with Titanium Nanoparticles 167
Enrique Rocha-Rangel, Jose A. Rodrfguez-Garcia, Sergio Mundo-Solis, Juliana Q. Gutierrez-Paredes, and Elizabeth Refugio-Garcia
Fabrication of Zr02-SiC Composites from Natural Zircon Ore by Carbothermal Reduction 175
Xu Youguo, Huang Zhaohui, Fang Minghao, Liu Yan-gai, Ouyang Xin, and Yin Li
Manufacture and Applications of C/C-SiC and C/SiC Composites 183
Bernhard Heidenreich
Laser Densification of Porous ZrB2-SiC Composites 199
Q. Lonne, N. Glandut, and P. Lefort
Structural and Compositional Investigations of Ceramic-Metal Composites Produced by Reactive Metal Penetration in Molten AI and Al-Fe Alloy 211
Anthony Yurcho, Klaus-Markus Peters, Brian P. Hetzel, Raymond Brennan, Matthias Zeller, Timothy R. Wagner, and Virgil C. Solomon
Manufacture and Mechanical Characterization of Polymer-Composites Reinforced with Natural Fibers 223
Enrique Rocha-Rangel, J. Ernesto Benavides-Hemändez, Jose A. Rodriguez-Garcia, Alejandro Altamirano-Torres, Y. Gabriela Torres-Hernandez, and Francisco Sandoval-Perez
FOREIGN OBJECT DAMAGE
Effects of the Mode of Target Supports on Foreign Object Damage in an Ml SiC/SiC Ceramic Matrix Composite 231
D. Calvin Faucett, Jennifer Wright, Matthew Ayre, and Sung R. Choi
Foreign Object Damage (FOD) in Thermal Barrier Coatings 245
D. Calvin Faucett, Jennifer Wright, Matt Ayre, and Sung R. Choi
TESTING, EVALUATION, AND MICROSTRUCTURE-PROPERTY RELATIONSHIPS
High-Temperature Interlaminar Tension Test Method Development for Ceramic Matrix Composites 259
Todd Z. Engel
High Temperature Furnace Door Test for Wollastonite Based Chemically Bonded Phosphate Ceramics with Different Reinforcements 269
H. A. Colorado, C Hiel, H. T. Hahn, and J. M. Yang
Microstructure and Properties of Al203 Ceramic Composite Toughened by Different Grain Sizes of LiTa03 275
Yangai Liu, Zhaohui Huang, and Minghao Fang
Effect of Composition of Boron on the Tribological Performance of Alumina Matrix Multifunctional Composites for Energy Efficient Sliding Systems 279
R. Paluri and S. Ingole
An Investigation into Solid-State Expansion of Ceramic Materials 289
Ariane Erickson and C. Hank Rawlins
Properties of Shock-Synthesized Rocksalt-Aluminium Nitride 305
Kevin Keller, Thomas Schlothauer, Marcus Schwarz, Erica Brendler, Kristin Galonska, Gerhard Heide, and Edwin Kroke
MODELING
Environmental Barrier Coating (EBC) Durability Modeling: An Overview and Preliminary Analysis 315
A. Abdul-Aziz, R. T. Bhatt, J. E. Grady, and D. Zhu
Author Index 325
See More
Buy Both and Save 25%!
Processing and Properties of Advanced Ceramics and Composites IV: Ceramic Transactions, Volume 234 (US $139.00)
-and- Advanced Structural Ceramics (US $182.00)
Total List Price: US $321.00
Discounted Price: US $240.75 (Save: US $80.25)
Cannot be combined with any other offers. Learn more.
More in this series