The 2013 Pfeiffer Annual: Consulting
ISBN: 978-1-118-27379-1
304 pages
November 2012, Pfeiffer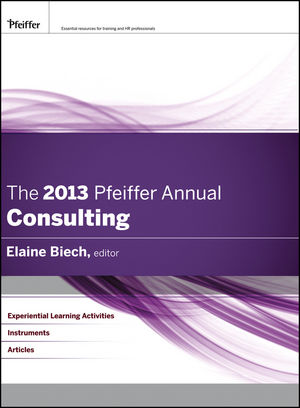 Offering entirely new content each year, The Pfeiffer Annual: Consulting 2013 showcases the latest thinking and cutting-edge approaches to organization development and performance improvement contributed by practicing consultants, organizational systems experts, and academics. Designed for both the dedicated consultant and the training professional who straddles both roles, the Annual presents a unique source of new knowledge and ideas, as well as practical and proven applications for facilitating better work processes, implementing and sustaining change, and improving organizational effectiveness.
The book is divided into four sections: Experiential Learning Activities (ELAs); Editor's Choice; Inventories, Questionnaires, and Surveys; and Articles and Discussion Resources. All the material can be freely reproduced for training purposes. The ELAs are the mainstay of the Annual and cover a broad range of training topics. The activities are presented as complete and ready-to-use designs for working with groups; facilitator instructions and all necessary handouts and participant materials are included. Editor's Choice pieces allow us to select material that doesn't fit the other categories and take advantage of "hot topics." The instrument section introduces proven survey and assessment tools for gathering and sharing data on some aspect of performance. The articles section presents the best current thinking about workplace performance and organization development. Use these for your own professional development or as resources for working with others.
See More
Website Contents xiii
Preface xv
The Difference Between Training and Consulting: xxi
Which Annual to Use?
Introduction to The 2013 Pfeiffer Annual: Consulting xxv
Experiential Learning Activities
Introduction to the Experiential Learning Activities Section 1
Experiential Learning Activities Categories 5
Mind Your Mind: Meditating on What Is 13
Gaven Khan
Team Disclosure: Opening Up to Others 17
Rekha Bharadwaja
Career Packages: Preparing Job-Seekers for Success 23
Travis L. Russ
Silent Greetings: Finding Value in Nonverbal Communication 33
Robert Alan Black
The Pitch: Creating Ideas 35
Renie McClay
Strategic Execution: Bridging That Which Divides 39
Sharon Dera
Conflict Assessment: Examining Your Workplace 43
Dennis E. Gilbert
**Juggling Act: Multi-Tasking in Teams 53
Gary Wagenheim
Difficult Decisions: Shifting Perspectives 57
Cher Holton
I Appreciate You: Bringing Closure to a Meeting 61
Dawn Mahoney
**Prioritization: Aligning Team and Organizational Goals 65
Jennifer Labin
**I'm So Busy! Setting Important Goals 75
Kathy Shurte
Snap, Snap, Change: Managing Stress in a Changing Environment 85
Sarah E. Hurst
Editor's Choice
Introduction to the Editor's Choice Section 91
Off-the-Wall Values: Aligning Personal and Organizational Values 93
Beverly Kaye
Inventories, Questionnaires, and Surveys
Introduction to the Inventories, Questionnaires, and Surveys Section 97
Assessing Readiness for a Mentoring Partnership 99
Halelly Azulay
Team Role Adjective Differential Scale 111
Shailaja Karve and Surbhi Gandhi
Articles and Discussion Resources
Introduction to the Articles and Discussion Resources Section 123
**International Assignments: Selecting, Supporting, and Retaining High-Performing Managers 127
Patricia A. Cassidy and Donna M. Stringer
**Mentoring: Fine-Tuning for Effectiveness 137
Mohandas Nair
†Building Your Brand as a Consultant: Utilizing the "Keys to Success" 143
Vince Rogers
From the Gestalt Perspective: A Primer for Fine-Tuning the Interview Question 149
Hank B. Karp and Kanata Jackson
Mentoring: A Critical Process for Development 169
Bette Krakau and Beverly Kaye
Negotiation Consulting: A Ten-Element Toolbox for Managers 175
Noam Ebner and Yael Efron
Build a Strong Foundation for Leading Change Effectively 185
Rick Maurer
Improving Team Building in a Customer Care Department: A Case Study 189
Sohel M. Imroz
**Change and Leadership in Medical Practice: Grandfather to Granddaughter 195
Jeanette Goodstein
**Prepare Human Resource Leaders to Think Like Strategic Business Partners 215
Saundra Stroope
**Natural Leadership 227
Marlene Caroselli
**Strategic Leadership: The Role of Perspective 237
Jo Lynn Feinstein
**What Holds a Virtual Enterprise Together? 247
M.K. Key and Brenda Barker
Contributors 257
Contents of the Companion Volume, The 2013 Pfeiffer Annual: Training 261
Pfeiffer Publications Guide 265
See More
Elaine Biech is president and managing principal of ebb associates inc, an organizational development firm that helps organizations work through large-scale change. The recipient of ASTD's highest honor, the Gordon M. Bliss award, Biech is the author and editor of over four dozen books, including The Book of Road-Tested Activities, Pfeiffer Annuals of Training and Consulting, 90 World-Class Activities by 90 World-Class Trainers, Training for Dummies, The Business of Consulting, and others, all published by Wiley.
See More