Researching Education Through Actor-Network Theory
ISBN: 978-1-118-27489-7
144 pages
April 2012, Wiley-Blackwell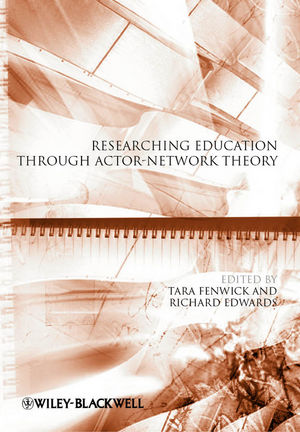 Researching Education Through Actor-Network Theory
offers a new take on educational research, demonstrating the ways in which actor-network theory can expand the understanding of educational change.
An international collaboration exploring diverse manifestations of educational change

Illustrates the impact of actor-network theory on educational research

Positions education as a key area where actor-network theory can add value, as it has been shown to do in other social sciences

A valuable resource for anyone interested in the sociology and philosophy of education
See More
Notes on Contributors vii
Foreword viii
Introduction
Tara Fenwick & Richard Edwards ix
1 Devices and Educational Change
Jan Nespor 1
2 Translating the Prescribed into the Enacted Curriculum in College and School
Richard Edwards 23
3 Unruly Practices: What a sociology of translations can offer to educational policy analysis
Mary Hamilton 40
4 ANT on the PISA Trail: Following the statistical pursuit of certainty
Radhika Gorur 60
5 Assembling the 'Accomplished' Teacher: The performativity and politics of professional teaching standards
Dianne Mulcahy 78
6 Reading Educational Reform with Actor-Network Theory: Fluid spaces, otherings, and ambivalences
Tara Fenwick 97
Index 117
See More
Tara Fenwick is Professor of Professional Education in the School of Education at the University of Stirling, UK. She was previously Head of Educational Studies at the University of British Columbia, Canada. The director of ProPEL, an international network researching professional practice, education and learning, she has a particular interest in professionals' knowledge sources and strategies, and the changing nature of professional responsibility.

Richard Edwards is Professor of Education and Head of the School of Education at the University of Stirling, and previously spent 12 years as a lecturer, senior lecturer and reader with the Open University. He has written extensively on adult education and lifelong learning.
 
Tara Fenwick and Richard Edwards are the authors of Actor-Network Theory in Education (2010) and, with Peter Sawchuk, of Emerging Approaches to Educational Research: Tracing the Sociomaterial (2011).
See More
More in this series