E-book
Samsung Galaxy Tab 10.1 For Dummies
ISBN: 978-1-118-28019-5
336 pages
January 2012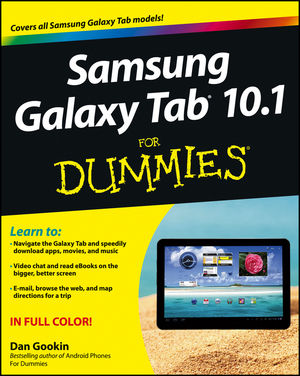 A full-color reference for getting the most out of your Samsung Galaxy Tab 10.1!
A vast improvement over the original Galaxy Tab, the 10.1 uses the latest version of the Android operating system and is a 4G LTE mobile device. These upgrades—along with many others, including the better screen quality, better web browsing with Flash, and better multitasking capabilities—are all covered in this fun and friendly guide to the Samsung Galaxy Tab 10.1. Everything from how-to topics to the most useful features to helpful tricks and techniques, this practical guide shows you how to get the most out of this cutting-edge device.
Details how the Galaxy Tab 10.1 goes one step further than the iPad with phone communications plus video chat and conferencing
Explains in detail how to find your way around the Galaxy Tab 10.1
Covers e-mailing, web browsing, using the digital library, connecting with friends in the galaxy, taking photos with the camera, and enjoying music
Highlights how to customize your Galaxy Tab 10.1 so that it's right for your needs
Samsung Galaxy Tab 10.1 For Dummies is must-have reading for anyone who wants to go beyond the basics and explore another galaxy of tablet computing!
See More
Introduction 1
Part I: The Galaxy in Your Hands 7
Chapter 1: Welcome to Tablet Land 9
Chapter 2: Galaxy Tab On and Off 17
Chapter 3: Find Your Way around the Galaxy 29
Chapter 4: Typing and Text on the Tab 45
Part II: The Communications Tab 59
Chapter 5: You Have Friends 61
Chapter 6: Mail of the Electronic Kind 75
Chapter 7: Tablet Web Browsing 91
Chapter 8: The Digital Social Life 105
Chapter 9: Phone Calls and Video Chat 115
Part III: The Everything Tab 133
Chapter 10: Getting from Here to There 135
Chapter 11: It's a Big, Flat Camera 149
Chapter 12: Galaxy Gallery 161
Chapter 13: The Galaxy Is Alive with the Sound of Music 177
Chapter 14: Your Digital Library 191
Chapter 15: What Else Does It Do? 201
Chapter 16: A Galaxy of Apps 213
Part IV: Nuts & Bolts 223
Chapter 17: It's a Wireless Life 225
Chapter 18: Connect and Share 237
Chapter 19: Taking Your Tab with You 251
Chapter 20: Customize Your Galaxy Tab 257
Chapter 21: Galaxy Tab Health, Happiness, and Maintenance 271
Part V: The Part of Tens 285
Chapter 22: Ten Tips, Tricks, and Shortcuts 287
Chapter 23: Ten Things to Remember 295
Chapter 24: Ten Great Apps 301
Index 307
See More
Dan Gookin is the bestselling author who wrote the original For Dummies book in 1991. With more than 11 million copies in print, his books have been translated into 32 languages and explain hardware, software, smartphones, and other technologies in plain English. Visit Dan's website at www.wambooli.com.
See More