E-book
Diversity and Cultural Competence in Health Care: A Systems Approach
ISBN: 978-1-118-28216-8
480 pages
November 2012, Jossey-Bass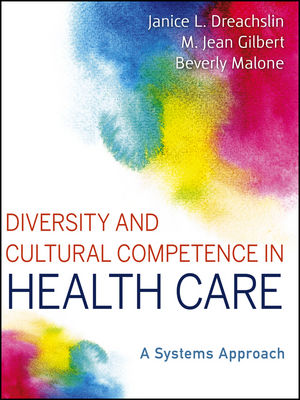 Major changes are occurring in the United States population and the nation's health care institutions and delivery systems. Significant disparities in health status exist across population groups. But the health care enterprise, with all its integrated and disparate parts, has been slow to respond. Written by three nationally known scholars and experts, Diversity and Cultural Competence in Health Care: A Systems Approach is designed to provide health care students and professionals with a clear understanding of foundations, philosophies, and processes that strengthen diversity management, inclusion, and culturally competent care delivery.
Focusing on current practice and health care policy, including the recently passed Patient Protection and Affordable Care Act of 2010 (ACA), this textbook integrates strategic diversity management, self-reflective leadership, and the personal change process with culturally and linguistically appropriate care into a cohesive systems-oriented approach for health care professionals. The essentials of cultural competence and diversity management covered in this text will be helpful to a wide variety of students because they encompass principles and practices that can be realistically incorporated into the ongoing work of any health care field or organization.
Each chapter contains learning objectives, summary, key terms, and review questions and activities designed to allow students to understand and explore concepts and practices identified throughout the text.
See More
Figures and Tables ix
Preface xi
Acknowledgments xv
The Authors xvii
PART ONE THE DIVERSITY IMPERATIVE 1
Chapter 1 Systems Approach to Cultural Competence 3
Dimensions of Diversity 7
Health Care Diversity Challenges 19
Health Care Disparities in the United States 20
Changing the US Health Care System 21
Systems Approach in the Health Care
Delivery Organization 26
The Importance of Leadership 27
Summary 28
Review Questions and Activities 29
Chapter 2 Systematic Attention to Health Care Disparities 35
What Are Health Care Disparities? 36
Race and Ethnic Disparities in Health Status 37
Disparities Across Other Diversity Dimensions: Gender, Sexual Orientation, the Elderly 49
Stakeholder Attention to Health Care Disparities 56
Systematic Strategies for Reducing Health Care Disparities 60
Summary 65
Review Questions and Activities 66
Chapter 3 Workforce Demographics 75
Trends in the US Labor Force 76
Diversity and the Health Professions 81
Drivers of Disparities in the Health Professions 83
Checklist of Recommended Organizational-Level Actions 90
Workforce Diversity Challenges 96
Summary 100
Review Questions and Activities 101
PART TWO THE DEVELOPMENT OF CULTURAL COMPETENCE 105
Chapter 4 Foundations for Cultural Competence in Health Care 107
What Is Cultural Competence in Health Care? 109
Long Journey Toward Cultural Competence 119
Cultural Competence and the Health Care Provider Organization 126
Cultural Competence and the Multicultural Health Care Workforce 133
Summary 138
Review Questions and Activities 139
Chapter 5 Hallmarks of Cultural Competence in Health Care Professionals 143
Personal Journey of Cultural Competence 145
Framework for Role Development 153
Journey of Self-Discovery 156
Summary 167
Review Questions and Activities 168
Chapter 6 Training for Knowledge and Skills in Culturally Competent Care for Diverse Populations 171
Eight Principles for Knowledge and Skills Training 173
Cultural Competence Knowledge and Skills for Administrators and Directors 177
Cultural Competence Training for Health Care Professionals in Direct Patient Care 183
Cultural Competence Training for Support Staff 207
The Role of Assessment in Cultural Competence Training 208
Summary 211
Review Questions and Activities 212
PART THREE CULTURAL COMPETENCE AND HEALTH CARE DELIVERY 219
Chapter 7 Cultural Competence in Health Care Encounters 221
Models from Transcultural Nursing 225
Giger-Davidhizar Transcultural Assessment Model (GDTAM) 238
Being Culturally Responsive 251
Summary 253
Review Questions and Activities 254
Chapter 8 Language Access Services and Crosscultural Communication 259
Language Use in the United States 261
Language Differences in Health Care Encounters 262
Attitudes Toward Limited-English Speakers 266
Changing Responses to Language Barriers in Health Care 268
An Expanding Profession: The Health Care Interpreter 278
Translation in Written Health Care Communication 284
Communication Is More Than Words 286
Summary 290
Review Questions and Activities 291
Chapter 9 Group Identity Development and Health Care Delivery 299
Research Highlights 301
Minority Status Group Identity Development 305
Majority Status Group Identity Development 313
Using the Models 325
Summary 328
Review Questions and Activities 329
PART FOUR CULTURAL COMPETENCE AND THE HEALTH CARE ORGANIZATION 333
Chapter 10 The Centrality of Organizational Behavior 335
The Science of Organizational Behavior 338
Organizations as Contexts for Behavior 339
OB Research Highlights 341
Can Culturally Competent Health Care Professionals "Go It Alone"? 350
Summary 356
Review Questions and Activities 357
Chapter 11 The Business Case and Best Demonstrated Practices 361
Evolution of the Business Case 363
The Business Case for Cultural Competence in Health Care 364
Workforce, HRM, and the Business Case 373
Best Demonstrated Practices 376
Assessment and the Systems Approach 386
Benchmarking 389
Role of Metrics in the Systems Approach 390
Summary 397
Review Questions and Activities 399
Chapter 12 The Future of Diversity and Cultural Competence in Health Care 405
Trends That Support Widespread Adoption of the Systems Approach 406
The Sustainability Movement and the Systems Approach 419
Change Management and Force Field Analysis: Tools to Envision and Shape the Future 420
Summary 425
Review Questions and Activities 426
Glossary 429
Index 439
See More
Janice L. Dreachslin, PhD, is a professor of Health Policy and Administration in the Management Division at the Penn State Great Valley School of Graduate Professional Studies in Malvern, Pennsylvania and co-professor-in-charge of the MBA program.
M. Jean Gilbert, PhD, a medical anthropologist, is the principal of the consulting firm, Cultures in the Clinic, which advises health care organizations and conducts workshops for health care professionals.
Beverly Malone, PhD, RN, FAAN, is the chief executive officer of the National League for Nursing.
See More
Learn more about