E-book
At Your Service: How to Attract New Customers, Increase Sales, and Grow Your Business Using Simple Customer Service Techniques
ISBN: 978-1-118-28231-1
240 pages
April 2012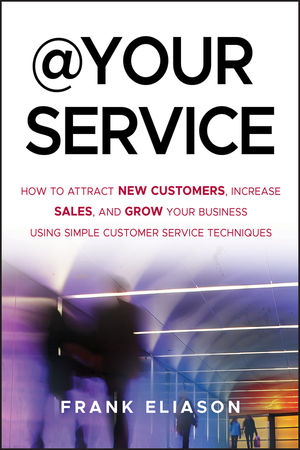 A guide to refocusing your business on those who matter most: customers and employees.
Technology and social media tools have made it easier than ever for companies to communicate with consumers. They can listen and join in on conversations, solve problems, get instant feedback about their products and services, and more. So why, then, are most companies not doing this? Instead, it seems as if customer service is at an all time low, and that the few companies who are choosing to focus on their customers are experiencing a great competitive advantage. At Your Service explains the importance of refocusing your business on your customers and your employees, and just how to do it.
Explains how to create a culture of empowered employees who understand the value of a great customer experience
Advises on the need to communicate that experience to their customers and potential customers
Frank Eliason, recognized by BusinessWeek as the 'most famous customer service manager in the US, possibly in the world,' has built a reputation for helping large businesses improve the way they connect with customers and enhance their relationships
At Your Service will appeal to leaders, managers, business owners, customer service professionals, and anyone who wants to learn how to add value to their organization.
See More
Foreword jeff jarvis xi
Foreword brian solis xv
Acknowledgments xxi
Chapter 1 This Could Be Your Brand 1
Chapter 2 Welcome to Our World of @YourService 7
Chapter 3 It Starts with a Capital C 18
Chapter 4 Do You Tell Your Customers Not to Call You? 25
Chapter 5 Let Me Check with My Boss 34
Chapter 6 The Social Media Hype 40
Chapter 7 The Starting Point 46
Chapter 8 The Snarky Web 51
Chapter 9 Scalable Intimacy 56
Chapter 10 Intimate Connections 65
Chapter 11 The Social Business 78
Chapter 12 Connecting 81
Chapter 13 The First Weeks at Comcast 86
Chapter 14 What Is Your Customer Guarantee? 92
Chapter 15 Tweet Tweet 99
Chapter 16 Driving Change in an Organization 109
Chapter 17 Social Customer Service Is a Failure 115
Chapter 18 An Inside Look at a Call Center 119
Chapter 19 The Basic Tenets of Service 130
Chapter 20 Is Service One of Your Values? 137
Chapter 21 Do You Trust Your Service Team? 142
Chapter 22 The Tail Wagging the Dog 149
Chapter 23 How Do You Speak? 158
Chapter 24 Startle Your Customer 166
Chapter 25 Responding to Social Media Crisis 171
Chapter 26 Doing Social Good 184
Chapter 27 Scale of Change 188
Chapter 28 Who Is Your Chief Customer Officer? 193
Chapter 29 The Power in You 197
Chapter 30 The Relationship Hub 201
Index 207
See More
Frank Eliason has built his career on building relationships with a diverse community of employees, Consumers, Small Business Owners, and Corporate Customers. He has been described as the "most famous Customer service manager in the United States, and possibly the world," as a result of his revolutionary approach to Customer relations while Director of Digital Care at Comcast. After leaving Comcast, Frank joined Citibank as the SVP of Social Media Strategy. His work has been recognized by many news organizations, including ABC News, CNN, Bloomberg TV, the New York Times, and Bloomberg Businessweek. He is also one of the most sought-after thought leaders on social media and Customer experience, and regularly participates in panels and speaking engagements.
See More