E-book
The Laptop Millionaire: How Anyone Can Escape the 9 to 5 and Make Money Online
ISBN: 978-1-118-28245-8
272 pages
March 2012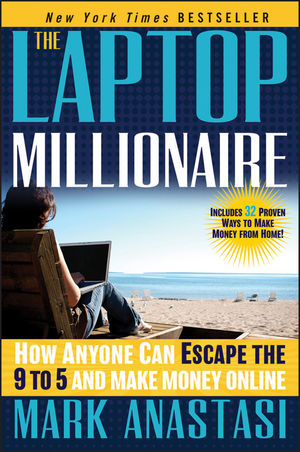 Go from ZERO to $10,000 a month in 28 days and discover financial freedom online!
Every day thousands of people are losing their jobs, their income, and their security—perhaps you are one of them. However, with the right strategies, you can easily achieve financial independence. The Laptop Millionaire provides easy to follow step-by-step strategies you can use to make real money online. Author Mark Anastasi reveals the exact strategies he used to make millions and includes the success stories of other millionaire Internet entrepreneurs. Whether you need an extra hundred dollars a day or want to start an Internet Empire, this book gives you the tools and advice you need.
His no-fluff, no-filler strategies provide a blueprint to online success allowing you to discover the laptop lifestyle for yourself.
How anyone can make $700-3,000 a week thanks to Twitter, Facebook, YouTube, and other Social Media sites
The simple steps to creating an online business—featuring the 3 steps that led Mark to his first $10,000 a month business!
How the 21 Millionaire Secrets can transform your life
If you read and apply what Anastasi has laid out in his book, you will be well on your way to becoming a millionaire.
See More
Acknowledgments ix
Introduction xi
1 E-Books 1
2 List-building and E-mail Marketing 29
3 Search Engine Optimization 51
4 YouTube 67
5 Facebook 81
6 Twitter 99
7 Fiverr 119
8 Outsourcing 129
9 Local Business Marketing 147
10 Membership Sites 171
11 Webinars 189
12 Online Advertising 215
Final Thoughts 233
About the Author 237
See More
Mark Anastasi is an Internet entrepreneur and founder of the Inspired Marketing Group. Organizing events such as The Traffic Generation Summit, The Millionaire Bootcamp for Women, and The Passive Income Summit, he has trained over 12,000 entrepreneurs around the world since 2005. In 2004, he was a broke, unemployed, and homeless former security guard. Thanks to a chance encounter at a seminar, he would set up his first Internet business, going from zero to making $10,000 a month in just 28 days. His mission now is to empower people to take control of their financial future, experience the Laptop Entrepreneur lifestyle, and live life to the fullest.
See More