E-book
Bribery and Corruption Casebook: The View from Under the Table
ISBN: 978-1-118-28263-2
360 pages
March 2012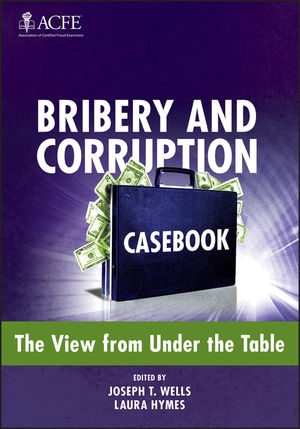 Real case studies on bribery and corruption written by expert fraud examiners
Bribery and Corruption Casebook: The View from Under the Table is a one-of-a-kind collection of actual cases written by the fraud examiners who investigated them. These stories were hand-selected from hundreds of submissions and together form a comprehensive, enlightening and entertaining picture of the many types of bribery and corruption cases in varied industries throughout the world.
Each case outlines how the bribe or corruption was engineered, how it was investigated, and how perpetrators were brought to justice
Written for fraud investigators, auditors, compliance officers, and corporate lawyers
Reflects the recent crackdown on bribery and prosecution of cases under the Foreign Corrupt Practices Act (FCPA)
Also by Dr. Joseph T. Wells: Fraud Casebook, Principles of Fraud Examination, and Computer Fraud Casebook
This book reveals the dangers of bribery and corruption and the measures that can be taken to prevent it from happening in the first place.
See More
Preface xi
Chapter 1 The Hot-Tub Highwaymen 1
Ted Wendling
Chapter 2 Trouble Brewing 13
Jay Dawdy and Angela Clancy
Chapter 3 In the State's Interest 23
Gary Graff
Chapter 4 Odd Bedfellows 35
Jon Cohen
Chapter 5 When Bribery Becomes a Way of Doing Business 43
Amine Antari
Chapter 6 Kickbacks for Comic Books 53
Rafael A. Garcia
Chapter 7 Interrupted Production 65
Carl Knudson
Chapter 8 High-Plains Grifter 75
Carolyn Conn, Katie Houston, and Brandon Tanous
Chapter 9 Getting a Free Ride 85
William J. Kirby
Chapter 10 Conflicting Interests, Conflicting Cultures 95
Douglas M. Watson
Chapter 11 But We Thought He Was Saving Us Millions 107
Gary E. Gaugler
Chapter 12 The Construction of a Fraud 115
Lorna Leung
Chapter 13 The Summer Bribe 123
Mark Dron
Chapter 14 Brazen Bank Manager 133
Antonio Ivan S. Aguirre
Chapter 15 In Bed with the Tax Man 141
Hanif Habib
Chapter 16 High-Rise Rollers 149
Richard F. Woodford, Jr.
Chapter 17 Decorum Across the International Date Line 159
Jim Pelczar
Chapter 18 The Kickback Mine 169
J. Aaron Christopher
Chapter 19 A Sweet Deal 177
Jason Petrusic
Chapter 20 Da' Money 187
Michael Carr
Chapter 21 The Seemingly Upstanding Citizen 199
Austine S. M. Adache
Chapter 22 Big Dangers from a Small Vendor 209
Kimiharu Chatani
Chapter 23 A Drop in the Ocean 217
Ludmila Grechanik
Chapter 24 The Professor and the Deputy 225
Paul Keyton
Chapter 25 Calling for Kickbacks 235
Anil Kumar
Chapter 26 Going Green in Mexico 245
Ronald L. Durkin
Chapter 27 A Wolf in Sheep's Clothing 253
Daniel Nita
Chapter 28 Dances with Fraud 261
Hank J. Brightman
Chapter 29 The Corrupt Public Servant 271
Sandeep Mehra
Chapter 30 Romance, Jewels and Kickbacks: All in a Day's Work 279
Dennis Thomas
Chapter 31 Power Corrupts and Absolute Power Corrupts Absolutely 287
Jim Cali
Chapter 32 For Love or Money? 299
John R. Holley
Chapter 33 Ethical Governance: A Mandate for Outsourcing 309
Jyoti Khetarpal
Chapter 34 Friends and Lovers in High Places 319
Rick Hoye
Chapter 35 Kickbacks on Demand 329
Philip Levi
Chapter 36 High-Flying Ambition 341
Manjit Chodha
Chapter 37 The Cleaner Who Swept His Way to the Top 347
Shane Ringin
Chapter 38 Sorry, This Fraud Has Been Disconnected 357
Meric Bloch
Chapter 39 Bid Rigging and Kickbacks under the Bridge 369
Edward J. Gaio
Index 377
See More
Dr. Joseph T. Wells, CFE, CPA, editor, has spent nearly a decade as a U.S. FBI Special Agent, is the founder and Chairman of the Association of Certified Fraud Examiners (ACFE) and the author of 20 books. For his landmark research in fraud detection and deterrence, Dr. Wells has been inducted into the American Institute of Certified Public Accountants' Business and Industry Hall of Fame and named to Accounting Today's list of the 100 most influential people for nine years in a row. He holds a doctorate in commercial science from York College, The City University of New York.
Laura Hymes, CFE, is the Managing Editor of the ACFE's Research Department, where she oversees the editing of books, manuals and other publications related to the prevention, detection and investigation of fraud. She also collaborates with authors and speakers who are experts in the anti-fraud industry to produce high-quality educational material. She has a master's degree in publication management and years of experience in editing and publishing.
See More