E-book
Mobilized Marketing: How to Drive Sales, Engagement, and Loyalty Through Mobile Devices
ISBN: 978-1-118-28314-1
240 pages
April 2012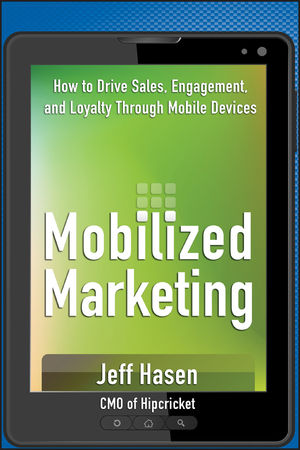 Integrate your mobile marketing program and take your brand to the next level
Mobile marketing is finally entering the forefront of the marketing realm as megabrands roll out million-dollar budgets and small businesses have turned to the channel for its affordability, measurability, and repeatable successes in producing sales and driving engagement and loyalty. Through insights from bold industry visionaries and fellow mobile pioneers, Mobilized Marketing takes readers through campaigns worth repeating and others that are not. Learn the many roads that marketers can take and the proven strategies and tactics that move products and build loyalty through the consumer's most personal device.
With examples from the more than 130,000 campaigns developed by mobile marketing leader Hipcricket, Mobilized Marketing breaks down how brands of all sizes have performed in their mobile efforts—why some have failed and how others bravely turned to mobile.
Demonstrates how to integrate mobile into marketing programs and how to effectively measure it
Explains how to make your existing marketing spends work harder
Delivers step-by-step instructions on how to optimize campaigns in real-time
Shows how to determine which mobile tactics are keepers and which are not
It's time to mobilize your marketing programs and drive your profits to new heights.
See More
Acknowledgments xi
Foreword MICHAEL BECKER xiii
Preface xv
Part I The Early Years 1
Chapter 1 Radio's Days of Glory 3
Chapter 2 Hipcricket's Beginnings in a Starbucks 5
Chapter 3 Mobile at the Start of the Millennium 7
Chapter 4 American Idol Engages a Nation 10
Chapter 5 RAZR Sharpens Mobile's Focus 12
Chapter 6 Hipcricket's First Customers 14
Chapter 7 Listening to the Consumer 17
Chapter 8 The Brands Show Some Interest 20
Chapter 9 Mobile as a Natural Progression 23
Chapter 10 Mobile in the Fight Against Cancer 25
Chapter 11 Stops and Starts 27
Chapter 12 Build Me an iPhone App 29
Chapter 13 Hipcricket Matures, Rebrands 32
Chapter 14 It's Not Spam on the Phone 34
Chapter 15 Texting with the Phone to the Ear? 36
Chapter 16 Mobile Award For Dummies 41
Part II The Present 45
Chapter 17 The Recession's Effect on Mobile's Growth: Businesses, Especially Retail, Feel the Pinch 47
Chapter 18 Behavior Changes Seen in All Age Groups 51
Chapter 19 Mobile Gets Busy: The Rise of the Call to Action 54
Chapter 20 Radio Regains Its Magic 56
Chapter 21 Hipcricket Weathers the Recession 58
Chapter 22 The Brands Rebound from the Recession 65
Chapter 23 The Rise of Loyalty Clubs 68
Chapter 24 MillerCoors Drinks from Android Cup 72
Chapter 25 Belle Tire Rolls with Mobile 74
Chapter 26 Other Brands Produce Notable Campaigns 79
Chapter 27 Trends 83
Chapter 28 Innovation: Emergence of Multiscreen Marketing 95
Chapter 29 Looking Internationally for Guidance 112
Chapter 30 Hipcricket Builds for the Future 123
Part III The Future 131
Chapter 31 Determining Whether Mobile Has Arrived 133
Chapter 32 The Ever-Changing Consumer 135
Chapter 33 The Tools You Can Use: Considering Mobile Products and Services Individually 137
Chapter 34 The Real Questions Marketers Should Ask 152
Chapter 35 Advice from the Smartest Marketers 176
Conclusion So Where Are We with Mobile Marketing? 186
Epilogue 188
About the Author 197
Index 199
See More
Jeff Hasen is Chief Marketing Officer at Hipcricket, a leading mobile marketing and mobile advertising company. Named a Top CMO on Twitter, Jeff is also the co-creator of the certification program for the Mobile Marketing Association and one of two individuals certified by the MMA to train on mobile marketing definitions, techniques, and benefits. He is a frequent speaker at industry events and writes for Mobile Marketer, imediaconnection.com, Technorati.com, and mobilegroove.com. He actively tweets @jeffhasen and blogs at jeffhasen.com.
See More