E-book
Working with Problem Faculty: A Six-Step Guide for Department Chairs
ISBN: 978-1-118-28501-5
240 pages
July 2012, Jossey-Bass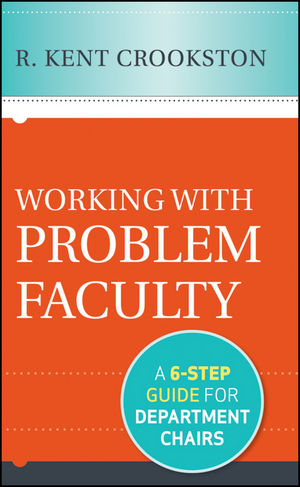 Department chairs name "difficult people" or "problem faculty" as the most pressing issue they face. Coming into the position from a faculty role, as most do, department chairs have little or no training in dealing with their colleagues when they exhibit aggressive behavior, bullying, lack of collegiality, or other varieties of challenging behavior. Yet the chair's ability to handle people and situations appropriately is key not just to his or her success in the role but also to the department's and its members' ability to function productively. Here, Kent Crookston provides a practical, focused, on-the-ground approach to help chairs learn to deal with challenging colleagues. Based on the literature in the field as well as on his own research and experience, he outlines six steps for successfully dealing with any kind of a challenging colleague.
See More
Problem Faculty: The Number One Concern of America's Academic Chairs 1
Part One The Six Steps
1. Step 1: Clarify Values and Expectations 11
2. Step 2: Follow Policy 27
3. Step 3: Build Trust with Colleagues 37
4. Step 4: Evaluate Yourself and Your Perceptions 53
5. Step 5: Listen 69
6. Step 6: Take Effective Action 87
Part Two Tough Questions
7. What About the Chronic Poor Performer? 113
8. What About the Passive-Aggressive Colleague? 121
9. What About Bullies? 131
10. What About the Problem Characters Who Emerge During Times of Change? 149
11. What About the Psychologically Impaired? 163
Carolyn Oxenford and Sally Kuhlenschmidt
Conclusion 191
Appendix A Sample Vision and Mission Statement 193
Appendix B Sample No-Bullying Policy 199
Appendix C Faculty Behaviors That May
Suggest a Mental Health Problem 203
Acknowledgments 211
The Author 213
Index 215
See More
R. Kent Crookston is the director of the Academic Administrative Support Program at the Brigham Young University Faculty Center. In addition to researching academic administration, he currently researches and teaches effective decision-making.
See More
Learn more about