E-book
World Class Communication: How Great CEOs Win with the Public, Shareholders, Employees, and the Media
ISBN: 978-1-118-28697-5
240 pages
August 2012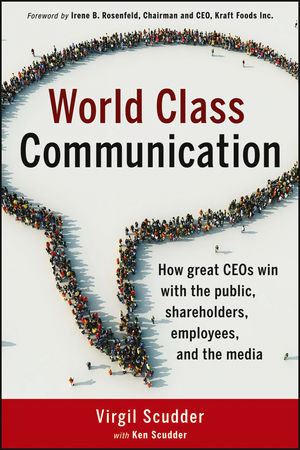 Proven advice for communicating effectively before the media, customers, employees, and investor relations
Many executives focus too narrowly on the financial side of their business and neglect the importance of communicating with their employees, the media, and the public. World Class Communication equips you with crisis lessons, procedures, and examples that could help your company save millions of dollars through proper preparation and response. The must-have book every CEO needs, World Class Communication is packed with examples of good and bad handling of countless situations and expert instruction on how to manage them without breaking into a sweat.
Reveals the keys to successful shareholder communication
Tips for winning in the media—every time out
Expert tips for developing powerful public speaking techniques
Discover how to rally employee support and performance through communication
There is a great, and often irrational, fear of the media among CEOs, with too few executives truly knowing how to deliver a message effectively in an interview. World Class Communication delivers the necessary tools and techniques you need to communicate your message to your target audience—from shareholder meetings to corporate communications to handling crises.
See More
Foreword xiii
Preface xv
Acknowledgments xvii
PART I THE ESSENTIALS OF SUCCESSFUL COMMUNICATION 1
CHAPTER 1 The Scudder Method 3
The Key Elements 4
The Communication Funnel 5
Headline-Elaborate-Detail 8
The Path to Being a Great Communicator 9
CHAPTER 2 You Are a Brand: Make It the Right One 11
Image5Brand 12
Finding the Right Brand for You 13
The CEO's Presence 13
Your Look 14
Public Appearances 15
Philanthropy and Your Brand 15
Public Behavior Affects Your Brand 16
Your Internal Brand and Investor Image 17
CHAPTER 3 Active Listening: A Critical Management Tool 19
Asking the Right Questions 19
Listening to Advisors 20
The Price of Not Listening 21
Voices from Inside Your Organization 23
Listening Sets Your Corporate Culture 24
Talking, and Listening, to Yourself 24
Hearing the Outside Voices 26
Listening to Anonymous Voices 26
Notes 27
CHAPTER 4 Customs, Culture, and Language Count: Engage Humbly 29
Learn the Local Business Customs 30
Your Company's Culture 31
Regional Cultures 33
CHAPTER 5 Where's the CCO? 35
PR Must Report Directly to the CEO 35
What Does Corporate Public Relations Do? 36
Working with Your Head of Communications 37
Principles of Good PR 39
CHAPTER 6 Words Matter 41
"Strong" versus "Growing Stronger" 41
Lose the MBA Phrasebook 42
The Right Word Can Preempt Problems 43
The Wrong Words Last a Lifetime 44
At This Point in Time . . . 44
The Right Words in Another Language 46
CHAPTER 7 Be Strong: Apologize 49
Dangers of Not Apologizing 49
Who Should Hear Your Apology? 51
What Should an Apology Include? 52
Notes 53
PART II VITAL CONSTITUENCIES 55
CHAPTER 8 Investors: Handle with Care 57
Credibility and Transparency Rule 57
Quarterly Earnings Calls 58
Emerging Issues and Trends 65
Investor Days 66
The Annual Meeting 67
Face-to-Face Contact 69
The Worst Earnings Call Ever? 69
Notes 70
CHAPTER 9 Employees: A Vital Audience 71
Face-to-Face Is Best 72
The Personal Touch 73
Using Today's Resources 74
Two Good Small-Scale Examples 75
Note 76
CHAPTER 10 CEOs and Boards: Times Have Changed 77
Successful Partnership 78
Meeting the Board Face-to-Face 78
Relationships and Persuasion 79
What Your Board Gives You 80
PART III THE MEDIA FACTOR 83
CHAPTER 11 The News Media: Opportunity and Peril 85
More Places and Opportunities to Appear 85
You Have to Appear 86
CHAPTER 12 Winning in the Media 89
How to Judge a Media "Winner" 89
Your Purpose in an Interview 90
Taking Control of the Interview 91
A Common Trap 94
Framing the Issues 95
Preparing Your Messages 96
General Motors Example 98
The Preparation Process 101
The "Cosmetics" of Being Interviewed 103
The News Conference 105
The Ambush Interview 106
Is It Worth It? 107
Note 108
CHAPTER 13 Media Training: A Modern Day Necessity 109
Principles of Media Training 110
Preparing for Positives and Negatives 110
Uses Outside of Media Interviews 111
Devote Enough Time to Training 112
Finding the Right Trainer 113
The CEO's Media Training Session 113
PART IV PUBLIC APPEARANCES 115
CHAPTER 14 Public Speaking: Power, Persuasion, and Good Will 117
Face-to-Face Still Matters 117
The Power of Public Speaking 118
Use the Pile Driver 119
CHAPTER 15 Winning at the Lectern 121
Variety Is the Spice of Speaking 122
Physicalities of Speaking 124
Regard the Turtle 127
Conquering Nervousness 128
Next Steps 130
CHAPTER 16 Fielding the Questions: Challenge and Opportunity 131
Why Do Q&A? 131
Preparing for Q&A 132
Making Your Points in Q&A 133
Handling the Tough Questioner 134
Ending the Q&A 135
CHAPTER 17 Speechwriter and Speaker: A Critical Alliance 137
Analyzing the Audience 138
Your Key Messages 140
Rehearsing the Talk 141
Finding the Right Writer 141
Telling Stories 142
Breaking Some Rules 144
The Post-Mortem 145
Note 146
CHAPTER 18 Humor: A Powerful Tool, but Handle with Care 147
Risks of Humor 147
Connecting Humor to Your Points 148
The Humorous Style 149
Telling the Joke 150
Note 151
PART V THE WORLD OUTSIDE 153
CHAPTER 19 The Role of Philanthropy: Doing Well by Doing Good 155
Benefits of Philanthropy 155
External and Internal Benefits 156
Finding Your Philanthropy Partner 157
How Philanthropy Helps Your Corporate Image 158
Notes 159
CHAPTER 20 Advocating for Your Company 161
Working with Trade Associations 161
Benefits of Professional Groups 162
Direct CEO Involvement 163
Your Advocacy Messages 163
PART VI IT'S CRUNCH TIME 165
CHAPTER 21 Crisis: A CEO's Supreme Test 167
Similar Incidents, Different Responses, Different Results 168
Types of Crises 169
Crisis Preparation 171
What to Do When Crisis Hits 173
What the Media Need 175
What You Must Say in a Crisis 177
The Forgotten Audience in a Crisis 178
After the Crisis 179
CHAPTER 22 Hostile Takeovers: The Wolf at the Door 181
Fighting Goliath 182
Your Employees during the Battle 182
Communicating and the Legal Side 183
CHAPTER 23 Turnarounds: Righting the Ship 185
The "Plan to Have a Plan" 186
The Gillette Example 187
How They Did It 188
CHAPTER 24 Government Hearings: Don't Be Nervous. Don't Be Flustered. Be Prepared 191
A Grueling Ordeal 192
Preparing for the Firing Line 192
The BP Example 193
The McGwire Example 199
"Winning" in the Hearing 202
EPILOGUE Are We There Yet? Good Leaders Know the Answer 205
About the Authors 209
Index 211
See More
VIRGIL SCUDDER, president of Virgil Scudder & Associates, has trained and counseled heads of major corporations for over thirty years, serving in two dozen countries on five continents. Often referred to as "the dean of media trainers," he is a prolific writer and speaker. From his New York base, he regularly comments on current management issues on his blog and in his quarterly column, "In the C-Suite," which appears in each issue of The Public Relations Strategist.
KEN SCUDDER is a writer and communication trainer and consultant. He cofounded Virgil Scudder & Associates in 1990 and, along with having bottom-line responsibility for the office, has conducted media, crisis, and presentation training programs in the U.S., Africa, and Europe.
See More