Social Change Anytime Everywhere: How to Implement Online Multichannel Strategies to Spark Advocacy, Raise Money, and Engage your Community
ISBN: 978-1-118-28833-7
256 pages
February 2013, Jossey-Bass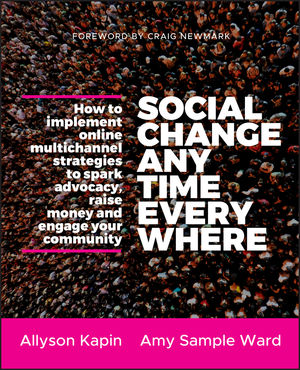 Strategies for advocacy, fundraising, and engaging the community
Social Change Anytime Everywhere was written for nonprofit staff who say themselves or are asked by others, "Email communications, social media, and mobile are important, but how will they help our nonprofit and the issues we work on? Most importantly, how the heck do we integrate and utilize these tools successfully?" The book will help answer these questions, and is organized to guide readers through the planning and implementation of online multi-channel strategies that will spark advocacy, raise money and promote deeper community engagement in order to achieve social change in real time.
It also serves as a resource to help nonprofit staff and their boards quickly understand the evolving online landscape and identify and implement the best online channels, strategies, tools, and tactics to help their organizations achieve their missions.
See More
Figures and Tables ix
Foreword xi
Preface xiii
Acknowledgments xxi
The Authors xxiii
ONE Why Are Online and Mobile Channels So Important to Nonprofits Today? 1
TWO Guiding Principles for Anytime Everywhere 7
THREE Advocacy Anytime Everywhere 37
FOUR Fundraising Anytime Everywhere 77
FIVE Community Building Anytime Everywhere 115
SIX Multichannel Strategies in Action 141
SEVEN Equipping Your Organization for Anytime Everywhere 161
EIGHT Transitioning to Anytime Everywhere 185
Conclusion: Disrupting the Nonprofit Sector 201
Notes 211
Index 219
See More
Allyson Kapin is the cofounder of Rad Campaign, one of the leading Web agencies serving the nonprofit community. She helps nonprofit organizations and political campaigns create dynamic and award-winning Web sites and online marketing, fundraising, and social media campaigns.
Amy Sample Ward is a trainer and speaker focused on technology and social impact who works with nonprofits of all sizes around the world to use technology in their community impact. She is also the membership director at NTEN (Nonprofit Technology Network), a member organization devoted to helping nonprofits use technology strategically.
See More