Textbook
Foundations of College Chemistry, Student Study Guide, 14th Edition
ISBN: 978-1-118-28900-6
192 pages
January 2013, ©2013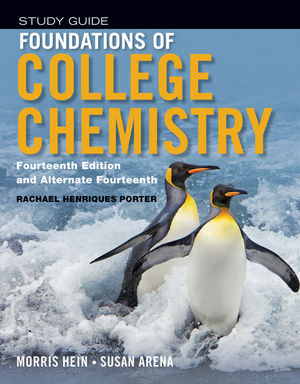 Learning the fundamentals of chemistry can be a difficult task to undertake for health professionals. For over 35 years, this text has helped them master the chemistry skills they need to succeed. It provides them with clear and logical explanations of chemical concepts and problem solving. They'll learn how to apply concepts with the help of worked out examples. In addition, Chemistry in Action features and conceptual questions checks brings together the understanding of chemistry and relates chemistry to things health professionals experience on a regular basis.
See More
New Design w/Revised artwork

Concept Module Learning Design
Each section is supported by a worked example and practice problems
Sections have been re-written to support a more structured and uniform presentation of the concepts.

Learning Objectives for each section
EOC Questions – a 20% increase – new questions and revised questions written with a focus on addressing conceptual understanding – using applications and visual indicators (Art) – help students visualize what is being asked
See More
Clear and logical explanations of chemical concepts.
Step-by-step approach to problem solving.
Varied levels of questions and problems
Worked-out examples relating to the real world.
See More