E-book
APA Style Simplified: Writing in Psychology, Education, Nursing, and Sociology
ISBN: 978-1-118-28908-2
216 pages
March 2012, Wiley-Blackwell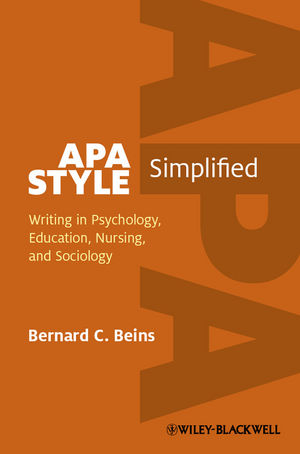 This is a compact but comprehensive guide to writing clearly and effectively in APA style.
Demonstrates how to write objective scientific research papers using interesting prose
Incorporates guidelines from the 6th edition of the APA publication manual
Explores how to develop ideas, connect them to what others have written, and express them clearly
Discusses the differences between written, oral, and poster presentations and offers instructions for applying APA style to each
See More
Preface
viii
Acknowledgments xi
1 Writing Professionally 1
How Does Professional Writing Differ From Other Kinds of Writing? 2
Using APA Style 3
Making a Credible Argument 5
Different Types of Communication 6
Effective Communication 8
Establishing Good Writing Habits 9
Ethical Writing 10
2 Elements of Style 15
Recognizing the Importance of Good Grammar and Style 16
Choosing Effective Wording 17
Using Inclusive and Appropriate Language 19
Deciding on the Use of Technical Language 20
Avoiding Common Problems 21
Verb Forms 24
Spelling 25
Specific Word Use 25
3 The Introduction Section 32
Introducing the Topic 33
Different Approaches to Starting the Introduction 34
How to Begin 38
Reviewing the Literature 38
Introducing Your Research: Generating a Hypothesis 40
4 The Method Section 43
Participants and Subjects 44
Materials and Apparatus 52
Procedure 56
Design 58
5 Communicating Statistics 59
Why Do We Use Statistics? 60
What Point Are You Trying to Make? 61
Understanding Your Numbers 63
Helping Readers Understand Your Statistics 65
Differentiating Results and Interpretations 68
6 The Results Section 69
Your Hypothesis 70
Deciding What to Present 71
APA Style and Presentation of Your Results 74
Creating Tables 77
Creating Figures 82
The Connection Between the Text and the Tables and Figures 87
The Difference Between Results and Discussion Sections 87
Some Final Points About Presenting Results 88
7 The Discussion Section 91
Summarizing Your Results 92
Connecting Different Aspects of Your Results 94
Dealing With Nonsignificant Results 95
Comparing Your Results With Those of Others 96
Stating the Importance and Implications of Your Results 97
Acknowledging the Limitations of Your Study 98
8 References: Citations in the Text and the Reference List 100
Citing References in the Text 101
Order of Citations in the Reference List 105
Using Your Word-Processing Program to Create the Citation 105
Examples of How Different Types of References Should Be Laid Out 106
9 Final Touches: The Abstract and Formatting Details 114
The Abstract 115
Formatting Your Manuscript 116
10 Creating Poster Presentations 135
Differentiating Visual and Written Communication 135
Reducing the Amount of Information 136
Visual Style 137
Your Behavior: The Ethic of a Poster Session 142
Creating Your Poster Using PowerPoint® 144
11 Giving Oral Presentations 152
The Difference Between Oral and Written English 152
Adapting APA Style to Oral Presentations 156
Preparing for Your Talk 157
Creating Graphics for Your Presentation 159
Giving the Presentation 160
12 Sharing Your Work Electronically 163
New Capabilities in Electronic Sharing 164
Using a Word Processor to Create Manuscripts for the Internet 165
Advantages of Internet Publishing Software 167
Publishing Your Poster on the Web 169
Uploading Your Manuscript to the Internet 169
Revisiting the Concept of Plagiarism 170
Appendix A: Example of APA-Style Manuscript with
Common Errors 171
Appendix B: Corrected APA-Style Manuscript 179
References 188
Name Index 195
Subject Index 198
See More
''As with previous editions Browne et al have provided a comprehensive, contemporary and focussed A2 textbook which directly applies to the AQA specification. Via attention to the demands of the specification and reference to exam style questions the book is thoroughly usable and gives the reader clarity of purpose concerning the material. A balance is achieved between classic Sociology and up to date material, giving students the opportunity to recognise the relevance and importance of sociological investigations in today's society.''
David Morton, King Edward VI College, Stourbridge and examiner for AQA
''This is an magnificent text. It won't just be another text on A2 Sociology for students but will serve as the leader in the area. It has key concepts but with inspirational examples. It's the best textbook I have ever read for AQA A2 for Sociology.''
Jason L. Powell, Coventry University
''This is an outstanding addition to the range of resources now available to sociology students. Ken Brown and his colleagues represent the very best in sociology teaching and this text, now in its long-awaited second edition, should be on the shelves of all aspiring sociology students and their teachers.''
Dr Gerry Czerniawski, University of East London, A-level examiner and National Teaching Fellow
Provides valuable guidance…Beins is an outstanding teacher, researcher, author, and editor. Following his suggestions will improve your clarity, conciseness, and felicity of expression.
- Charles Brewer, Furman University
Not only does Beins explain how one should write, more importantly, he explains why one should write.  This book will be a great resource for both new and experienced writers alike.
- Bryan K. Saville, James Madison University
The author presents APA style in ways that are accessible to students and that address the various struggles they encounter in learning how to write for professional audiences.
- M. Elise Radina, Miami University
See More