Microsoft Virtualization Secrets
ISBN: 978-1-118-29316-4
552 pages
July 2012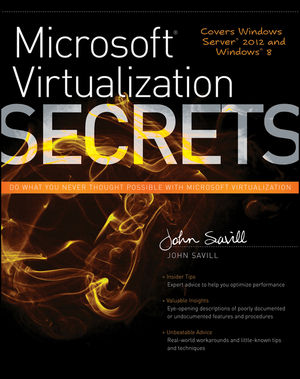 Unbeatable advice and expert tips for evaluating, designing, and deploying virtualization solutions
If you're an IT professional, you know that virtualization is essential in today's computer infrastructures. This valuable reference is your key to all things Microsoft virtualization. Written by a Microsoft Most Valuable Professional (MVP), it breaks down all the various technologies, what they mean to your organization in terms of saving money and solving problems, and how to design and deploy various solutions effectively.
You'll find invaluable tips and information on such topics as Hyper-V, the changes that Windows 8 brings, private cloud scenarios, and more.
Written by well-known 11-time Microsoft MVP, Windows expert, and Microsoft insider, John Savill
Provides practical advice and expert insights on understanding, evaluating, designing, and deploying virtualization solutions
Keeps you up to date with how Windows 8 and Windows Server "8" affect your virtualization processes
Covers virtualization in all its forms--machine, application, and user
Explores the private cloud and public cloud and what they mean to your organization
Focuses on Microsoft solutions such as Hyper-V, but also delves into Citrix, Quest software, AppSense, and other Microsoft partner solutions
Discusses bringing your own device requirements through VDI and session virtualization and which one is right
Features video demonstrations and walkthroughs of some processes
Microsoft Virtualization Secrets is like having a built-in Microsoft expert on hand to help you avoid mistakes and save time!
See More
Introduction xiii

Chapter 1 Understanding Virtualization 1

What Is Virtualization? 2

Understanding the Types of Cloud and Cloud Services 12

Shifting Technological Paradigms 15

Embracing the Return of the Dumb Terminal 17

Summary 19
Chapter 2 Understanding Windows 7 and 8 Client OS Key Technologies 21

Tracing the Evolution of the Windows Client Operating System 22

Key Features Introduced in Windows Vista and Windows 7 29

Exploring the New Features in Windows 8 45

Summary 63
Chapter 3 Virtualizing Client Operating Systems 65

Virtualizing an Operating System: The "Hello World" of Virtualization 66

Examining the Benefits of Virtualizing Locally 69

Tracing the Evolution of Client OS Virtualization—from Virtual PC to Client Hyper-V 72

Introducing Windows Virtual PC 76

Using Microsoft Enterprise Desktop Virtualization (MED-V) 81

Client Hyper-V in Windows 8 86

Summary 93
Chapter 4 Virtualizing Desktop Applications 95

Looking at the Application Installation Process 96

How Virtualizing Desktop Applications Works 99

Understanding the App-V Infrastructure 131

Using App-V in Your Organization 151

Summary 159
Chapter 5 Virtualizing User Data 161

Understanding Data Virtualization Technologies at Home 162

Understanding Data Virtualization Technologies at Work 167

Managing Centralized Data Storage 175

Leveraging SharePoint and Office Technologies 183

Summary 184
Chapter 6 Virtualizing User Profiles and Settings 185

Understanding the Fundamentals of User Profiles 186

Using Roaming Profiles for Virtualization 188

Understanding Windows Live Integration in Windows 8 193

Third-Party User Profile Virtualization Solutions 195

User Experience Virtualization: The Evolution of User Virtualization with the Microsoft Desktop Optimization
Pack 198

Summary 204
Chapter 7 Using Session Virtualization 207

Embracing Retro Virtualization: Why an Old Form of Virtualization Is Still One of the Best 208

Utilizing the Capabilities of Remote Desktop Protocol (RDP) 215

Using Remote Desktop Services (RDS) in Windows Server 2008 R2 and Windows 8 218

Using RDS with Other Virtualization Technologies 235

Third-Party Presentation Solutions for Remote Desktop Virtualization 236

Summary 238
Chapter 8 Working with Hyper-V 239

Virtualizing the Datacenter OS 240

Understanding the Types of Hypervisor 241

Using Hyper-V with Windows Server 2008 R2 249

Using Hyper-V with Windows Server 2012 281

Deciding What and How to Virtualize 303

Comparing Hyper-V with VMware's vSphere and Citrix XenServer 306

Summary 307
Chapter 9 Using System Center Virtual Machine Manager 309

A Brief History of System Center Virtual Machine Manager 310

Managing the Fabric 324

Creating Virtual Machine Templates and Service Templates 356

Summary 369
Chapter 10 Implementing a Private Cloud 371

What Is a Private Cloud? 372

Understanding the Capabilities Needed to Offer a True Private Cloud 378

Designing a Private Cloud with Hyper-V and System Center 2012 386

Working with System Center App Controller 2012 399

System Center 2012—Moving Beyond the Virtual Machine Manager and the App Controller 401

Summary 406
Chapter 11 Architecting a Virtual Desktop Infrastructure 407

Understanding Virtual Desktop Infrastructure (VDI) 408

Architecting a Microsoft VDI Solution 411

Enhancing Your VDI with RemoteFX 423

Exploring Third-Party VDI Solutions 428

Summary 428
Chapter 12 Accessing the Desktop and Datacenter from Anywhere and Anything 429

Understanding a Changing Workforce—Everyone Is Mobile 430

Providing E‑mail Access 430

Providing Remote Services 433

Ensuring Security and Client Health with Network Access Protection 440

Summary 442
Chapter 13 Optimizing the Desktop and Datacenter Infrastructure 443

Designing the Best User Environment 444

Leveraging the Latest Technologies to Design the Optimal Datacenter 455

Summary 464
Chapter 14 Virtualizing with the Microsoft Public Cloud 467

Tracing Microsoft's History as a Public Cloud Provider 468

Using Platform as a Service with Windows Azure 468

Using Software as a Service with Microsoft Solutions 482

Summary 489
Chapter 15 The Best of the Rest of Windows Server 2012 491

The Power of Many Servers, the Simplicity of One—the New Tao of Windows Server Management 492

Exploring the Core Infrastructure Service Enhancements 501

Summary 516
Index 517
See More
John Savill is a technical specialist and an 11-time Microsoft MVP. He writes for Windows IT Pro magazine and is Senior Contributing Author for Windows IT Pro. He writes content for www.ntfaq.com and creates technical videos on www.savilltech.com. John also presents custom webinars, hosts eLearning events, and speaks at Tech Ed and Virtualization Pro.
See More