E-book
Robert's Rules For Dummies, 2nd Edition
ISBN: 978-1-118-29409-3
416 pages
June 2012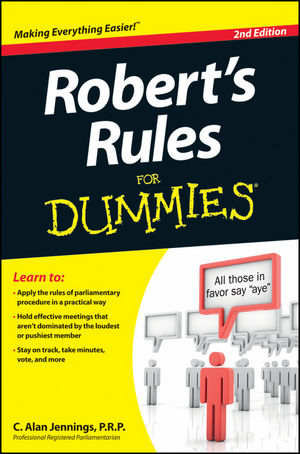 Discover why Robert's Rules "rule"
If you belong to any type of organization—from school board to garden club to bowling league to trade association—chances are this book can save you many boring meeting minutes. This friendly guide translates Robert's Rules of Order, the essential guide for conducting meetings of all types, into principles you can understand and apply the next time "Billy Bully" tries to dominate the discussion or "Debbie Dictator" issues another edict.
If you've ever been frustrated at the way condominium association business was (or wasn't) conducted or fidgeted while PTA members debated whether to have goldfish or pencils as prizes for the elementary school carnival, this is the book for you. Written by a Professional Registered Parliamentarian, it covers everything from the basics of bylaws that establish the real framework of your organization to the requirements for a legal meeting, from how to use an agenda to plan your next meeting and keep things on track to voting procedure and putting ideas into motion—and so much more.
This new edition is published in response to the revised 11th edition of Robert's Rules of Order
Techniques for following parliamentary procedures to effectively manage meetings of any size
Helps you stay current with the latest updates to the rules of order and parliamentary procedure
Complete with a glossary of parliamentary terms and sample agendas, reports, and minutes, this guide has everything you need but a gavel. Whether you belong to an elite country club or a civic organization, an investment club or a volunteer fire department, when you use the principles in this book, meetings won't be dominated by the loudest or pushiest member or go on and on and on and on and on . . .
See More
Introduction 1
Part I: It's Parliamentary, My Dear: Participating Effectively in Meetings 7
Chapter 1: Following the Rules (Robert's, That Is) 9
Chapter 2: Defining the Organization: Bylaws and Other Rules 17
Chapter 3: Meetings: Making Group Decisions 35
Chapter 4: Notice and a Quorum 49
Chapter 5: Ordering Business: The Agenda 59
Part II: Motions: Putting Ideas into Action 69
Chapter 6: Main Motions: Proposing Ideas for Group Action 71
Chapter 7: Debate: Discussing the Pros and Cons of Ideas 87
Chapter 8: Making Group Decisions: Voting on the Motion 103
Chapter 9: Subsidiary Motions: Helping to Process the Main Motion 121
Chapter 10: Privileged Motions: Getting Through the Meeting 147
Chapter 11: Incidental Motions: Dealing with the Questions of Procedure 163
Chapter 12: Haven't We Decided This Already? Motions That Bring a Question Again Before the Assembly 195
Part III: Getting Involved in Leadership 213
Chapter 13: Who's Going to Do the Work? Following Nomination Procedures 215
Chapter 14: Holding Elections and Making Appointments 227
Chapter 15: Running the Show: Officers and Directors 241
Chapter 16: Gearing Up for the Real Action: Committees 255
Chapter 17: Reporting to Your Organization 267
Chapter 18: Disciplining and Removing Officers or Members 279
Chapter 19: Starting a New Association 289
Chapter 20: The Convention of Delegates: A Special Kind of Assembly 301
Part IV: The Part of Tens 311
Chapter 21: Ten (Or So) Meeting Procedure Myths 313
Chapter 22: Ten Tips for Presiding Officers 321
Chapter 23: Ten Motion Mistakes to Avoid 327
Chapter 24: Ten Custom Rules to Consider 333
Appendix A: Glossary of Parliamentary Terms 341
Appendix B: Sample Agendas, Reports, and Minutes 349
Index 369
See More
C. Alan Jennings holds a Professional Registered Parliamentarian (PRP) credential from the National Association of Parliamentarians. He is a past president of the Louisiana Association of Parliamentarians, and is a member of the American Institute of Parliamentarians.
See More