101 Great Games and Activities
ISBN: 978-1-118-29601-1
372 pages
April 2012, Pfeiffer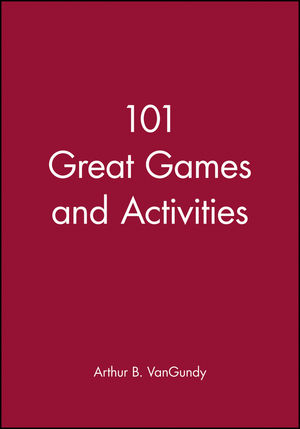 Training dynamite!
Training mastermind Arthur VanGundy, author of the best-selling Brain Boosters for Business Advantage, has assembled 101 original games and activities guaranteed to satisfy almost every conceivable training need.
These dynamic exercises are accompanied by:
Concise objectives
Recommended uses
Suggested audience
Required time
Necessary materials
Detailed procedures
Potential discussion topics
Possible variations . . . and more!
Get VanGundy's best-selling game assortment and add these simple, practical, power-packed resources to your training arsenal today!
See More
Career Development
Myths 3
Doris J. Shallcross
Objects 5
Arthur VanGundy
Occupational Grab Bag 7
Arthur VanGundy
Road Maps 10
Frank Prince
Change Management
Broomstick Demonstration 17
M. K. Key, Blair Nickle, & Caroline Portis
Creating Aim 25
M. K. Key & Scott Fisher
Helping Others Deal with Change 29
M. K. Key & Scott Fisher
Turning Misery into Merriment 33
Anne Durrum Robinson
Clarifying Expectations
Guaranteed to Fail 37
Sivasailam Thiagarajan & Raja Thiagarajan
The Tie That Binds 41
Arthur VanGundy
We've Got Rhythm 43
Janice Kilgore & Arthur VanGundy
Wall Murals 45
Arthur VanGundy
Climate Setting
Bond and Connect 49
Robert Alan Black
Feather Talk 51
Deanna Berg
Perceptions 53
Roger J. Syverson
Rumperstickers 55
Anne Durrum Robinson
Vanity Plates 57
Robert Alan Black
Communication
Do You Hear What I Play? 61
Suzanne E. Jonas
Incredible Difficulty of Communicating Simple Ideas 63
Margaret J. King
Influence, Not Authority 65
Marlene Caroselli
It's Crystal Clear to Me 70
Leslie Berger & Nance Guilmartin
Language Bias 72
Melinda M. Morris
Creativity

Belt It Out 79
Roger J. Syverson
It Just Doesn't Add Up 81
Unknown
More Ideas Than You! 84
Arthur VanGundy
Promoting and Selling Ideas 88
Robert L. A.Trost
That's the Worst Idea I've Ever Heard! 90
Arthur VanGundy
Think About It 92
Rick Kirschner
Tripping 94
Suzanne E. Jonas
Diversity
Divided or Diversified? 99
Penny Hampton
I Believe 101
Merry C. Buchanan
It's a Man's World After All 103
Merry C. Buchanan
Mandalas 105
Doris J. Shallcross
Music Machine 107
Janice Kilgore
Under the Sea 109
Merry C. Buchanan
Valuing Diversity 111
Richard G.Wong & Kristin A. Poppenheimer
Energizers
Box of Life 125
Arie Maat
Go Team! RAH! 127
Penny Hampton
Hands-On Networking 129
Robert Alan Black
Hugs and Kisses 131
Penny Hampton
Meet and Greet 133
Janice Kilgore
What's My Line? 135
Richard Whelan & Robert Merritt
Evaluation
Benchmarking Team Feelings 139
Mary K.Wallgren
Phrase Phases 143
Arthur VanGundy
Pieces of the Puzzle 146
Penny Hampton
Showing What We Have Learned 148
Robert Alan Black
Stand by Me 150
Arthur VanGundy
Getting to Know You
Cartoon Time 155
Roger J. Syverson
Comic Relief 157
Melinda M. Morris
Let's Connect! 159
Leslie Berger
Let's Get to Know One Another 161
Robert Alan Black
Light, Medium, or Heavy 164
Sivasailam Thiagarajan & Raja Thiagarajan
Picture That 167
Arthur VanGundy
Puzzling 170
Arthur VanGundy
Who Are These People? 172
Robert Alan Black
Goal Setting
Goal Pictures 177
Arthur VanGundy
New Hires 179
Merry C. Buchanan
Personal Mission Statement 181
Melinda M. Morris
S.M.A.R.T. Basketball 184
Arthur VanGundy
Icebreakers
Boxes of Your Life 189
Robert Alan Black
Corporate Jester 191
Dave Gunby
Handshaking 193
Robert Alan Black
KNOWU Cards 195
Mary K.Wallgren
Implementation
Five Double You's 205
Arthur VanGundy
Mental Rehearsal 207
Suzanne E. Jonas
Sandwich to Go 209
Arthur VanGundy
Taking Ownership of New Ideas 211
Melinda M. Morris
Interviewing
Baptism by Fire 217
Janice Kilgore
Empowered to Know 221
Janice Kilgore
Group Interviewing Criteria 224
Janice Kilgore
More Than One Way to Skin a Question 226
Richard Whelan & Robert Merritt
Taking Charge 230
Janice Kilgore
Tri-Counseling 233
Gary Wagenheim
Leadership
Follow the Word Leader 239
Arthur VanGundy
It All Depends 241
Arthur VanGundy
Leadership Inventory 244
Melinda M. Morris
There Must Be a Leader in This Group 247
Robert Alan Black
Listening
Been There, Said That 251
Rick Kirschner
Say What? 253
Arthur VanGundy
Talking Stick 255
Maggie Dugan
Will We or Won't We? 258
Peter R.Garber
Negotiation
How to Win Over the Boss 265
Merry C. Buchanan
Lobbying 269
Kip L. Lilly
More Similar Than Different 283
Melinda M. Morris
Saucy Deal 285
Bill Lazarus & Arthur VanGundy
Problem Solving
I Never Thought of It That Way! 291
Leslie Berger & Nance Guilmartin
Pipe Cleaner Challenge 294
Don Crane
Problem as Solution to Another Problem 296
Judith Morgan & Andre de Zanger
Things That Rhyme 298
Peter R.Garber
Whole-Brain Writing 301
Margaret J. King & Arthur VanGundy
Team Building
Composition 305
Janice Kilgore
Excuuuse Me! 308
Rick Kirschner
Get on the Soapbox 310
Arie Maat
Relationship Map 312
Mary K.Wallgren
Role Observation Illumination 316
Gary Wagenheim
Secret Coaches 319
Sivasailam Thiagarajan & Raja Thiagarajan
Six Pack 321
Doris J. Shallcross
Values
Identifying Cultural Assumptions 325
J. G. O'Boyle
Values Roll Call 327
Melinda M. Morris
Value Valuation 329
Janice Kilgore
Why? Why? Why? 331
Arthur VanGundy
About the Editor 333
About the Authors 335
See More
Arthur B. VanGundy, Ph.D. is Professor of Communication at the University of Oklahoma and President of VanGundy & Associates, a creativity and innovation consulting firm. He has over 30 years experience in higher education and idea generation training and facilitation. His academic degrees are from Ohio Wesleyan University (B.A.), Miami University—Ohio (M.S.), and Ohio State University (Ph.D.).
VanGundy is considered a pioneer in his work on idea generation techniques. He wrote the creativity training program for the American Management Association and the creativity chapter for The American Marketing Association's Marketing Encyclopedia 2000. He is an Associate of the Innovation Network, was editor of the Creativity in Action monthly newsletter for 11 years, and has received leadership service awards from the Creative Education Foundation and the Singapore government. He also served on the Commissioner's Education Roundtable of the U.S. Commissioner of Patents and Trademarks.
VanGundy has been invited to speak at organizations across the globe including the Administrative Management Society, American Society for Training & Development (ASTD), U.S. Chamber of Commerce, The Institute for Management Studies, and the Scandinavian International Problem Solving Institute. He also has been interviewed for such publications as Dun's Review, Business Week, Fortune Small Business, American Society of Training and Development Journal, Science Digest, Inc, Success, U.S. News & World Report, Sales & Marketing Management, and The New York Times.
See More