Jung and Educational Theory
ISBN: 978-1-118-29734-6
136 pages
June 2012, Wiley-Blackwell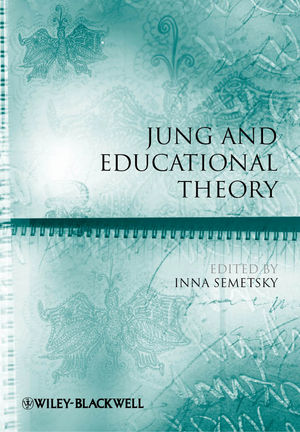 Jung and Educational Theory
offers a new take on Jung's work, providing original, rich and informative material on his impact on educational research.
Explores Jung's writing from the standpoint of educational philosophy, assessing what it has to offer to theories of education
Highlights Jung's emphasis on education's role in bringing up integrated and ethical human beings
Offers the perspectives of a diversity of academics and practitioners, on topics ranging from the role of the unconscious in learning to the polytheistic classroom
Both a valuable addition to the academic library and a significant new resource in the professional development of teachers
See More
Notes on Contributors vi
Introduction: Jung and Holistic Education
Inna Semetsky viii
1 Jung and the Soul of Education (at the 'Crunch')
Susan Rowland 1
2 On the 'Art and Science' of Personal Transformation: Some critical reflections
Raya A. Jones 12
3 The Polytheistic Classroom
Bernie Neville 21
4 Itinerary of the Knower: Mapping the ways of gnosis, Sophia, and imaginative education
Antonina Lukenchuk 35
5 The Unifying Function of Affect: Founding a theory of psychocultural development in the epistemology of John Dewey and Carl Jung
Peter T. Dunlap 47
6 Deleuze's Philosophy and Jung's Psychology: Learning and the Unconscious
Inna Semetsky & Joshua Ramey 63
7 'The Other Half' of Education: Unconscious education of children
Shiho Main 76
8 Complex Education: Depth psychology as a mode of ethical pedagogy
Robert Romanyshyn 90
9 Jung and Tarot: A theory-practice nexus in education and counselling
Inna Semetsky 111
Index 120
See More
Inna Semetsky is adjunt professor at the University of Waikato, New Zealand. She has a PhD in philosophy of education (Columbia University, USA), MA in Family and Child Counseling, and Grad.Dip.Ed in math/science education. She has five entries in the Encyclopedia of Religious and Spiritual Development (2006) and has published four books including Deleuze, Education and Becoming (2006) and Re-Symbolization of the Self: Human Development and Tarot Hermeneutic (2011), as well as numerous articles and chapters, including in International Handbooks. She serves on the board of four academic journals. Among her forthcoming books is The Edusemiotics of Images: Essays on the art~science of Tarot (Sense Publishers).
See More
More in this series