Fight Back: 81 Ways to Help You Save Money and Protect Yourself from Corporate Trickery
ISBN: 978-1-118-30088-6
304 pages
January 2013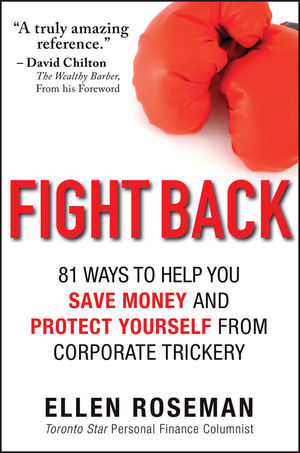 Money-saving advice from Canada's leading consumer advocate
In this book Ellen Roseman distills the financial advice she gives in her columns and blogs into 81 quick tips that all Canadians can use to help them spend sensibly, save money, and avoid costly consumer traps. This book of "personal finance greatest hits" is filled with illustrative examples and cautionary advice from Roseman and stories from her faithful readers. Filled with a wealth of information, the book includes the low-down on dealing with banks and car dealers, cutting costs of communication services, improving your credit, buying and renovating a home, fighting online fraud, ensuring you have the right insurance, and more.
Offers an easy-to-use guide for being smart with your money
Includes how to advice on handling the most common financial pitfalls
Contains the best advice from Ellen Roseman's columns and blogs
Written by Canada's most popular and savvy consumer advocate
Don't spend another dollar until you read Ellen Roseman's best-ever tips for saving money and making wise financial decisions.
See More
Foreword by Dave Chilton xi
Introduction xiii
PART 1: OUTSMARTING THE BANKS 1
1. Get a Higher Interest Rate on Your Savings 5
2. How to Fight Back when a Bank Cuts the Interest on Your Savings 8
3. Look Beyond the Big Banks for Higher Savings Rates 11
4. How to Get Higher Savings Rates without Getting Burned 15
5. How to Trim the Bank's Service Charges 18
6. How to Fight Back when You Miss a Discount You Deserve 21
7. Challenge Bank Fees for RRSPs and Other Registered Plans 24
8. Watch Out for Foreign Exchange Conversion Fees 27
9. Find the Best Credit Cards for Rewards and Benefits 30
10. Find the Best Credit Card if You Carry a Balance 35
11. Watch Out for Credit Card Balance Transfers 38
12. Watch Out for Expensive Credit Card Insurance 41
13. Beware of Penalties when You Break a Closed Mortgage 45
14. How a Customer Fought Back Against a Bank's Mortgage Penalty 49
15. How to Avoid Interest Penalties when Paying Off Your Mortgage Early by Paul Brick 52
16. Why It Pays to Know Your Rights by Ursula Menke 55
17. How to Outsmart the Banks at Their Own Game by Matt Goulart 58
18. How to Get the Best Service from a Bank by Douglas Melville 60
19. How to Get the Best Service from a Bank if You Own a Business by Douglas Melville 63
PART 2: KEEPING YOUR FINANCES ON TRACK 67
20. How to Check on Your Credit Report and Credit Score 71
21. How to Correct Errors on Your Credit Report by Ross Taylor 74
22. How to Fight Back when Your Credit History Is a Mess by Ross Taylor 77
23. How to Make Sure Your Credit History Stays Healthy by Ross Taylor 80
24. How to Fight Back Against Bad Financial Advice 82
25. How to Make Sure You Have the Right Investments by Douglas Melville 85
26. How to Fight for Your Rights as an Investor by Anthony Pichelli 88
27. How to Recover Losses on Unsuitable Investments by Ken Kivenko 90
28. How to Fight Back Against the Canada Revenue Agency 93
29. How to Avoid Getting Penalized on Your Tax-Free Savings Account 96
30. How to Fight Back by Using the Taxpayer Bill of Rights by J. Paul Dubé 99
PART 3: TAMING YOUR TELECOM COSTS 103
31. How to Negotiate for Better Rates with a Telecom Supplier 105
32. How to Cut the Cost of Your Home Phone Service 108
33. How to Save Money on Your Internet Service 112
34. How to Cut the Cost of Your Cable TV Service 116
35. How to Save Money on Your Telecom Bills and Get Better Service by Bob Lepp 120
36. How to Buy a Wireless Phone without a Contract 123
37. How a Customer Fought Back Against Cancellation Fees 127
38. How to Save Money with a Prepaid Wireless Plan 130
39. Avoid Data Roaming Charges when You Travel 133
40. How a Bell Customer Fought a $10,000 Bill for Data Roaming 135
41. Watch Out for Premium Text Messages on Your Wireless Phone 137
42. How to Get the Best Value for Your Telecom Dollars by Kim Walker 140
43. How to Cut Your Telecom Costs by Heather Morgan and Mike Weatherbee 142
44. How We Helped a Household Slash Its Telecom Costs
by Heather Morgan and Mike Weatherbee 144
45. How to Make Effective Telecommunications Complaints by John Lawford 147
46. How to Fight Back Against Big Telecom by Lindsey Pinto 152
PART 4: STRETCHING YOUR TRAVEL DOLLARS 155
47. How to Fight Back when an Airline Damages Your Luggage 159
48. How to Fight Airline Rules Th at Do Not Make Sense 163
49. How to Fight Back when a Cruise Line Loses Your Luggage 166
50. How to Complain to the Canadian Transportation Agency 170
51. How to Enforce Your Airline Flight Rights 173
52. How to Cross the Border with Your Travel Documents in Order 176
53. What to Do with Your Prescription Drugs when You Travel 179
54. How to Avoid Getting in Trouble when Booking Hotels Online 181
55. How to Avoid Being Denied a Refund on Unused Hotel Rooms 184
56. How to Avoid Paying Medical Bills when Crossing the Border 186
57. How to Choose Trip Cancellation and Trip Interruption Insurance 189
58. How to Fight Back when Your Trip Cancellation Claim is Denied 192
59. How to Avoid Losing the Travel Reward Points You Collected 194
60. How to Fight Back Against a Car Rental Company's Damage Claim 198
PART 5: FIGHTING BACK AGAINST POOR RETAIL SERVICE 201
61. How to Fight Back when a Store Refuses to Give a Refund 205
62. How to Get Your Money Back when You Pay with Your Credit Card 209
63. How to Return a Purchase Th at You Make Online 213
64. How to Avoid Getting into Trouble with Online Purchases 216
65. How to Fight Back Against Online Fraud by David Malamed 218
66. How to Fight Back when You Find a Pricing Error 220
67. How to Fight Back Against Automatic Renewals 223
68. How to Avoid Losing Money on a Gym Membership by Nicholas Ross 226
69. How to Decide on Getting an Extended Warranty 229
PART 6: PROTECTING YOUR BIG DOLLAR PURCHASES OF CARS AND HOUSES 233
70. How to Fight Back when Your Car Does Not Work Properly by Stephen Moody 237
71. How to Fight Back Against Car Leasing Charges by Neil Rau 241
72. How Not to Get Stung when Buying a Newly Built Home by Dr. Karen Somerville 245
73. How to Fight Back in a Phony Real Estate Bidding War by Mark Weisleder 248
74. How to Resolve Issues with Your Energy Utility by Paul Green 250
75. How to Fight Back Against Rogue Movers 253
PART 7: USING YOUR COMMUNICATION SKILLS AND THE COURTS 257
76. How to Write the Perfect Complaint Letter by Christopher Elliott 261
77. How to Create a Circle of Eyes on a Company You Want to Fight by Franke James 263
78. How to Be Patient, Persistent and Prepared by Ted Whipp 267
79. How to Use Twitter to Put Pressure on a Business by Scott A.E. Smith 270
80. How to Deal with a Lawyer if You Have a Consumer Problem by Orie H. Niedzviecki 272
81. How to Fight Back in Small Claims Court 275
Index 281
See More
Ellen Roseman is a journalist who sticks up for ordinary Canadians. As a long-time advocate for consumer rights, she's become a brand name for activism and a champion at helping consumers fight back against injustices. Her columns appear three times a week in the Toronto Star and her popular blog, EllenRoseman.com, has been online since 2007. She's the author of seven books, including Money 101: Every Canadian's Guide to Personal Finance and Money 201: More Personal Finance Advice for Every Canadian. She teaches investing and personal finance at the University of Toronto's continuing studies department and Ryerson University's Chang School, and is on the board of FAIR (Canadian Foundation for Advancement of Investor Rights) and Community Legal Education Ontario (CLEO).
See More