The 2013 Pfeiffer Annual: Training
ISBN: 978-1-118-30177-7
320 pages
November 2012, Pfeiffer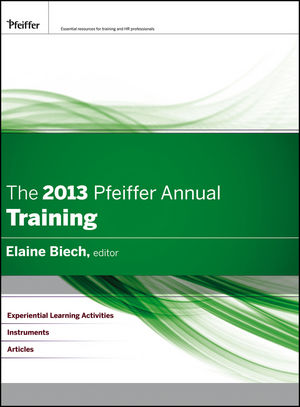 Continuing education and development lie at the very heart of any successful organization. Time and time again, studies show that the best organizations, those that deliver better-than-average return on investment, also happen to be the ones with the highest commitment to training and development. Moreover, training has become a powerful ally in the war for talent. Job seekers frequently cite a strong commitment to development as one of the principal reasons for joining or remaining with an organization.
In your hands is a working toolkit, a valuable source of knowledge for the training professional. Offering entirely new content each year, the Pfeiffer Training Annual showcases the latest thinking and cutting-edge approaches to training and development, contributed by practicing training professionals, consultants, academics, and subject-matter experts. Turn to the Annual for a rich source of ideas and to try out new methods and approaches that others in your profession have found successful.
The book is divided into four sections: Experiential Learning Activities (ELAs); Editor's Choice; Inventories, Questionnaires, and Surveys; and Articles and Discussion Resources. All the material can be freely reproduced for training purposes. The ELAs are the mainstay of the Annual and cover a broad range of training topics. The activities are presented as complete and ready-to-use training designs; facilitator instructions and all necessary handouts and participant materials are included. Editor's Choice pieces allow us to select material that doesn't fit the other categories and take advantage of "hot topics." The instrument section introduces reliable survey and assessment tools for gathering and sharing data on aspects of personal or team development. The articles section presents the best current thinking about training and organization development. Use these for your own professional development or as lecture resources.
See More
Website Contents xiii
Preface xvii
The Difference Between Training and Consulting: Which Annual to Use? xxiii
Introduction to The 2013 Pfeiffer Annual: Training xxvii
Experiential Learning Activities
Introduction to the Experiential Learning Activities Section 1
Experiential Learning Activities Categories 5
The Graham Cracker Challenge: Examining Risk and Reward 13
John Goldberg
**Are You Ready? Assessing Change Readiness 17
Teri-E Belf
Contradictory Preferences: Role Playing 25
Lauri Luoto
The ADAPT Problem-Solving Model: Using Interviewing 35
Jennifer Straub, Nicole Russo, Sarah Eckstein, and Daniel Eckstein
**Pop Goes the Bottom Line!: Examining the Impact of 51
Feedback on Performance
Ken Steiger
**Preparing Leaders for the Future Topics
Throwing Kisses: Encouraging Desired Behaviors 57
Marilyn Marles
Congratulations!: Mixing It Up 61
Jan Yuill
†QR Codes for Training: Improving Learning and Performance 65
Kella B. Price
Dialogue: Using Discussions to Facilitate Learning 77
Mohandas Nair
Buzz, Buzz: Increasing Participant Engagement 81
Sandra A. Shelton
Superpowers: Learning to Improve Performance 87
Lisa Strick
**The Creative Leader: Measuring Creativity Characteristics 97
Shirley Copeland
**The Leadership Pyramid: Exploring Skills of Successful Leaders 103
J. Alexis Mamber
Editor's Choice
Introduction to the Editor's Choice Section 109
The Thinker's Test: A Learning Experience for Thinking More Clearly, Creatively, and Cleverly 111
Karl Albrecht
Build a Better "To Do" List 117
Lou Russell
The Cents of It All: Employee Value Simulation 123
Lily Cheng and Peter Cheng
†Cutting Edge Topics
Inventories, Questionnaires, and Surveys
Introduction to the Inventories, Questionnaires, and Surveys Section 127
Measuring Innovators and Adopters for Web 3.0 129
Sacip Toker and James L. Moseley
The Manager Quality Performance Index (MQPI): Driving Superior People Results Through Measurement 147
Allan H. Church, Michael D. Tuller, and Erica I. Desrosiers
Articles and Discussion Resources
Introduction to the Articles and Discussion Resources Section 167
**Self-Reflection: A Key Leadership Competency 171
Deb Pastors
**Considering the "Soft" Aspects of Decision Making 175
Erwin Rausch and Charles Anderson
The Supervisor's Motivational Tool Kit 187
Deborah Spring Laurel
†A Positive Vision for 2020: The Confluence of Information Technology with T&D 191
Phillip E. Nelson and Teri-E Belf
Toward a Healthy World: Meeting the Leadership Challenges of the 21st Century 199
Sherene Zolno
Keeping Training Alive in a Recovering Economy 207
Kurt Iskrzycki, Susan Cain, and Tim Buividas
What Makes Up the Most Beloved Activities? Framework for Rapid Training Activity Creation 213
Lauri Luoto
Planning, Not Playing: Training Through Simulation Design 219
Noam Ebner and Daniel Druckman
**Leadership and Accountability Lecturette 235
Phil Van Horn
**Developing Values-Based Leaders 239
Homer H. Johnson
**I Have Seen the Future and It's Not What It Was Cracked Up to Be 251
Leonard D. Goodstein
**Connecting the Dots: Developing Leaders Who See the Big Picture 267
Catherine J. Rezak
Contributors 281
Contents of the Companion Volume, The 2013 Pfeiffer Annual: Consulting 285
Pfeiffer Publications Guide 289
See More
Elaine Biech is president and managing principal of ebb associates inc, an organizational development firm that helps organizations work through large-scale change. The recipient of ASTD's highest honor, the Gordon M. Bliss award, Biech is the author and editor of over four dozen books, including The Book of Road-Tested Activities, Pfeiffer Annuals of Training and Consulting, 90 World-Class Activities by 90 World-Class Trainers, Training for Dummies, The Business of Consulting, and others, all published by Wiley.
See More