Children With School Problems: A Physician's Manual
ISBN: 978-1-118-30251-4
272 pages
October 2012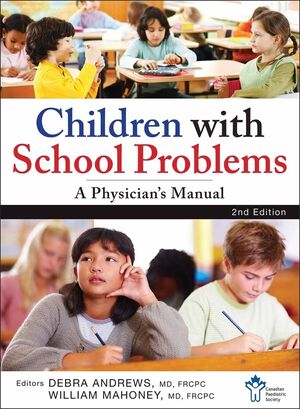 The physician's guide to diagnosing and treating learning disabilities in children
1 in 10 Canadians have a learning disability, and doctors must be able to identify, diagnose, treat, and manage children who are struggling in school. The first book specifically tailored for the needs of physicians working with kids with learning disabilities, Children With School Problems: A Physician's Manual covers such important areas as child development, diagnosing learning disabilities (including data gathering, screening and assessment, and physical examinations), management (medication, behavioral management, and educational interventions), and prevention (including literacy promotion).
Written by trusted experts from the Canadian Paediatric Society, Children With School Problems is filled with practical tools and resources that physicians—including paediatricians, family physicians, and paediatric learners—can use to diagnose and treat children with learning disabilities.
The only book on learning disabilities in children specifically designed for physicians
Written by trusted experts from the Canadian Paediatric Society
Covers important issues including literacy promotion, screening for disabilities, medication options, and much more
Gives physicians the tools they need to help children with learning disabilities
Physicians want to know more about learning disabilities, and parents want their pediatricians and family physicians to provide more help when their kids struggle in school. Children with School Problems provides that information, making it an invaluable resource for any doctor working with kids.
See More
About the Canadian Paediatric Society xi
Acknowledgements xiii
Introduction xvii
Part I: Foundations 1
Chapter 1: Overview of Children with Learning Problems, Schools, and Approaches to Helping 1
Prevalence of learning problems 1
Types of learning disabilities 4
Response to intervention 5
Etiology/mechanisms of LDs 5
Natural history 7
Treatment/management 9
Chapter 2: Understanding and Working with Schools 12
Educational legislation and school organization 12
Terms used by the education system 13
Controversies in education 15
Chapter 3: Early Development of the Nervous System and School Performance 18
Brain development in utero 18
Brain development and the origin of learning difficulties 18
Disruptions in CNS development—critical periods in utero 19
The newborn period 21
Acquired biologic childhood factors 21
Childhood social factors 23
Chapter 4: Development and School Entry 27
School readiness 27
Age of entry 27
Typical preschool learning and skills present at the time of school entry 28
Other predictors of success at the time of school entry 30
Chapter 5: Provincial/Territorial Special Education Legislation 32
British Columbia 33
Alberta 34
Saskatchewan 35
Manitoba 36
Ontario 36
Quebec 38
Prince Edward Island 38
Nova Scotia 39
New Brunswick 40
Newfoundland and Labrador 41
Northwest Territories 42
Nunavut 42
Yukon Territory 43
Part II: Diagnostics 44
Chapter 6: Data Gathering 44
Reviewing previous reports 44
Interpreting psycho-educational assessments 44
Anatomy of a psycho-educational assessment 45
The history 47
Setting the stage 47
Interviewing parents 48
Interviewing children 49
Introducing the idea of counselling 53
Chapter 7: Questionnaires 55
Collection of Information from Parents and Teachers 55
Consent to Release Information from School 58
Parent Questionnaire 59
Preschool/Kindergarten Questionnaire 66
School Questionnaire (6–18 Years) 71
Chapter 8: The Physical Examination of the Child with Learning Problems 77
Rule out physical disease 77
Evaluate co-morbid medical conditions 78
Look for minor physical anomalies 79
Describe neurological fi ndings 79
Rule out contraindications and establish a baseline for medication use 80
Chapter 9: Medical Investigations of Children with Learning Problems 82
Medical conditions 82
Medical investigations 82
Chapter 10: Developmental and Academic Skills: Screening, Sampling, and Assessment 86
Levels of assessment by physicians 86
Screening, sampling, and assessment 87
Chapter 11: Differential Diagnosis of the Child Who Is Not Doing Well in School 137
The differential diagnosis of poor academic achievement 137
The differential diagnosis of noncompliance and oppositional behaviour 144
The differential diagnosis of motor incoordination 144
The differential diagnosis of social interaction problems 145
Part III: Management 148
Chapter 12: Sharing the Formulation: Feedback to Parents and School 148
Formulation 148
Feedback to parents 149
Feedback to the school 149
Sample formulation 150
Chapter 13: Educational Interventions 152
Demystification 152
Classroom placement 153
Out-of-school instruction 154
Specific remediation 155
Role of physicians' advice to students 160
Organization, studying, and homework 161
Chapter 14: Behavioural Management 164
Underlying factors affecting behaviour: Cognitive abilities 164
Underlying factors affecting behaviour: Regulation 164
Strategies for helping with regulatory problems 165
Evidence-based approaches to behaviour: Programs, resources, and general principles 166
Self-esteem and the child with school problems 172
Relationships with peers 175
Chapter 15: Medical Management 177
The role of medications in managing children with school problems 177
Use of medication for ADHD 177
Treating associated medical conditions 190
Chapter 16: Complementary and Alternative Therapies for Learning and Attentional Disorders 193
Evaluating research on CAM 193
Discussing CAM with parents 194
Part IV: Trajectories 197
Chapter 17: Supporting the Adolescent with Learning Problems 197
The challenges of transition: Junior high and high school 197
Working with teens who have learning problems 198
Strategies and supports for home and school 199
Evaluating teens with learning problems 199
Management issues when following adolescents 200
Chapter 18: Learning Problems from Adolescence into Adulthood 202
Factors contributing to quality of outcome 202
Adults with learning disabilities 204
ADHD in adult life 205
Adults with intellectual disability 205
Delinquency and learning problems 206
Learning problems and adult psychiatric disorders 207
Indicators of learning problems in adults 207
Resources for adults with learning problems 208
Part V: Resources 211
Chapter 19: Encouraging Reading 211
What can physicians do? 211
What can parents do? 212
Choosing books for children 216
Chapter 20: Illustrative Cases 217
Case I: Derek: Attention weakness and academic delay 217
Case II: Parminder: Reading diffi culties and English as a second language (ESL) 220
Case III: Jewel: Academic delay, behavioural concerns in the context of prenatal alcohol exposure 223
Case IV: Tristan: Gross motor and fine motor skill clumsiness, poor attention, and impulsivity 229
Chapter 21: A Resource Worksheet for Physicians Who Work with Students with Learning Problems 234
Glossary 243
Index 247
List of Tables
3–1 Early Risks for Learning Diffi culties 21
3–2 Childhood Risks for Learning Diffi culties 24
6–1 IQ Classifi cations in Current Use 46
8–1 Common Minor Physical Anomalies 79
8–2 Testing for "Soft" Neurological Signs 80
8–3 Details of the Physical Examination for School Learning Problems 81
15–1 Medical Treatment for Uncomplicated ADHD in Children 183
15–2 Medical Treatment for Uncomplicated ADHD in Adolescents 185
List of Figures
1–1 Executive Functions Impaired in ADHD 4
6–1 Normal Standard Distribution and Standard Scores 46
16–1 Evaluation Framework for Complementary and Alternative Therapies 195
20–1 Canadian Norms (Mean and SD) for Girls Aged 6 to 16 Years 226
20–2 Canadian Norms (Mean and SD) for Boys Aged 6 to 16 Years 227
20–3 The Palpebral Fissure Length Being Measured with a Small Plastic Ruler 227
20–4 The Three Diagnostic Facial Features of FAS 228
List of Tools
10–1 Complex Sentences (Ages 4 to 6 Years) 92
10–2 Complex Sentences (Ages 6 to 8 Years, 11 Months) 93
10–3 Story Comprehension (Ages 6 Years to 7 Years, 11 Months) 94
10–4 Verbal Instructions 95
10–5 Auditory Comprehension and Recall (Ages 9 Years to 12 Years, 11 Months) 97
10–6 Yes, No, Maybe: Higher-Level Language Function 99
10–7 Development of Oral Language Skills (Ages 5 to 12 Years) 100
10–8 Human Figure Drawings 106
10–9 Visual Matching Exercises (Ages 4 to 6 Years) 108
10–10 Visual Whole: Part Analysis (Ages 6 to 8 Years, 11 Months) 109
10–11 Lock-and-Key Designs (Ages 9 to 14 Years, 11 Months) 110
10–12 The Gesell Copy Forms 111
10–13 Reading Tests 112
10–14 Assessment of Handwriting Speed (Ages 6 to 9 Years) 118
10–15 Evaluation of Written Stories Using BASIS 119
10–16 Reading and Writing Skills in School-aged Children 131
10–17 Sample Spelling Battery 133
10–18 Sample Mathematics Tests 134
10–19 Assessment of Auditory Memory from Repetition of Digits 135
See More
The Canadian Paediatric Society is a national professional association, representing more than 3,000 paediatricians, paediatric subspecialists, paediatric residents, and other health professionals who work with and care for children and youth. The CPS is active in professional education, public policy advocacy, surveillance and research, and education for parents and caregivers.
Dr. Debra Andrews is associate professor of paediatrics and divisional director for developmental paediatrics at the University of Alberta. She is medical director of two tertiary interdisciplinary programs at the Glenrose Rehabilitation Hospital that provide assessment and intervention for school-aged children with complex learning and behavioural problems.
Dr. William Mahoney is a clinical associate professor of paediatrics, Faculty of Health Sciences, McMaster University, and has worked with children with school problems for over thirty years. He is the former medical director of the developmental paediatric, rehabilitation, and autism programs of McMaster Children's Hospital.
See More