Play A Bigger Game!: Achieve More! Be More! Do More! Have More!
ISBN: 978-1-118-30257-6
180 pages
October 2012, Wrightbooks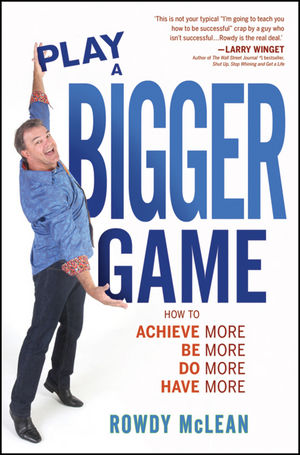 The tricks and tools you need to get more out of life than you ever thought possible
Everyone wants more of something: more fun, more money, more time, more love, more friends, more knowledge, and Play A Bigger Game: Achieve More, Be More, Do More, Have More is the book you need to achieve—and exceed—these goals. A motivational resource and practical guide for helping individuals, companies, and organisations to realise their full potential, the book breaks down the challenges that can get in the way of success into easy to implement ideas and action plans.
Written by one of Australia's most successful motivational speakers, Rowdy McLean, a man who has spent the last decade studying the key drivers of success and achievement, the book contains more than just goal setting advice, it's a definitive guide to goal kicking, helping you not only define what you want but providing the tools and resources you need to turn those dreams into reality.
Packed with real-life examples that illustrate the concepts and practices presented
Includes unique chapter-specific videos accessible by QR codes
The definitive guide to getting what you want
Filled with simple tools and strategies designed to help you get more out of life, Play A Bigger Game has everything you need to get where you want to go.
See More
About the author xi
QR codes xiii
Setting up for success xv
Introduction xxi
1 Break out of the cotton wool society 1
2 Play a bigger game! 9
3 You are awesome! 19
4 Change is a good thing 29
5 Play to your potential 39
6 You can do it 49
7 Stretch the boundaries 67
8 Five great lies — don't be misled 77
9 Beware the dream stealers 89
10 Make it happen 99
11 Get your priorities right 113
12 Make it real — paint the picture 123
13 Real reasons for success 131
14 No action, no results 137
15 Work smarter, not harder 149
16 Invest in yourself 163
17 Be proud 171
Testimonials 177
Take the 90-day goal-kicking challenge online 179
See More
Rowdy McLean has spent the last decade studying the key driversof success and is an expert on productivity, personal growth and achievement. As an international speaker, author and consultant, Rowdy travels the world inspiring people from all walks of life to play a bigger game and achieve more, be more, do more and have more! Visit Rowdy's website at www.playabiggergame.com.au.
See More