E-book
Fast Easy Way to Learn a Language
ISBN: 978-1-118-30379-5
184 pages
February 2012, Wrightbooks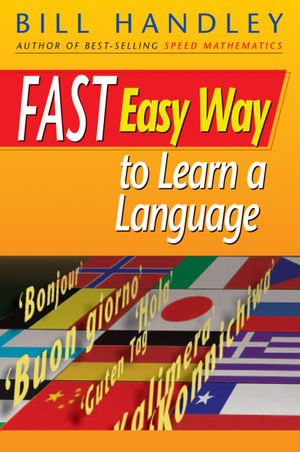 Fast, Easy Way to Learn a Language
is essential reading for anyone studying a language at school, for business, travel or just for pleasure. Well-known inspirational teacher Bill Handley speaks 15 languages at various degrees of fluency. He is passionate about learning languages and believes language learning should be an adventure. In this book he explains:
how to have fun building your vocabulary in record time
the easy way to get to grips with grammar
why you should use more than one textbook
how to use your 'lost time' to learn faster
what to do when you feel like giving up
how to write your own 'survival skills' course.
Fast Easy Way to Learn a Language will have you speaking your new language in no time. The book explores all the important topics: active and passive learning, mastering a different alphabet, using recorded material, planning your own immersion program, making effective use of the internet and much more. It includes special advice for school and university students. This is the fun way to learn a language.
See More
Preface v
Introduction vii
1 Why learn a language? 1
2 Preparation 5
3 Choosing your tools 13
4 Getting started 27
5 Make your own survival course 43
6 Learning a different alphabet or writing system 47
7 Using a dictionary 53
8 Recorded material 57
9 Vocabulary 67
10 Your plan 91
11 Using 'lost' time 103
12 Enjoy light reading 107
13 Language classes 111
14 Meeting people 115
15 Grammar 123
16 Plan your own immersion program 139
17 What if you just don't feel like it? 145
18 Using the internet 149
19 Advice for school and university students 159
20 Language addicts 165
21 How to make a comeback 169
Afterword 171
Appendix A: Model survival course 175
Appendix B: Language websites 207
See More
Bill Handley is the author of the best-selling books Teach Your Children Tables, Speed Mathematics and Speed Maths For Kids. Based in Melbourne, he is recognised internationally as an authority on teaching and study methods. He lectures regularly to educators and teachers and his methods have achieved astonishing results in schools worldwide.
See More