E-book
Making Money From CFD Trading: How I Turned $13K Into $30K in 3 Months
ISBN: 978-1-118-30391-7
184 pages
December 2011, Wrightbooks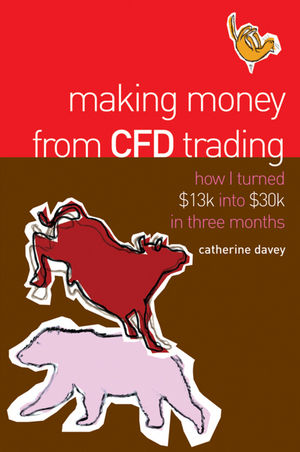 Contracts for difference or 'CFDs' have taken Australian traders by storm. Catherine Davey's first book on the subject,
Contracts for Difference: Master the Trading Revolution
, was a great success; in this follow-up, she shares her real-life CFD trading experiences over a three-month period in 2005. During this time, she manages to turn $13000 into $30000, but her path to success is anything but straight and simple.
Making Money from CFD Trading describes not only the reasoning behind and execution of her trading strategies, but also presents an honest, inspiring and often humorous discussion of her emotional journey as a trader. Catherine gives a fascinating insight into the trading experience: struggling to maintain the right psychology, avoiding irrational 'ego trades' and finding emotional balance between depressing losses and big wins. She presents a range of opinions from industry experts and commentators, discussing day-to-day trading issues and sharing controversial market views. This book will give you an understanding of:
simple charting techniques that make money
the unique aspects of trading CFDs
how to exploit the advantages CFD trading has over traditional share trading
strategies for establishing and maintaining a winning mental approach.
This entertaining and hugely informative book is a must-read for anyone who wants to know more about CFDs and for traders of any financial instrument who want to take their performance to the next level.
See More
Foreword vii
Preface xi
Introduction xiii
Getting started 1
Week 1: The first cut 17
Week 2: Lunch is for wimps 35
Week 3: Into the abyss 51
Week 4: Wealth god smiles 65
Week 5: Avoiding Waterworld 77
Week 6: Addicted to trading 91
Week 7: My $10 000 week 101
Week 8: Subliminal messages 115
Week 9: Trading sucks sometimes 129
Week 10: Denial and regret 143
Week 11: Dogs with nine lives 155
Week 12: Golden sheaf 167
Week 13: Blonde psycho 177
Week 14: Out with a bang 193
Postscript 203
Hindsight 205
Index 215
See More
Catherine Davey is a consultant to the CFD industry and one of the most popular technical analysts in Australia, well known for her articles in the trading press and as a speaker on the seminar circuit. She holds a Master of Business (Applied Finance).
See More
Learn more about