Nonprofit Investment and Development Solutions: A Guide to Thriving in Today's Economy, + Website
ISBN: 978-1-118-30477-8
187 pages
February 2013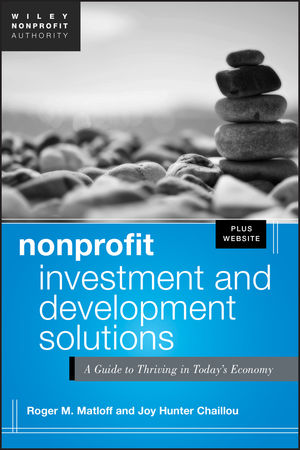 Solid guidance for managers and trustees to better position their nonprofits now and in the future
The Great Recession has left a paradigm shift for nonprofit leadership and their board members as fiduciaries. It has changed how boards make, evaluate and document investment decisions, the risks they are willing to take and the way these details are communicated to donors.  Nonprofit Investment and Development Solutions + Website will provide solid guidance for nonprofit leadership, staff and volunteers to better position their nonprofits to thrive now and in the future.   
This guide will provide:
Sophisticated investment and development principles that are easily understandable and adaptable
Specific steps to take in order to avoid unnecessary investment risk and secure financial stability
Solutions and techniques for capitalizing on opportunities created by funding shifts and evolving donor expectations
Principles and practices of fiduciary responsibility, behavioral finance, socially responsible investing, strategic development planning and charity efficiency
In addition, Nonprofit Investment and Development Solutions + Website offers a web site resource with a variety of online tools and templates to help readers implement key concepts discussed in this book.
See More
Preface: Here We Are ix
Background: Where We Have Been x
Multiple Factors x
This Book's Setup xiii
Acknowledgments xv
CHAPTER 1 Philanthropy History and Statistics 1
American Philanthropy 1
Examining the Statistics 3
Summary 5
CHAPTER 2 Fiduciary Responsibility 7
What Is a Fiduciary? 7
What Are the Duties of the Fiduciary? 8
Pressure on Fiduciaries from Increased Volatility 9
Protecting the Assets—The Prudent Investor 10
Training and Education of Fiduciaries 12
Increasing Government Regulation 14
Protecting the Mission 15
Effective Use of Professional Consultants 17
Valuable Resources 17
Summary 19
CHAPTER 3 New Roles for the "New Reality" 21
The Investment Consultant 22
The Investment Committee 24
Fundraising and Finance 24
Investment Policy Statement 28
Summary 30
CHAPTER 4 Behavioral Finance 31
The Psychology of Investing 32
Behavioral Factors and Investing 33
Psychology and Decision Making 34
The Psychology of Group Decisions 39
Behavioral Finance and Investment Consulting 41
Summary 44
CHAPTER 5 Understanding Risk 45
The Individual and Risk 45
Biases 46
Investment Committee Psychology 46
Risk and the Fiduciary 47
Group Dynamics and the Nonprofit 48
The Theory of Groupthink 49
The Blind Risk Model 52
Understanding Individuals—Gathering Information 53
Assessing the Power on the Investment Committee 54
Completing the Process 55
Summary 57
CHAPTER 6 Asset Allocation 59
Asset Allocation Analysis 59
Types of Risk in Asset Allocation 60
Risk and Portfolio Performance 62
Preparing for Asset Allocation Analysis 64
Summary 68
CHAPTER 7 The Investment Policy Statement 71
The Elements of an Investment Policy Statement 71
The IPS Provides Essential Discipline 73
UMIFA and UPMIFA 75
IPS and Investments 78
The IPS and Asset Allocation 79
The IPS and Risk, Return, and Money Manager Retention 80
The IPS and Major Donors 81
Summary 82
CHAPTER 8 Money Manager Selection 83
The Goal 83
Outlining the Process 84
Step 1: The Search 85
Step 2: The Evaluation 86
Step 3: The Analysis 87
Step 4: Selection 93
Summary 94
CHAPTER 9 Dynamic Portfolio Optimization 95
Before Modern Portfolio Theory (MPT) 95
Modern Portfolio Theory 96
The Efficient Portfolio 99
The Mean-Variance Model 99
Dynamic Asset Allocation and Market Timing 100
Summary 101
CHAPTER 10 Investment Program Analysis 103
Monitoring Accounts 103
The Procedure 104
Assessing Money Managers 106
The Evaluation 109
Summary 110
CHAPTER 11 Socially Responsible Investing 111
The Roots of Socially Responsible Investing 111
What Exactly Is Socially Responsible Investing? 113
How Do We Accomplish Socially Responsible Investing? 115
The Risks of Socially Responsible Investing 116
Additional Means of Accomplishing SRI 118
Why Does a Nonprofit Implement an SRI Portfolio? 119
Summary 120
CHAPTER 12 The Changing Landscape for Fundraising 121
Our New Reality 121
Donor Motivations 122
Communication Strategies 124
Revenue Source Diversification 125
The Strategic Development Plan 127
Understanding Donors 128
Effective Communication Tools 130
The Case for Support 131
Measuring Programmatic Impact 133
The Strategic Development Planning Process 134
The Importance of Planned Giving As a Strategic Development Tool: Building Endowment with
Planned Gifts 136
Donor Values That Affect Their Legacy Giving 138
Summary 140
CHAPTER 13 The Evolution of Donors—Trends and Truths 143
The Modern Donor 143
Transformations in Giving Patterns 146
Growing the Donor Pool 151
Summary 159
CHAPTER 14 Growing Expectations 161
Resources 162
Two Key Measures of Financial Health 165
Financial Ratios 171
Integrity and Credibility 173
Summary 174
Conclusion 175
About the Companion Website 177
About the Authors 179
Index 181
See More
ROGER M. MATLOFF, CFM, CIMA®, CAP®, CRPC®, is a senior vice president and institutional consultant at a major financial institution. Working with the team he founded in 1983, Roger creates sustainable strategic solutions for nonprofit organizations around the country. In his current role, he oversees the analytical, investment, and management programs that the team's foundation and endowment clients utilize. In his capacity as a consulting and investment expert, Roger has appeared on national television news programs and been cited in such national publications as the Wall Street Journal and Research magazine as well as numerous international publications focused on serving the nonprofit market.
JOY HUNTER CHAILLOU is a Senior Vice President and Senior Nonprofit Advisor for a major financial institution. In her current role, she serves as an advisor working with nonprofit organizations of all sizes to increase their organizational capacity and help them reach their goals by offering in-depth strategies and tailored solutions, providing them with the knowledge and resources needed to address the challenges they face as they pursue their mission and impact goals. Joy's advice and consultation focus is in the areas of governance, development strategies, staff training, and board education.
See More