The One Thing to Win at the Game of Business: Master the Art of Decisionship -- The Key to Making Better, Faster Decisions
ISBN: 978-1-118-30520-1
336 pages
June 2012, Wrightbooks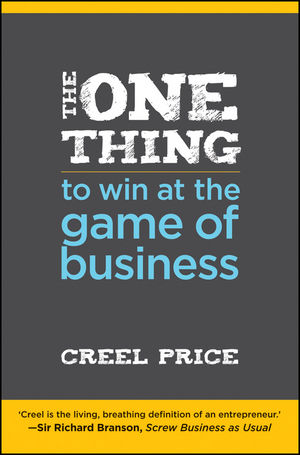 The book you need to make better business decisions, faster
The One Thing to Win at the Game of Business is the entrepreneur's bible with everything you need to invest in your own entrepreneurial education. Based on author Creel Price's own experience launching a small business for just $10,000 and then selling it a decade later for over $100 million, the book is based on one core business truth: that Decisionship, the ability to make better, faster decisions without the angst, is key to success.
Systematically explaining the Decisionship methodology that Price has used with great success, the book outlines a visual model that brings together three distinct "sights"—foresight, insight, and hindsight—at the heart of the decision making process. Taken together, these perspectives enable you to quickly and easily process your options from every angle and make smarter choices more quickly.
Presents a three-step process for making better business decisions
Teaches you the one thing you need to know to build a more productive, more profitable company
Explains the keys to building a closer-knit, more productive, and highly-motivated team
Innovative, practical advice from a proven business expert, The One Thing to Win at the Game of Business is the ultimate business shortcut—the single thing that you must understand about entrepreneurship in order to get ahead.
See More
Acknowledgements vii
Introduction ix
Part I: Decisionship in theory 1
1 What is decisionship? 3
2 The anatomy of decisions 15
3 The entrepreneurial eye 23
Part II: Overview of the decision-making process 33
4 A powerful decision-making process 35
5 Step 1 of decisionship — define 41
6 Step 2 of decisionship — assess 63
7 Step 3 of decisionship — decide 79
Part III: How to use foresight to build a solid decision-making foundation 89
8 The six lenses of clarity 91
9 The passion lens 99
10 The philosophy lens 115
11 The proficiency lens 127
12 The progress lens 141
13 The prototype lens 161
14 The plan lens 177
Part IV: How to use insight by focusing on the information you have at hand to make decisions in the present 187
15 Introducing the perpetual growth principles 189
16 Principle 1 — reduce frictions 197
17 Principle 2 — foster actuators 213
18 Principle 3 — minimise mass 227
19 Principle 4 — maximise balance 237
20 Perpetual growth principles in practice 247
Part V: How to use hindsight to develop perspective to reflect on your own results 253
21 Developing hindsight 255
22 Building a decision bank 265
Part VI: Decisionship in practice 275
23 Practising the art of decisionship 277
24 The decisionship accelerator 285
25 Decisionship in the real world 295
Conclusion 311
Appendix: the decisionship accelerator 315
Index 317
See More
Creel Price launched 10 businesses by the time he turned 21, before co-founding Blueprint Management Group with $5000 and selling it a decade later for over $100 million. Creel's current business, Accelerate Global, trains entrepreneurs around the world in his unique approach to business.
See More