Creating Exhibitions: Collaboration in the Planning, Development, and Design of Innovative Experiences
ISBN: 978-1-118-30634-5
320 pages
October 2013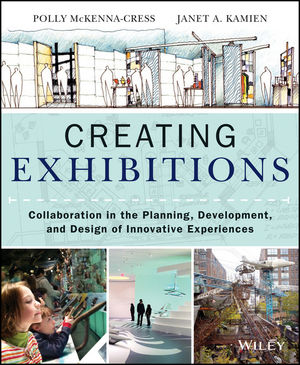 "This is a must-read for the nervous novice as well as the world-weary veteran. The book guides you through every aspect of exhibit making, from concept to completion. The say the devil is in the details, but so is the divine. This carefully crafted tome helps you to avoid the pitfalls in the process, so you can have fun creating something inspirational. It perfectly supports the dictum—if you don't have fun making an exhibit, the visitor won't have fun using it."  
—Jeff Hoke, Senior Exhibit Designer at Monterey Bay Aquarium and Author of The Museum of Lost Wonder
Structured around the key phases of the exhibition design process, this guide offers complete coverage of the tools and processes required to develop successful exhibitions. Intended to appeal to the broad range of stakeholders in any exhibition design process, the book offers this critical information in the context of a collaborative process intended to drive innovation for exhibition design. It is indispensable reading for students and professionals in exhibit design, graphic design, environmental design, industrial design, interior design, and architecture.
See More
Acknowledgments vi
Foreword vii
Introduction ix
Chapter 1: Collaboration 1
Collaboration Unpacked 2
Why Collaborate? 4
Why Collaborate in Museums? 5
How to Collaborate 7
A Case Study: Science Gallery, Dublin 16
An Intrinsic Imperative 19
Chapter 2: Advocacies and Action Steps 21
Advocacy Positions as a Team Creation Strategy 21
Five Advocacies Needed for Every Team 22
Action Steps 34
Dangers and Pitfalls 35
Chapter 3: Advocacy for the Institution 39
Creating the Landscape for Exemplary Exhibitions 39
Laying the Foundation 40
Planning Major Change 43
Plan Ahead, Leslie Swartz 47
Reflecting Institutional Identity, Charlie Walter 50
Review, Critique, and Approval 60
Institutional Culture and Risk 64
Assessing Results and Learning from Them 65
Chapter 4: Advocacy for the Subject Matter 69
It's about Something Too! 69
Approach and Philosophy 70
Object or Idea Driven 74
Dangers for the Subject Matter Expert 78
History through Objects, Jessica Neuwirth 80
An Art Historian's Perspective, Rachel McGarry 83
Chapter 5: Advocacy for Visitor Experiences 89
Developing Exhibition Content for Visitors 89
Getting Started: Developing the Concepts 100
Strategies for Organizing Information 103
Synthesizing and Presenting Initial Concepts 107
Organizing the Concepts into a Cohesive Narrative 108
The Story on Storyelling, Leslie Bedford 113
Documentation and Presentation 115
Getting the Details Ironed Out: How Does This Thing Really Work? 119
Educator as Advocate, Shari Rosenstein Werb 120
Strategies for Ironing Out the Details 124
Chapter 6: Advocacy for Design 131
Advocating for the Physical and Sensory Experience 131
Design Advocacy: Working within the Collaboration 134
Primary Exhibition Design Principles 141
The Launch of Design 143
Spatial Planning and Visitor Flow 146
Gestalt—Sensory Perception Forming a Whole 153
The Impact of Lighting, Lauren Helpern and Traci Klainer Polimeni 154
The Medium Is the Message: Modes of Display 161
Wheel of Dependent Implementation, Jeff Hoke 162
Environmental Graphic Design, Richard Cress 165
Multimedia Integration, Richard Lewis 169
Magic and Illusion in Exhibition, Diane Perlov 172
Theater and Immersive Environments, Donna Lawrence 174
Object Theater, Paul Martin 174
Accessible and Universal Design 180
Accessible Design, Lath Carlson 181
Environmentally Sound Practice 184
Sustainable Exhibitions, Lath Carlson 186
Conclusion 189
Chapter 7: Advocacy for Project and Team 193
Managing the Project and Team 193
Creating a Schedule 195
Creating a Budget 201
Managing a Team 208
Chapter 8: Methods and Techniques 213
Getting the Most out of the Process 213
Process Documentation 214
Ways to Produce and Shape Ideas 215
Concept Organization and Visual Documentation 220
Sketching as Team visualization, Dottie Miles 222
Making Decisions and Conducting Evaluation 232
Evaluation, Jeff Hayward 236
Pilot Testing, Dana Schloss & Katherine Ziff 246
Prototyping to Test Ideas, Erika Kiessner 249
Visitors' Bill of Rights, Judy Rand 254
Writing a Successful RFP, George Mayer 258
Chapter 9: Process and Phases 263
How Do We Set Up Our Process? 263
Process Outline 266
Process Phases 270
The Postpartum: Evaluating, Maintaining, Evolving, and Documenting 295
Exhibition Closing 300
Index 301
See More
Polly McKenna-Cress is Department Chair and Program Director of Museum Exhibition Planning & Design at the University of the Arts, as well as Principal of Alusiv, Inc., a design firm in Philadelphia. She is a consultant, author, and educator who leads institutions, departments, and teams in master planning, development, design, and project management of exhibitions. Over her 25+ year career in both museums and design firms, she has led the creation of more than 60 exhibitions of varying sizes, budgets, and complexities.
Janet A. Kamien was an executive consultant, author, and strategic planner. In her 40+ years in the museum field she worked on staff at four major museums and also worked as an independent consultant. She worked, consulted, and advised on more than 100 different interpretive projects and strategic master plans.
See More
Learn more about