E-book
Evolution of Virulence in Eukaryotic Microbes
ISBN: 978-1-118-30813-4
E-book
June 2012, Wiley-Blackwell
US $119.99

Purchase This E-book
This price is valid for United States. Change location to view local pricing and availability.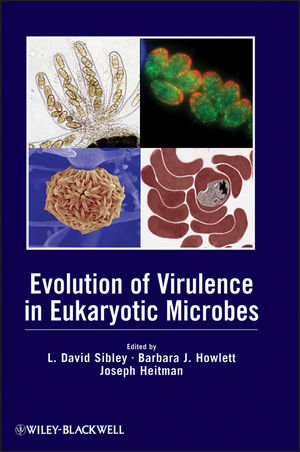 Adobe e-books are read using Adobe Digital Editions. Install Adobe Digital Editions on your PC in order to read or transfer your e-book.
PREFACE ix
ACKNOWLEDGMENTS xi
CONTRIBUTORS xiii
PART I GENERAL OVERVIEWS 1
1 Population Genetics and Parasite Diversity 3
Hsiao-Han Chang, Rachel F. Daniels, and Daniel L. Hartl
2 Evolution of Meiosis, Recombination, and Sexual Reproduction in Eukaryotic Microbes 17
Wenjun Li, Elizabeth Savelkoul, Joseph Heitman, and John M. Logsdon, Jr.
3 Phylogenomic Analysis 44
Andrew J. Roger, Martin Kolisko, and Alastair G. B. Simpson
4 Phylogenetics and Evolution of Virulence in the Kingdom Fungi 70
Monica A. Garcia-Solache and Arturo Casadevall
PART II POPULATION GENETICS AND EVOLUTIONARY APPROACHES 91
5 Malaria: Host Range, Diversity, and Speciation 93
Ananias A. Escalante and Francisco J. Ayala
6 From Population Genomics to Elucidated Traits in Plasmodium Falciparum 111
Sarah K. Volkman, Daniel E. Neafsey, Stephen F. Schaffner, Pardis C. Sabeti, and Dyann F. Wirth
7 Selective Sweeps in Human Malaria Parasites 124
Xin-zhuan Su and John C. Wootton
8 Evolution of Drug Resistance in Fungi 143
Jessica A. Hill, Samantha J. Hoot, Theodore C. White, and Leah E. Cowen
9 Discovery of Extant Sexual Cycles in Human Pathogenic Fungi and Their Roles in the Generation of Diversity and Virulence 168
Richard J. Bennett and Kirsten Nielsen
10 Worldwide Migrations, Host Shifts, and Reemergence of Phytophthora Infestans, the Plant Destroyer 192
Jean Beagle Ristaino
11 Experimental and Natural Evolution of the Cryptococcus Neoformans and Cryptococcus Gattii Species Complex 208
Alexander Idnurm and Jianping Xu
12 Population Genetics, Diversity, and Spread of Virulence in Toxoplasma Gondii 231
Benjamin M. Rosenthal and James W. Ajioka
PART III FORWARD AND REVERSE GENETIC SYSTEMS FOR DEFINING VIRULENCE 247
13 Genetic Crosses in Plasmodium Falciparum: Analysis of Drug Resistance 249
John C. Tan and Michael T. Ferdig
14 Genetic Mapping of Virulence in Rodent Malarias 269
Richard Carter and Richard Culleton
15 Genetic Mapping of Acute Virulence in Toxoplasma Gondii 285
L. David Sibley and John C. Boothroyd
16 Virulence in African Trypanosomes: Genetic and Molecular Approaches 307
Annette Macleod, Liam J. Morrison, and Andy Tait
17 The Evolution of Antigenic Variation in African Trypanosomes 324
Andrew P. Jackson and J. David Barry
18 Antigenic Variation, Adherence, and Virulence in Malaria 338
Joseph Smith and Kirk W. Deitsch
19 Invasion Ligand Diversity and Pathogenesis in Blood-Stage Malaria 362
Manoj T. Duraisingh, Jeffrey D. Dvorin, and Peter R. Preiser
PART IV COMPARATIVE "OMICS" APPROACHES TO DEFINING VIRULENCE 385
20 Evolution of Virulence in Oomycete Plant Pathogens 387
Paul R. J. Birch, Mary E. Coates, and Jim L. Beynon
21 Evolution and Genomics of the Pathogenic Candida Species Complex 404
Geraldine Butler, Michael Lorenz, and Neil A. R. Gow
22 Evolution of Entamoeba Histolytica Virulence 422
Upinder Singh and Christopher D. Huston
23 Sex and Virulence in Basidiomycete Pathogens 437
Guus Bakkeren, Emilia K. Kruzel, and Christina M. Hull
24 Emergence of the Chytrid Fungus Batrachochytrium Dendrobatidis and Global Amphibian Declines 461
Matthew C. Fisher, Jason E. Stajich, and Rhys A. Farrer
25 Impact of Horizontal Gene Transfer on Virulence of Fungal Pathogens of Plants 473
Barbara J. Howlett and Richard P. Oliver
26 Evolution of Plant Pathogenicity in Fusarium Species 485
Li-Jun Ma, H. Corby Kistler, and Martijn Rep
27 Genetic, Genomic, and Molecular Approaches to Define Virulence of Aspergillus Fumigatus 501
Laetitia Muszkieta, William J. Steinbach, and Jean-Paul Latge
28 Cryptosporidium: Comparative Genomics and Pathogenesis 518
Satomi Kato and Jessica C. Kissinger
INDEX 545