Textbook
Research Methods in Language Policy and Planning: A Practical Guide
ISBN: 978-1-118-30838-7
280 pages
July 2015, ©2015, Wiley-Blackwell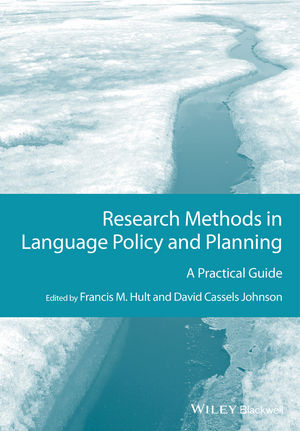 This is the first volume exclusively devoted to research methods in language policy and planning (LPP).
Each chapter is written by a leading language policy expert and provides a how-to guide to planning studies as well as gathering and analyzing data
Covers a broad range of methods, making it easily accessible to and useful for transdisciplinary researchers working with language policy in any capacity
Will serve as both a foundational methods text for graduate students and novice researchers, and a useful methodological reference for experienced LPP researchers
Includes a series of guidelines for public engagement to assist scholars as they endeavor to incorporate their work into the public policy process
See More
Notes on Contributors vii
Foreword xii
Thomas Ricento
1 Introduction: The Practice of Language Policy Research 1
Francis M. Hult and David Cassels Johnson
Part I Fundamental Considerations 7
2 Selecting Appropriate Research Methods in LPP Research: Methodological Rich Points 9
Nancy H. Hornberger
3 Researcher Positionality 21
Angel M.Y. Lin
4 Ethical Considerations in Language Policy Research 33
Suresh Canagarajah and Phiona Stanley
5 Language Policy and Political Theory 45
Stephen May
6 Language and Law 56
Dimitry Kochenov and Fernand de Varennes
Part II Methodological Approaches to Language Planning and Policy Research 67
7 Exploring Language Problems through Q ]Sorting 69
Joseph Lo Bianco
8 Ethnography in Language Planning and Policy Research 81
Teresa L. McCarty
9 Classroom Discourse Analysis as a Lens on Language ]in ]Education Policy Processes 94
Marilyn Martin ]Jones
10 Applying Corpus Linguistics to Language Policy 107
Shannon Fitzsimmons ]Doolan
11 The Economics of Language Policy: An Introduction to Evaluation Work 118
François Grin and François Vaillancourt
12 Analyzing Language Policies in New Media 130
Helen Kelly ]Holmes
13 Historical ]Structural Analysis 140
James W. Tollefson
14 Interpretive Policy Analysis for Language Policy 152
Sarah Catherine K. Moore and Terrence G. Wiley
15 Intertextuality and Language Policy 166
David Cassels Johnson
16 Mapping Language Ideologies 181
Adnan Ajsic and Mary McGroarty
17 Investigating Relationships between Language Attitudes and Policy Issues 193
Åsa Palviainen and Ari Huhta
18 Using Census Data and Demography in Policy Analysis 205
Minglang Zhou
19 Making Policy Connections across Scales Using Nexus Analysis 217
Francis M. Hult
Public Engagement and the LPP Scholar 233
Appendix A Interacting with Schools and Communities 235
Rebecca Freeman Field
Appendix B Participating in Policy Debates about Language 240
John R. Rickford
Appendix C Interacting with Politicians and Policymakers 244
Lava D. Awasthi
Appendix D Managing Media Appearances 248
Kendall A. King
Index 000
See More
Francis M. Hult is Associate Professor at the Lund University Centre for Languages and Literature. He is the co-editor (with Kendall A. King) of Educational Linguistics in Practice (2011), editor of Directions and Prospects for Educational Linguistics (2010), and co-editor (with Bernard Spolsky) of The Handbook of Educational Linguistics (Wiley, 2008).

David Cassels Johnson is Assistant Professor of Language Education at the University of Iowa. He is the author of Language Policy (2013).
See More
More in this series